Massive for Mourinho
Guillem Balague blogs on a crucial clash for Real Madrid and Atletico's chances at Barca.
Last Updated: 23/09/11 8:22am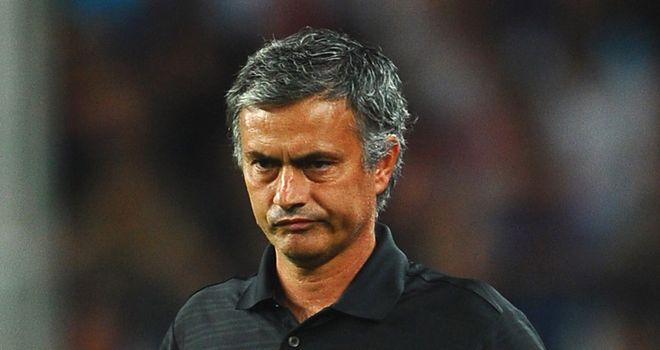 Sky Sports' Spanish football expert Guillem Balague looks at this week's live La Liga games.
If you've got a question for Guillem, send it to skysportsclub@bskyb.com.

Real Madrid v Rayo
Barcelona v Atletico Madrid
Sporting v Racing
Zaragoza v Malaga

Real Madrid v Rayo
7pm, Sat, Sky Sports HD4
It's going to be a crucial game for Real Madrid. It's been a very unpredictable league to start with, but I suppose it will all return to normality later on.
It's been fantastic the last couple of years to watch Real compete with Barcelona for the title but now they face real internal problems. Real need to start smiling. From talking to people they believe that the players are not enjoying playing football. There's too much anxiety.
There are lots of people in Spain who don't like what Jose Mourinho is doing at the Bernabeu. They're coming out and making noise but people must be patient - two weeks ago we were saying they have improved from last season!
Now there's a lot of talk of division in the Real squad, there's a lot of talk of pressure and of taking advantage of any mistakes from Barcelona. If you don't, you're wasting your chances.
Rayo are very brave. I don't think they'll drop deep. I think they'll pressure high and see what happens. The main weakness in Real is that they don't combine and that has been recognised by the likes of Xabi Alonso in the build-up to this game.
Barcelona v Atletico Madrid
9pm, Sat, Sky Sports HD4
Atletico have changed so much in such a small space of time. They are now a team that plays with the ball, dominates games and keeps possession.
They generally play with a midfield of three players to protect the back four. They've started playing wonderful football with lots of attacks from the full-backs and are riding high on confidence at the moment.
Now they also have Radamel Falcao, who has that extraordinary thing that is so hard to find - a knack for scoring goals. He only needs half a chance. I remember talking to him after the Europa League Final and he was aiming very high.
He thought he had something that not many people had. In a modest way, he made it clear he thought he had something to offer a big club, but neither Barcelona or Real Madrid came for him.
An interesting point regarding Barcelona is Cesc Fabregas scoring in four consecutive league games. He's being more offensive but what happened in the first half against Valencia showed his sense of anarchy.
The fact that he moves around freely means that when Barca lose the ball, there are gaps that weren't there before. Because of that, Pep Guardiola has changed to a 3-4-3 formation. Fabregas will have to balance his creativity with a bit more discipline.
Sporting v Racing
7.15pm, Sun, Sky Sports HD3
Sporting normally start poorly. They've always been on the edge. They normally sign one player to score goals and one player to stop them conceding - if they don't, they become a mediocre side.
Racing, on the other hand, are also lacking in quality. They just don't have enough money. Jairo, an 18-year-old, is one of the bright spots having impressed on the right-hand side. They will recover some players who are injured at some point too.
Zaragoza v Malaga
9pm, Sun, Sky Sports HD3
To me, Zaragoza always disappoint. Sometimes they invest money but they haven't looked dangerous for so long. They are traditionally one of the big clubs in Spain but now it's about survival because I don't think they've been very clever in the transfer market.
Malaga are winning because of the quality up front and not because of the way they are playing. You can see the idea - they hope Cazorla is going to take them to the next level, but I don't see it happening yet. It's a great mix of veterans like Jeremy Toulalan and Ruud van Nistelrooy with youngsters and I just hope it works for the good of the league.