Is Spanish stronger?
Is La Liga more competitive than the Premier League? Guillem Balague has his say on the topic...
Last Updated: 20/09/11 11:03am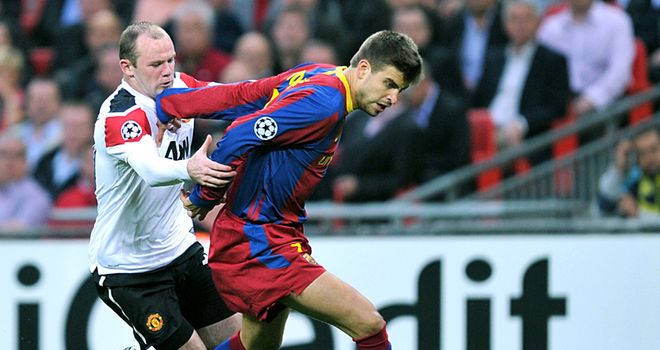 Spanish football expert Guillem Balague is here every week on skysports.com to bring you his insight into life in La Liga.
He's always on hand to answer your questions and this week he had plenty to say on a debate that has been raging for months over which is the stronger league - the Premier League or La Liga.
He also gives his verdict on Fernando Torres' form and Barcelona's defensive issues so read on for his views and remember - if you've got a question for Guillem, send it to skysportsclub@bskyb.com or use the comments box at the bottom of the page.
And check back later in the week when Guillem will offer his views on Sky Sports' live La Liga games this weekend.
LA LIGA VERSUS THE PREMIER LEAGUE
Great article like always Guillem. I know you have said previously that La Liga is better than the Premier League, but how you can think that I find rather strange. Yes, no team other than Chelsea or Man United have won it since 2004, but teams such as Arsenal and now Manchester City and even Liverpool have much more of a realistic chance of finishing first than Valencia, Atletico and Sevilla have in La Liga. Therefore, how on earth can you believe that La Liga is stronger when Real Madrid and Barcelona are so far ahead of the chasing pack that it's embarrassing. Barcelona finished 34 points above fourth last year whereas in the Premier League the difference between first and fourth was only 12 points so to believe that La Liga is stronger is, in my eyes, delusional. Craig Phipps (Cardiff City fan)
GUILLEM SAYS: What do you mean by "a realistic chance of finishing first"? That's an opinion, whereas the statistics cannot lie and since 2004, La Liga and the Premier League have each had the same number of league winners.
I'd suggest a better way of finding out how good the two leagues are is to look at the Champions League where the two clubs compete. If you look at the results of direct encounters between Spanish teams and English teams in the last five years, or even the last 10 years, then the La Liga teams have won more often. If you turned those results into a league then Spanish teams would win it.
Also, have a look at the number of teams from each country that have qualified for the Champions League in the last 10 years.
SPAIN: Barcelona, Real Madrid, Valencia, Villarreal, Sevilla, Atletico Madrid, Osasuna, Real Betis, Deportivo, Celta Vigo (10 teams)
ENGLAND: Man Utd, Arsenal, Chelsea, Liverpool, Tottenham, Man City, Everton, Newcastle (8 teams)
Plus the fact that practically all of the World Cup winners play in La Liga makes it very strong.
What I would say is that there's no way I can convince people in England that La Liga is stronger because you are brought up in a different way of playing football. It's a different culture and even though teams like Chelsea, Arsenal and even Swansea are trying to change that by playing a different brand of football with more possession, I think fans remain very impatient when the football is not direct. In Spain, we find it annoying when a player cannot pass the ball or if they are not accurate with their first touch and in the same way, English fans find slow build-up play frustrating.
I would not say somebody is delusional with so much assurance. I think you have to argue your viewpoint with evidence - and I can give you as many reasons to defend La Liga as I can give you to defend the Premier League. They are both very powerful leagues, but I would point to the draw between Real Sociedad and Barcelona and the win for Levante over Real Madrid, and the fact that Real Betis and Valencia are currently top of the league as evidence that the Spanish league is much more competitive than people want to admit in certain quarters in England.
CASE FOR THE DEFENCE
With Barcelona's central defender problem do you view Sporting Gijon's Alberto Botia as an option for them in either the January transfer window or in the summer? Also does the fact that he came through the Barca youth system and Barca having a buy-back clause make this deal more likely to happen? Adam Bridger (Barcelona fan)
GUILLEM SAYS: Botia is not considered to be an option for January. Pep Guardiola insists that he's got enough in the team with Sergio Busquets and Javier Mascherano being used in that position, as well as the youngster Andreu Fontàs. The fact is, the Barcelona centre-backs will defend better when the whole team defends better. When the team is defending poorly then the centre-backs will suffer whether it's Carles Puyol, Gerard Pique or whoever. Because this team defends so high up they need everybody to defend. It's not just a problem for the centre-backs.
BANGING THE DRUM FOR FERNANDO
Hi Guillem, I would like to know your thoughts on Torres. I think he needs to go back to Spain. Chelsea's lack of width or seeming unwillingness to use it seems to trouble Torres who likes running out to the flanks to make space. He would have been great for United but he won't move to another English club again surely. Also, as for Mata, Chelsea's narrow pitch and approach will surely hinder his form and development. I know Chelsea may be an attractive club in terms of location, money and even for potential honours but Torres and Mata are surely not at the right club? Kevin Hughes (Manchester Utd fan)
GUILLEM SAYS: I think Torres has been Chelsea's best player this season and he had a fantastic game against Manchester United. Only those who prefer not to analyse games and focus on the tabloid headlines will keep in mind the mistake he made on Sunday. In fact, I saw a Torres who had to make a move and dribble past the goalkeeper in order to get into the position to have the shot. I'm saying that Torres is getting back to his best. He just needs to score a few goals and he will be back to his best because Chelsea are playing a much more dynamic and quick game now. Of course, to have Juan Mata and Raul Meireles there will help as well.
Do you agree with Guillem's views? Have your say and send in your questions using the comments box below...