Clangers and Masch
Guillem Balague blogs on Barca's defensive troubles and why youngsters struggle at Real Madrid.
Last Updated: 16/09/11 12:08pm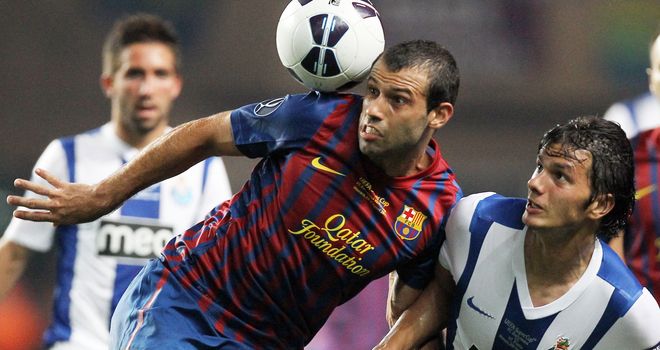 Sky Sports' Spanish football expert Guillem Balague looks at this week's live La Liga games.
If you've got a question for Guillem, send it to skysportsclub@bskyb.com.

Barcelona v Osasuna
Sevilla v Real Sociedad
Levante v Real Madrid
Athletic Bilbao v Betis

Barcelona v Osasuna
7pm, Sat, Sky Sports HD4
Barcelona have had two consecutive draws and that's a sign that something is not right. It's mostly down to selection by the manager. He didn't go for a centre-back in pre-season when they needed one; Carles Puyol is not sure how his body will react this season and Gerard Pique is injured as well. Barcelona defend high up the pitch so they need one centre-back that is quick and one that is strong and tall. At the moment, their makeshift centre-backs, Sergio Busquets and Javier Mascherano, don't match well. Pep Guardiola's insistence to put Seydou Keita in central midfield is also a mistake because the ball doesn't get to the other midfielders. They are things to adjust, but the injury to Andres Iniesta is also a blow. It's going to be a very difficult game for Barcelona because Osasuna look like the Osasuna of old; fast wingers crossing the ball in a very direct style, but they can also keep the ball. This will be a big test for Barcelona.
Sevilla v Real Sociedad
9pm, Sat, Sky Sports HD4
Sevilla haven't found their footing yet and there are still doubts over the manager, Marcelino. They are in a bit of a transition. They played a direct game under Juande Ramos and Marcelino wants to do the same. He says he gets bored watching Spain and prefers the counter attacking style of Real Madrid but we haven't seen a lot of that yet. Real Sociedad had a very poor first half against Barcelona and a very good second. The manager, Philippe Montanier, made them play with a defensive line high up the pitch in the second half and pressured Barcelona into mistakes. They are versatile tactically and could do a lot of damage to Sevilla. This could be a very open game.
Levante v Real Madrid
6.30pm, Sun, Sky Sports HD1
Levante are a bit of a miracle. They are in the administrators' hands and they haven't been able to reinforce their side, while Felipe Caicedo, who was the main star last season, has gone. Real Madrid, on the other hand, have a very high level, but it was interesting to see how Getafe made things very difficult for them. They attacked behind the full-backs and centre-halves; they kept possession and were very organised; and when they attacked they had in mind that should they lose the ball they could be caught by the best counter attack in the world. I wonder if Levante are able to do the same sort of thing.
Athletic Bilbao v Betis
9pm, Sun, Sky Sports HD1
Bilbao's Marcelo Bielsa is a genius manager but he's called crazy for a reason. We've been telling stories on
Revista de la Liga
and I think I can fill a whole year with those! He's confusing the team by picking players who were out of the reckoning in pre-season as starters, but in different positions to ones they're used to. He has admitted making mistakes in the starting line-up, and how he has reacted to try and win games. But he is trying to change their style and build from the back - and he will not negotiate that. The Betis manager, Pepe Mel, is another character. He is humble and says things directly to people's faces and he has got a wonderful team from midfield onwards with Salva Sevilla, Jorge Molina and Roque Santa Cruz. It will be a wonderful game and one that I'm really looking forward to.
Guillem answers your questions...
Got a question for Guillem? Then send it in here or use the feedback form below, and then look out for his answer next week.
LACK OF SOL
Hi Guillem, My question is regarding Vicente del Bosque and what seems like his reluctance to pick Roberto Soldado for the national team. In the second half of last year, Soldado was one of, if not the best, Spanish strikers in the league and scored a hat-trick against Racing on the first day this season. Yet a couple of days later when the national team was picked, not only was he not selected, but players such as Ignacio Monreal, Manu del Moral and Alberto Botia all got picked after much less convincing performances than Soldado. Why does del Bosque constantly overlook him? Patrick Martinez-Brown
GUILLEM SAYS: Vicente de Bosque is loyal to the people that have given him a lot. But he is introducing names, like you mentioned, and Soldado will soon be called up, I don't think there's any doubt about that. There is a campaign, if you like, because he has been the best Spanish goalscorer in 2011. He will be called up but does have some competition with Alvaro Negredo, a player he is very similar to, and Fernando Llorente, while I think del Bosque will also persevere with Fernando Torres in the hope that his class eventually shines through.
A RONALDO RETURN?
Guillem, after Cristiano Ronaldo's recent interview refusing to rule out a return to England, do you believe his destination would be Manchester United again? Or do you think he will spend the rest of his career in Spain? Jordan Gallagher
GUILLEM SAYS: Cristiano Ronaldo will always have the idea of going back to England. I don't see him finishing his career in Madrid but I think he is more likely to go to Russia - something he has talked about before - than back to Manchester United. But not before he has won titles and further individual awards at the Bernabeu.
YOUTH POLICY
Hi Guillem, why do you think so many players make the progression from La Masia to becoming Barcelona regulars whist the youngsters at Real Madrid tend to fail to do so? It's not like they haven't had talented youngsters in recent years at the Bernabeu - Juan Mata and Alvaro Negredo to name just two. What do you attribute the difference to, mentality, skill level or could it be that they are afforded more time to develop at the Camp Nou? Thanks in advance, Shane Farrington
GUILLEM SAYS: It has to do with the philosophy. Barcelona have an idea created three decades ago based on players from the lower ranks learning how to become Barcelona players. It is easier to become a first-team regular than at other clubs because the players have been doing exactly the same training and learnt how to play the Barcelona style. At Real Madrid that doesn't happen. Every few years there is a new academy director but no philosophy; they go from one extreme to the other. There is plenty of quality in Madrid's youth ranks but no belief from the club that they can make it into the first-team. The youngsters are overlooked in favour of 'Galacticos' - as proved by Madrid's failed pursuit of Neymar this summer.