Level crossing
Guillem Balague says a trip to Real Sociedad will show us how good Barcelona are right now.
Last Updated: 08/09/11 2:44pm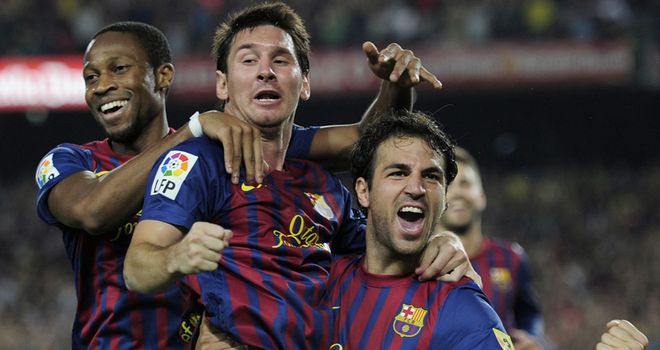 Sky Sports' Spanish football expert Guillem Balague looks at this week's live La Liga games.
If you've got a question for Guillem, send it to skysportsclub@bskyb.com.

Real Sociedad v Barcelona
Real Madrid v Getafe
Valencia v Atletico Madrid
Espanyol v Athletic Bilbao

Real Sociedad v Barcelona
5pm, Sat, Sky Sports HD4
This is the sort of game that will show us what level Barcelona are at right now. Real Sociedad started strongly, beating Sporting Gijon away, even though their away form was their weakness last season, while Barcelona are still not at 100%. They started their pre-season late and that's why it was so important to win the Spanish Super Cup. If they hadn't done that then the balance of Spanish football would have changed psychologically. It was important that Lionel Messi filled the gaps that the other players couldn't fill in terms of performance; they weren't that impressive and Real Madrid deserved more, but the little Argentine saved them. Barcelona often struggle after an international break, so this is a double test for them.
For those of you who like to look for new stars I will give you a Real Sociedad player to keep an eye on: Asier Illarramendi. He's a central midfielder, who is a potential star of Spanish football. He's not the tallest, but he can build up play as well as defend.
Real Madrid v Getafe
7pm, Sat, Sky Sports HD4
I like the Getafe manager, Luis Garcia, a lot. I met him for lunch when he was at Levante and he impressed me with his ideas and his humility. He's a hard-working guy, who needed a bigger challenge and he's going to get that at Getafe. Real Madrid look strong, but I feel Xabi Alonso still has to do too much work with Nuri Sahin out injured. However, this should still be a comfortable victory.
Valencia v Atletico Madrid
9pm, Sat, Sky Sports HD4
What a game! We're going to get lots of top matches at the start of the season because there are four or five teams at about the same level - Villarreal, Sevilla, Valencia, Atletico Madrid, Athletic Bilbao - and this is one of the first meetings of those sides.
Interestingly, Valencia weren't too worried about losing yet another superstar in Juan Mata because they think they've got a replacement in Jonas, who is likely to come off the bench and make a difference. Pablo should raise his level in the absence of Joaquin, who has gone to Malaga and Roberto Soldado looks like he is going to challenge Fernando Torres, Alvaro Negredo and Fernando Llorente to become Spain's number nine. Everything seems to be working well for them.
Atletico Madrid are playing a completely different game to last season. They try to dominate, they pass, they build up from the back and the players seem to be enjoying themselves. The reappearance of Falcao should finally give them the goals that they were missing in the opening weekend. There is a positive dynamic in the changing room, when there was a lot of negativity coming out of it last season. All in all they look like a stronger team than last year, even though Kun Aguero and Diego Forlan have gone.
Espanyol v Athletic Bilbao
8pm, Sun, Sky Sports HD2
Espanyol sold Osvaldo to Roma because the player decided he had to go, effectively they were forced to sell and they haven't replaced him. So this is the year for Alvaro Vazquez, who was the top goalscorer in the U-20 World Cup, to up his game. He will be given his chance and we will see if he will become either a very good striker or a mediocre one. I hope he makes it, but it's a very big challenge for him. Espanyol have a very young team, probably the youngest in La Liga, and there are risks attached to that. The signings of Romaric and Walter Pandiani may balance things out.
Athletic Bilbao have got a crazy manager, Marcelo Bielsa. Keep watching Revista because every week I'll bring you a new story about his craziness; he's a fantastic, eccentric character. There are doubts in Bilbao that he is doing a good job because they reckon he is confusing people. He has come in and looked at the players as if they are new players and, in a way, that's created a difficult situation. For example, Pablo Orbaiz, who was crucial for them in the last four or five seasons was sold to Olympiakos and the experienced centre-back Aitor Ocio has been left out. Also, some of the players are not too impressed with the way he trains so we may see a little bit of a problem there. But he is trying to make Athletic Bilbao like Chile or like the Argentinean teams he has coached; a team that defends high up, keeps the ball and plays at a high intensity. It's a complete change of philosophy and it's a fascinating experiment.
Guillem answers your questions...
Got a question for Guillem? Then send it in here or use the feedback form below, and then look out for his answer next week.
A WAY FOR JOSE?
With Liverpool's recent signing of Jose Enrique and Joan Capdevila's increasing age and move to Portugal, do you see Enrique breaking though into the Spanish national team squad or first 11 in the coming season? Adam Bridger
GUILLEM SAYS: Capdevila was actually left out of Benfica's Champions League squad because of his weight. I'm surprised that Jose Enrique hasn't made it yet. They were using Alvaro Arbeloa against Liechtenstein at left-back and I don't understand why. I think it is just a matter of time before he makes the breakthrough now. It is a lot to do with Vicente del Bosque not travelling to England to see games and only watching them in all probability on the television; Newcastle weren't on TV a lot last season but Liverpool obviously will be this season. From what I've seen Enrique is definitely one of the best performers at Liverpool, so it is just a matter of time before he becomes an international player, in my view.
TURKISH DELIGHT
Hi Guillem, With the recent influx of three Turkish International players arriving in Madrid, Nuri Sahin and Hamit Altintop for Real Madrid and Arda Turan for Atletico Madrid respectively, what is your opinion of these players? Who are you the most excited to see? And do you believe all three will succeed in the fast-paced league of La Liga? I remember Arsenal attempted to sign Nuri Sahin a few years back as they saw him forming a partnership with Cesc Fabregas. Do you see Sahin having the ability to become as good as Fabregas? Further, Arda Turan in my opinion is one of the most exciting wingers I have seen in a long time, do you see him developing into one of the world's best wingers? With regards, Shukri Kemal
GUILLEM SAYS: Remember that this is the summer when Jose Mourinho has become 'general manager', if you like - or something similar - at Real Madrid so he has been in charge of the signings and got Altintop even though he was injured. Mourinho has been criticised as a result because nobody knows when Altintop will be back. It's the same for Sahin. He had an injury in one knee; now he has got one in the other, apparently, and nobody knows when he is going to be back. In terms of luck, it hasn't been the best of starts to his career at Madrid. Turan also needs to get match fit; I think he is going to be an important player for Atletico. As well as quality, he has another characteristic that the club needs and that's a strong personality, so he should make a difference.
Sahin and Fabregas are completely different players. Sahin is not as dynamic as Fabregas, nor does he have the passing ability and range of the Barcelona player. But I can tell you for certain that I know there are several players who are looking forward to seeing him alongside Xabi Alonso because his work ethic will make them stronger and Alonso won't have to produce all the creativity in midfield.
WENGER'S REAL HOPES
Hi Guillem, Just want to know from you about the chances of Arsene Wenger joining Real Madrid because I honestly think he is a good coach with better ethics than Jose. Seabata Motlatla
GUILLEM SAYS: Interestingly, Florentino Perez approached Arsene Wenger three times to become Real Madrid manager but each time the Frenchman said no even though he heard what the club had to say. Perez had a weakness for Wenger and his entourage was approached at the same time as Mourinho, but Perez now says he doesn't think that Arsene has got the strong will and the personality to actually leave Arsenal and become Real Madrid manager. But I guess anything can change in football....