Awesome foursome
Pressure on Pep? Mourinho mind games? Guillem previews four Clasicos in three weeks.
Last Updated: 19/04/11 11:11am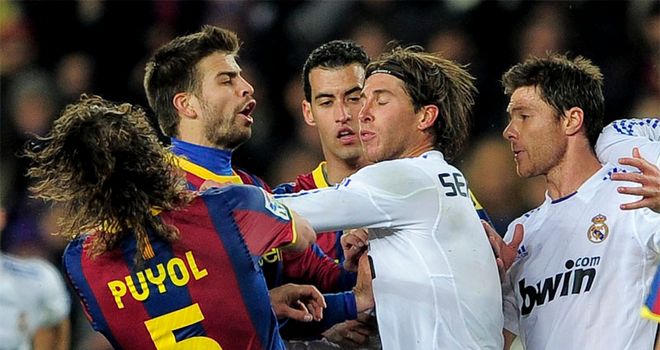 Predicting one Real Madrid v Barcelona game is hard enough, but trying to forecast what will happen over the next four games is practically impossible.
If we apply that old cliché about it being a marathon not a sprint to the next 360 minutes of football to be played between these two old enemies, then the question we should be asking is: "Which of the two sides is in the best shape to go the distance?"
Lets take a look at how the strategies, squads and coaches are shaping up to try and work out who'll be the last man standing in three weeks time...
Strategy
We're talking about two opposing ideologies here - not the socio / political this time - but of two contrasting footballing philosophies: with one side more committed to rigidly sticking to their particular ideals, the other more pragmatic in their approach.
Let's face it; we know how Barcelona will play: their possession-based game starts up front, with the forwards contributing to an organised attack that becomes the first line of defence when they lose the ball. Everyone knows their position with the ball and is ready to defend the moment they are without it.
They will play the opening league game at the Bernabeu in the same way as they play every other game, the only way they know how: aiming to dominate the opposition, impose their game upon their rivals without changing formation to accommodate the opposition.
And, as Xavi has admitted privately, they aren't just going there to win, but to show the world their superiority.
Real Madrid, on the other hand, quite happy to be seen as overcoming the odds: behind in the league and less fancied than Barcelona, they are ready to roll up their sleeves and do what it takes to win.
They won't care about demonstrating their superiority or adhering to a style: just winning. In contrast with Barça, their football starts at the back, with the defence providing the platform for their play.
That could even mean that Jose Mourinho will use three centre backs in the first game at the Bernabeu, with Pepe in between and perhaps slightly in front of the two conventional central defenders.
Mourinho learned his lesson at the Camp Nou in the 5-0 defeat when he tried to go toe to toe with Barcelona, attempting to impose their own game on the homes side as if they were visiting any team.
At that time, Madrid were top of the table and after a few short months building a side, felt that they could go out and play their own game against Barcelona. That won't happen again and if that means prioritising stopping Barcelona, focusing on breaking up their opponents game first, that Mourinho will do what needs to be done.
Mourinho has proven in the past that he has the blueprint for frustrating Barcelona and he will have a plan for every game. Barcelona will more or less approach all four games the same way. Will the same plan work for times in a row? Or will the side that mixes things up and springs the odd surprise come out on top?
Squad
These are four games like no other and the players will undergo greater physical demands than in say four regular league games against lesser sides. Fatigue, injuries and the constant pressure will take their toll.
Madrid appear confident and on a high. The defeat to Sporting Gijon has been quickly forgotten and all the talk coming out of their camp is of their new mental strength, resilience, hunger, and how they are improving by the week.
The squad has been boosted by players returning from injury: Kaka is back at just the right time and for the first time all season, Mourinho finally has the three centre forwards he wanted with Karim Benzema, Emmanuel Adebayor and Gonzalo Higuain available.
Pep Guardiola has more or less gambled on having a very small squad and has rarely used the Barcelona B team players at his disposal and players like Andreu Fontas and Nolito have scarcely been seen in the way that we thought they might this season.
Even Thiago has hardly featured and if he is called upon in these next four games, the lack of playing time could be an issue because he is a player who needs to be on form and confident to get him having a positive impact on games, otherwise he tends to pass the ball sideways too often and even give it away carelessly.
The over-reliance on a small group of players may be taking its toll: Barcelona haven't been quite as aggressive without the ball in recent weeks and this is key to their play, because when they fail to recover the ball quickly in the opposition half, they leave gaps in their own half and Madrid's quick counter-attacking players especially, will be able to exploit that.
That situation is exacerbated by their injuries as well, with the ongoing mystery over Carles Puyol's return date and Eric Abidal's long-term absence adding to their problems at the back.
The shortage of personnel has resulted in nine different centre-back combinations this season and any Barcelona fan who saw Gabriel Milito's lack of concentration and poor positioning against Almeria will be worried about the centre halves coping with Madrid's attacking movement and pace.
Whether it is fatigue or a drop in motivation levels, we saw in the recent game against Almeria how Barcelona lacked rhythm and intensity, especially in the first half when they put little of their usual pressure on their rivals.
That changed when they went a goal down, however, and the issue could be more related to motivation than exhaustion: meaning we may see them at their sharpest in these games against their bitter rivals.
And before I'm accused of writing Barcelona off: they're top of the table; still winning football matches; Lionel Messi is still breaking records and mastering the role of a false striker; they have improved upon last season's weaknesses by learning how to stretch the opposition defence and their movement in the final third has greater variety.
Managers
Looking at all four games, the manager who makes best use of the psychological aspect of the game could come out on top: and you'd have to say that in this area, perhaps Mourinho has the edge.
There is far greater pressure upon Pep Guardiola than Mourinho right now - or perhaps, putting it another way - the Barcelona manager is showing the signs of feeling the strain of any pressure far more than his opposite number in Madrid.
Pep has been looking tense lately and appearing irritable in front of the media, even making uncharacteristic slip-ups when talking to the press (he recently mistook the quarter-final against Shakhtar for a semi-final in a recent press conference).
The pressure on the Barcelona coach as been coming from all sides; there are tensions bubbling away beneath the surface at the club and incidents like the coach's recent public criticism of the president's brash prediction at a charity event that Barcelona would beat Madrid 5-0 at the Bernabeu hints at some discord.
Guardiola also feels that he's not getting the protection or support from the Barcelona media that he perhaps deserves. The Catalan press have always been quick to criticise and the opening game is critical: Pep knows he must win this weekend at the Bernabeu and will go all out in the first round, knowing that a defeat will trigger a wave of pessimism from the local media.
This is in stark contrast to Mourinho who is currently enjoying the full backing of the press in Madrid: and the Special One is using every weapon in his unique artillery to fire verbal shots at Barcelona through the media.
Mourinho knows how to get under the skin of his opponents better than any other manager and although Barcelona have wisely managed to avoid engaging with Madrid in any media combat so far, the war of words that will inevitably take place in the next three weeks once the action begins on the pitch could well prove influential.
Not that Mourinho has it all his own way. His speciality has always been in building an incredible bond and team spirit amongst his players, but the Madrid dressing room aren't quite behind him in the way they were at Chelsea or Inter Milan.
Key players, like Sergio Ramos have challenged his authority by suggesting transfer targets, while others - according to one newspaper - have apparently mocked Mourinho behind his back over his revelation that he has dreamed of winning the title.
Some players are concerned about the lack of tactical preparation dedicated to attacking play. However, his team are disciplined, hard working and organised - as you'd expect - and in the next three weeks, it is highly unlikely that Mourinho will not put some of the lessons learned from that humiliating defeat earlier in the season to very good use.
I doubt the outcome will be anywhere near as one sided after these fascinating four games.