Rough for Rafa
Chelsea's boo-boys, Redknapp's return, buoyant West Brom - plus more. Kammy's back...
Last Updated: 27/11/12 9:30am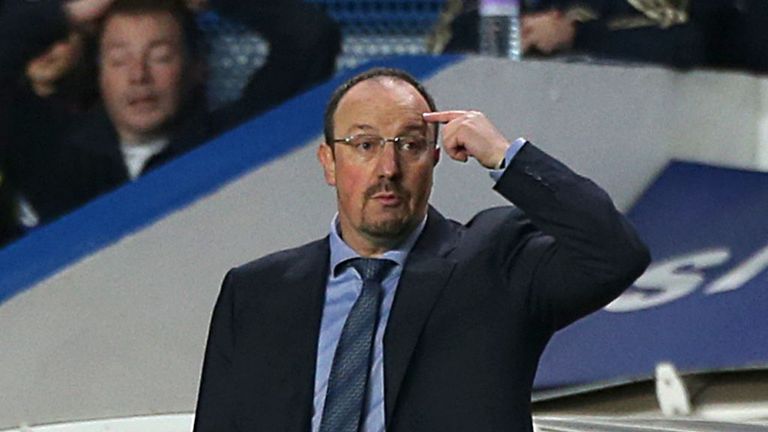 Every Saturday, Chris Kamara heads to stadiums up and down the country to deliver his unique match reports for Soccer Saturday.
On Sundays you can see him back in the Sky Sports studios as he brings you all of the highlights as well as in-depth analysis of all the action on Goals on Sunday.
And then on Mondays you can find Kammy right here on skysports.com as he brings you his views on the Premier League weekend.
Read below for his thoughts on Benitez at the Bridge, Redknapp at Rangers and the scourge of abusive chanting...
The Benitez boo-boys are doing Chelsea no favours
Rafa's on a hiding to nothing. We've seen it before with Steve Kean and now it would seem we're seeing it again with Rafa - many Chelsea fans just aren't having him. As a manager, it's very difficult to come back from a reception like that and win the majority over. If he won the Premier League, I'm sure they would forgive him - that goes without saying - and at the end of the day the best thing he can do is win football matches and hope the fans come around eventually. But while they continue to do what they're doing, the chances of Chelsea winning the league get ever-so-slightly less.
Booing like we heard at Stamford Bridge on Sunday affects the players - it's bound to, whether you think it does or not. Just ask the Blackburn Rovers players or the players at Bolton Wanderers when Gary Megson was in charge. Those players are going out there expecting their fans to cheer them; sure, the fans aren't having a go at them but those fans have to understand that the mood and the atmosphere make it so much more difficult for the players on the pitch. Rafa will be pleased with Sunday's draw with City because he hasn't lost; his managerial style is start at the back and go from there, so a clean sheet is just what he would have wanted. So it's not the worst start, but it's not a perfect one either.
Rangers should no longer fear the drop with Redknapp on board
It's great to see Harry back in the game and I'll tell you what - QPR will stay up with him in charge. There's no danger of them going down now. Quite simply their squad is too talented and too good to go down. Harry knows he's got some decent players there plus I'm sure he'll bring in plenty in January - which is only about five weeks away now. He will have already started looking around to see who he can bring in - he'll have all of his agents, who he knows really well, working for him and trying to get him the best deals. I'm sure we'll see some decent signings come January.
That's one of the reasons he's only had one managerial 'flop' in his career, at Southampton. But it's difficult for any manager to turn things a club around when they are in a complete slide. Personally, I don't think QPR are on a complete slide - I think there are a lot of games that they could have won already this season but for whatever reason they fell short. Once Harry and the players get settled I've no doubt they'll go on a run and be fine.
Clarke deserves to be congratulated for the job he's doing at West Brom
It's so refreshing to see what's going on at West Brom. There's normally one team every season that does absolutely brilliantly and this season it's definitely their turn. When you look at their side there aren't too many weaknesses and Steve Clarke must be delighted with how the team is pulling together. The system that they play suits them down to the ground and the only thing that worries me - not that there's any suggestion this will happen - is how they would cope if they lost Shane Long. If he were to pick up an injury I'm not convinced they've got the players to come in and match what he does because he leads that line brilliantly.
Steve Clarke is the unsung hero, without a doubt. He's very quiet and he goes about his work just as quietly. That's probably one of the reasons he's not getting as much credit as he deserves. Instead he's letting his team do the talking and things are going brilliant. Good luck to him.
Reading missed the point - but Gomez may have turned the corner
Jordi Gomez scored the perfect hat-trick for Wigan against Reading - left foot, right foot and a header. It was great to see because the crowd have not been brilliant with him the whole time, and quite rightly so because he hasn't always performed to the best of his ability. But now he's produced the business and I'm sure those same fans are hoping that he's turned the corner.
But once Reading got back to 2-2 I just wondered 'what was their objective?' Are they actually going there to win? I'm sure that when Brain McDermott looks back on it, he's got to be thinking 'a point would have been great for us'. Instead, all they've come away with is people saying how well they've done because they were having a go, but the fact is they've ended up with nothing.
It's going to be very hard to stamp out abusive chanting - but we have to try
It's always just a small minority who do this - and often people join in when they don't really know what's going on or fully understanding what they are actually singing about and its implications. I'm not excusing those people for one minute. At the same time it's very hard to see how you can stop it. We're still working on trying to stop racial abuse on the football pitch so I'm worried that we're not going to get to the terraces for many, many years.
A lot of fans just think it's a laugh - they'll tell you they don't really mean it in the way that it's taken. They think they're having a laugh and a giggle and to hurt the opposition fans who they know are going to chant something back that might also be abusive. They shouldn't be doing it. Full-stop. At the end of the day there's no way getting around that. This has happened for such a long time that I really struggle to see how we are going to be able to eradicate it. But how do you go about it? Do you go onto the terraces and arrest a thousand people - people who will tell you they were just having a bit of banter? It's not banter - most people know that; we know it's unacceptable, but it's going to be very hard to stamp out altogether.
I'm chuffed that Adkins has silenced the doubters at Southampton
Southampton got a brilliant result on Sunday, beating Newcastle 2-0. It was great for them after all the doom-and-gloom and suddenly Nigel Adkins has put back-to-back results together; thankfully he's silenced the doubters and shown that he's capable of doing the job. There were plenty saying that he'd taken Saints as far as he can but not a lot of them were Southampton fans and he always felt confident. One swallow doesn't make a summer or a season, but at least he's going the right way about it.
Elsewhere I thought Norwich were brilliant in getting a point away at Everton; they battled back under very difficult circumstances against a side who were expected to win.
And for the first time now Paul Lambert looks like he's starting to get things right at Aston Villa and that draw at Arsenal will do them a world of good as they look to get away from the bottom.