Double take
Man City's penalty routine, wins for unfancied teams and an absent Papiss Cisse... here's Kammy!
Last Updated: 19/11/12 4:14pm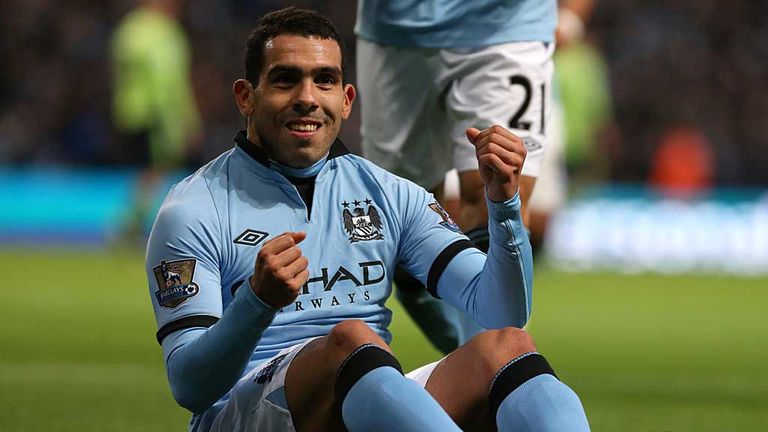 Every Saturday, Chris Kamara heads to stadiums up and down the country to deliver his unique match reports for Soccer Saturday.
On Sundays you can see him back in the Sky Sports studios as he brings you all of the highlights as well as in-depth analysis of all the action on Goals on Sunday.
And then on Mondays you can find Kammy right here on skysports.com as he brings you his views on the Premier League weekend.
Read below for his thought on Aguero and Tevez's penalty routine, big wins for West Brom, Norwich and Reading, and more woe for QPR...
Man City utilised a very canny plan against Aston Villa
Roberto Mancini's side used alternate penalty takers, with Sergio Aguero taking one and Carlos Tevez the other. I've not seen anything like that before, but I think it's a great idea as it means the goalkeeper cannot make an educated guess as to where the second penalty will go as it is being struck by someone new. Aguero converted a spot-kick that should never have been given, but I can understand why the assistant referee thought Andreas Weimann had handled the ball, even though it was a shocking decision.
City defender Matija Nastasic headed the ball and it deviated and the linesman could see Weimann's hand in the air and suspected it had hit the Austrian's arm. It was wrong and I feel so sorry for Villa boss Paul Lambert and Weimann, but there was a reason why it was awarded. Barry Bannan gave the second penalty away when he slipped in the box and handled the ball; it was unfortunate but as I have said countless times most handballs are accidental so I think giving a penalty was the correct call.
The little boys conquered the big boys on Saturday
West Brom were totally underestimated at the start of the season, but Steve Clarke has done a fantastic job and proved it again on Saturday as he led his side to victory over Chelsea. Clarke's formation works a treat; Peter Odemwingie is a natural striker but does a great job tracking back from a wide position to help out his defenders, while the rest of the team know how to get behind the ball and stay solid, and then when they go forward Shane Long can hold the ball up but also has the pace to stretch the opposition.
Norwich also fully deserved their win over Man United; they scored a great goal and restricted Sir Alex Ferguson's side to very few chances. Reading, meanwhile, got their first win of the season at home to top-four hopefuls Everton and showed great character to come back from a goal down; hopefully they can kick-start their season now. Thankfully, Everton boss David Moyes wasn't too downbeat afterwards and was actually in very good spirits when he joined Ben Shephard and myself for Goals on Sunday the following day and admitted that Reading showed terrific grit and determination.
Senegal's decision to stop Papiss Cisse playing for Newcastle was shameful
Newcastle obviously thought the back injury their striker picked up was serious enough for him not to fly to Senegal for a game with Niger - something that could have been more painful for the lad anyway - but it could quite easily, with three or four days of treatment, have healed by the time the Magpies played Swansea on Saturday. Surely the Senegalese football authorities understand that?
I am a country over club man but Newcastle pay Cisse's wages and see him at close quarters every day and were in a better position to judge his injury than Senegal, who have tried to be martyrs; it's not like Newcastle were saying he couldn't play in big tournaments for his country. The decision meant Newcastle couldn't field one of their best players against Swansea, a game they subsequently lost, while Senegal may also suffer because if reports are to be believed Cisse may now quit as national team captain.
Arsenal will destroy you if you've got 10 men
Tottenham found that out at first quarters on Saturday following Emmanuel Adebayor's sending off; Arsenal made the pitch so big, their passing, mainly through Santi Cazorla was superb, while Theo Walcott caused load of problems with his pace. When Jack Wilshere is back to full fitness it will be very difficult for teams to get near him and Cazorla, especially at the Emirates. The sending off changed the game because Arsenal didn't look comfortable or confident before that and Spurs seemed more than capable of adding to their one-goal lead. However, Adebayor's red card was justified, and so was Brede Hangeland's against Sunderland for that matter, because you cannot leave the ground when you tackle. Sunderland's Danny Rose could have got his marching orders for a similar tackle, too, but I think he was spared because his challenge wasn't head on.
Southampton were fantastic from start to finish against QPR
I had a 10-minute chinwag with Saints boss Nigel Adkins before the game on Saturday and I've never known him so confident; it was a sharp contrast to the Wigan match earlier in the season when he was a bit down. He said he knew his players would do a good job against QPR and that they wouldn't sit back - and he wasn't wrong. Even when they conceded just after half-time to see their lead reduced to 2-1, they didn't change their mind-set and kept on attacking.; most managers would have battened down the hatches and put everyone behind the ball, but they took the game back to QPR. I was really impressed.
QPR lacked guidance on the pitch during Saturday's defeat
I wouldn't say QPR lacked effort in the match but as soon as the second goals went in, they went mentally. They needed to get to half-time at just a goal down so that Mark Hughes could help them out because they didn't have any leaders on the pitch, but when Jason Puncheon put Southampton two up they were rocked. I've played for teams in similar predicaments and when you go behind you don't stop trying but your mind is destroyed and you can't do what you need to. I do hope QPR keep faith with Hughes, though, as he has brought some good players in and kept them up last year.