A helping hand
Kammy says the weekend games prove referees need more help to interpret handballs and dives.
Last Updated: 12/11/12 11:37am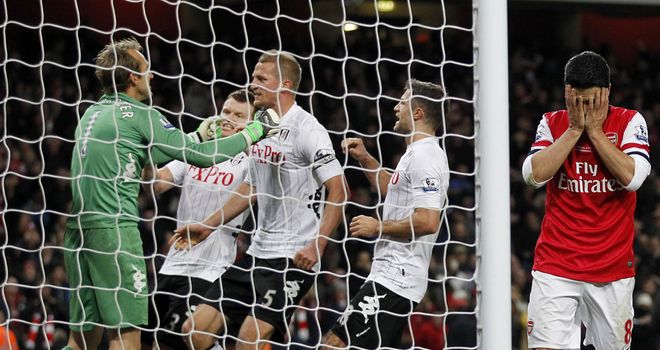 Every Saturday, Chris Kamara heads to stadiums up and down the country to deliver his unique match reports for Soccer Saturday.
On Sundays you can see him back in the Sky Sports studios as he brings you all of the highlights as well as in-depth analysis of all the action on Goals on Sunday.
And then on Mondays you can find Kammy right here on skysports.com as he brings you his views on the Premier League weekend.
Read below for his thoughts on handballs, diving, zonal marking, Dzeko and more...
Defending in the Premier League has got worse
There's no doubt about it. Players don't seem to want to stop crosses any more and think it's the job of the person in the middle to head the ball. If you're a full-back, it seems you don't want someone to beat you and make you look silly, but if they cross it then it's okay because nobody can blame you. It seems to have become an acceptable part of the game, which never used to be the case because the full-back's job was to stop the cross. Nowadays we have full-backs coming on like Maicon (who changed the game against Tottenham in fairness) and people look at the offensive side of his game more than how he defends!
There's no way zonal marking is better than man-to-man
We saw Arsenal, Man City and Chelsea concede goals from set pieces this weekend and I don't think zonal marking works at all. I hear all these stats that zonal results in fewer goals conceded than man-to-man, but I watch every single Premier League goal and zonal seems to cause more problems for defenders. Once the ball leaves your zone, you're not responsible any more and it causes confusion. Peter Crouch was on Goals on Sunday last week and he said he loves to play against teams with zonal marking; he feels more uncomfortable when someone's standing on his toes.
The Danny Rose booking shows we need to educate referees
I can't get my head around that decision. Rose was booked for diving when he was clearly fouled; it was the same with Charlie Adam last weekend and Fernando Torres the Sunday before that. I'm sure referees have played football, but they've got this thing in their minds about players deliberately throwing themselves to the floor, even if there's been contact, and it's clear they're booking players when they're not sure. They're getting the interpretation all wrong. We need to take tapes down to the referees' meetings and show them which incidents are dives and which aren't. We all want to clamp down on diving, that's for certain, but it's got to be done the right way; you can't book people who are genuinely fouled just to catch the ones who are diving.
Handball has become another massive grey area in our game
This law needs clearing up. Jon Walters was on Goals on Sunday last week and he said Pierluigi Collina had been to Stoke and had told them that if their hands were by their sides then they couldn't be penalised for handball. Well, Sascha Riether clearly had his hands by his side in the final minute of Fulham's game with Arsenal and yet a penalty was given. We saw Nottingham Forest's Chris Cohen blatantly stick out his arm against Leicester on the same day and it wasn't given. Ben Shephard laughs at my statistic that 90 per cent of handballs in the box are accidental, but they are! When someone shoots at you from a yard away, you don't know where he's going to kick it! It's all down to the referee's interpretation and it leads to inconsistency - but at least it gives us plenty to talk about on a Sunday morning!
Don't be too harsh on Olivier Giroud for not taking that penalty
Olivier Giroud is trying to win over the Arsenal fans and he's taken penalties before (including a miss in the Carling Cup this season), so it was a surprise to see him not step up to try and complete his hat-trick against Fulham. His body language suggested that he wanted to take the penalty, but hindsight is a wonderful thing and if Mikel Arteta had stuck the penalty away then nobody would be talking about this. Ian Wright says you have to miss a few as a striker and you need to show your mettle by getting up there and taking it, but I suppose you need to take a balanced view.
Some players might simply be better as impact substitutes
I saw Edin Dzeko being interviewed and he said he doesn't want to be a substitute for Man City, but there's no doubt that he has had a better impact off the bench than the likes of Mario Balotelli and Carlos Tevez have had this season. Remember, he started at Ajax and didn't play that well so maybe he'd have made more of a difference as a substitute? We saw Javier Hernandez have a big impact for Man United as a sub as well this weekend and players may want to start games, but you have to leave it for the managers to decide. Roberto Mancini has taken a lot of stick lately, but he made some very good substitutions on Sunday that won the game for his team. You have to let them make those decisions.
Give Nigel Adkins a chance to turn around Southampton's season
Nigel Adkins will be devastated by the manner of Swansea's equaliser on Saturday, but after two promotions you have to give him more of a chance. We know Southampton don't want to go back down to the Championship, but I don't think you can say he's been given every opportunity to strengthen that squad. I don't feel he had enough money in the transfer window and you have to wait until January so he can try to put it right. He's done a great job in the last two years and is quite rightly a god among the fans and I hate it when I hear people say a manager has taken a team as far as he can. That's rubbish because if you give him more resources he can take them further. I was told I'd taken Bradford as far as I could, but if they'd given me more money and time I could have gone further!
The goals keep coming for Everton and West Brom
There's a lot of inconsistency in the league this season, but Everton are one of the most consistent teams. Not long ago they were beaten as soon as they went a goal behind, but that's not the case now. David Moyes knows there's plenty of goals in his side and the same can be said for Steve Clarke and West Brom. They keep amazing everybody and the likes of Peter Odemwingie, Shane Long, Romelu Lukaku and James Morrison are a consistent threat. They look really good at the moment.