It's all Gunn wrong
Kammy says Santos' half-time shirt swap was ill-advised... as is Wenger's approach to Walcott.
Last Updated: 05/11/12 6:01pm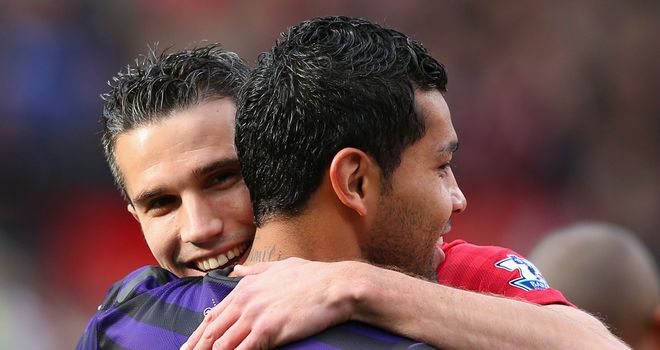 Every Saturday, Chris Kamara heads to stadiums up and down the country to deliver his unique match reports for Soccer Saturday.
On Sundays you can see him back in the Sky Sports studios as he brings you all of the highlights as well as in-depth analysis of all the action on Goals on Sunday.
And then on Mondays you can find Kammy right here on skysports.com as he brings you his views on the Premier League weekend.
Read below for his thoughts on Santos, Walcott, Swansea and more...
There's a cloud hanging over Arsenal at the moment
Sir Alex Ferguson will be delighted with Saturday's result because, more than anything else, it didn't take anything out of Manchester United. There's a lack of confidence in the Arsenal team, even though they had that fantastic Capital One Cup victory over Reading. Something isn't quite right and I'm sure Arsene Wenger will be looking to sort that out as soon as possible. Santi Cazorla looks like a real find, but it seems Olivier Giroud will need some time to settle and for some reason the defence isn't looking as solid as it was a few weeks ago. Steve Bould was getting all sorts of praise back then, but now they look shocking.
I can't understand Arsene Wenger's approach to Theo Walcott
It's a harsh one. We've seen how loyal Arsene Wenger can be when he was dealing with the likes of Thierry Henry, Cesc Fabregas and even Robin van Persie. Those players made their intentions clear that they wanted to leave and he stood by them. But with Theo he seems to have gone the opposite way and said that if he isn't going to sign a contract then he isn't going to play him. That sounds like cutting off your nose to spite your face, which isn't like Wenger. Theo says he wants to play through the middle and he can't do more than scoring goals, like he did in midweek. It's a strange one.
It doesn't look good when you ask for an opponent's shirt at half-time
If Andre Santos wanted to ask for Robin van Persie's shirt then he shouldn't have done it in the open, he should have done it in the tunnel. It's open to all sorts of interpretations and it doesn't look good. It's like 'fan man' on the pitch - the supporters would love to be able to get Van Persie's shirt - but he's supposed to be there trying to get a result for Arsenal. He hadn't had the best 45 minutes in the first place and maybe he realised that and feared he wouldn't get the opportunity to play in these big games very much in the future. He should be thinking that if he didn't get Van Persie's shirt on Saturday that he would be able to get it another day because he should believe he will play against him lots more times, but that didn't seem to be the case. Players never asked for shirts at half-time in my day and let's be honest, it's not a crime, but it doesn't look good.
Let's give West Ham some credit for the draw with Man City
You can only play as well as your opposition allow you to and if you take a balanced view then you'd have to say West Ham played well and Big Sam's tactics prevented Man City from doing what they're good at. They were also unfortunate because Kevin Nolan's goal was not offside; people say you're either offside or onside, but there should be benefit of the doubt given to the attacking players when it's a tight situation like that. They didn't get the rub of the green this week, but you can't criticise Man City too much. They are still unbeaten in the Premier League and even though they've had a bad time in Europe, going away to hard places like Upton Park and picking up a point when you don't play well is hardly a bad way to go about defending your title.
There'll be some head-scratching at White Hart Lane this week
I encouraged everybody to be cautious about Spurs following their win against Man United because I think people were getting a little bit carried away. I heard people saying things were all going in the right direction and Harry Redknapp would soon be a distant memory. All of a sudden it's changed again after the defeat to Wigan. They conceded a very bad goal from a set-play on Saturday, but you can't take anything away from Wigan who've had their best start for a long time. Good luck to Roberto Martinez for the rest of the season.
Two of the best signings of the season are Swansea players
Michu and Pablo Hernandez are two excellent players who have improved Swansea. Michael Laudrup inherited a decent squad when he replaced Brendan Rodgers over the summer and if he wanted to bring players in he needed to make sure they were better than what he had. I don't think there's any doubt that he's done that with the quality he's bought. I was surprised he got the job in the first place, despite his obvious pedigree, and there was a lot of pressure on him to follow Rodgers but I think the club deserve credit for giving him the opportunity. You'd have to say things are going in the right direction after a blip a few weeks ago when everyone thought things were going to come crashing down. I couldn't be more impressed and Michu and Hernandez showed in the draw with Chelsea that they've settled very quickly into the Premier League.
If you can't score a goal, you can't win a football match
Football is a fairly simple game and Sunderland fans should be worried by the inability of their side to get on the scoresheet at the moment. Aston Villa were the latest team to go there and win and Martin O'Neill will be having a look at himself in the coming days. His management style has been brilliant at every club he's been at throughout the whole of his career, but things aren't working for him at the moment. Maybe he needs to think about whether he needs to make some changes because if Steven Fletcher doesn't score then they are in trouble. I still doubt they will end up in a relegation fight with the players they've got, though.
Liverpool remain reliant on the goals of Luis Suarez
Luis Suarez's goal was absolutely fantastic against Newcastle. Liverpool are reliant on him at the moment because they don't have anybody else to call upon up front and it's clear he's their most important player. However, it was interesting to hear Brendan Rodgers' press conference after the game in which he said that will soon change. He's going to bring some help alongside him in the next two transfer windows and if one of those players is going to be Theo Walcott then it wouldn't bad news for Liverpool fans!