Mark of shame
Kammy says Clattenburg was wrong, Torres didn't dive and assistants need to learn the offside law!
Last Updated: 29/10/12 12:54pm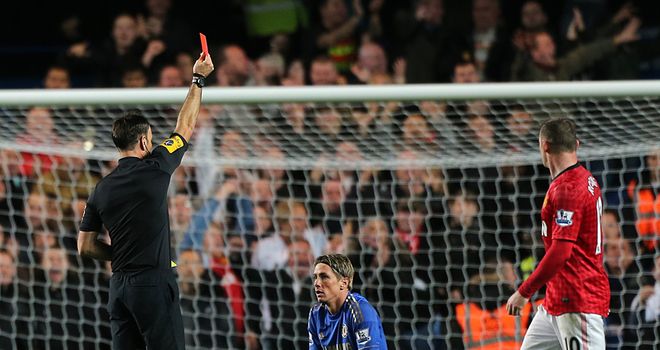 Every Saturday, Chris Kamara heads to stadiums up and down the country to deliver his unique match reports for Soccer Saturday.
On Sundays you can see him back in the Sky Sports studios as he brings you all of the highlights as well as in-depth analysis of all the action on Goals on Sunday.
And then on Mondays you can find Kammy right here on skysports.com as he brings you his views on the weekend.
No grey areas.... Mark Clattenburg got the Torres red card totally wrong
This was an absolutely shocking decision. How on earth can they think he dived? When the ball went through Jonny Evans' legs, the defender had nowhere to go and there simply had to be contact. There were no ifs or buts about it - the player can't disappear and he was always going to make contact. I've seen it happen a million times. So Fernando Torres went down and whether or not the contact was minimal it was a very poor decision to give him a second yellow card.
Maybe Mark Clattenburg was trying to show everybody that if there was a dive during one of his games he would make sure he sent them off - but sometimes they don't know the difference. The issue of diving is a tricky one and it's been highlighted more this season, but what is a dive? Should a player allow himself to be kicked before he goes down or can he anticipate the contact? It's a very grey area, but in this particular instance it's not a grey area. Once the ball went through Evans' legs, he can't disappear and there was always going to be minimal contact. Evans' expression told you everything; he looked straight at the referee and thought he was going to be booked!
The assistant referees SHOULD be able to spot key offside decisions
On Goals on Sunday we analysed Arsenal's winning goal and the assistant referee was looking right across the line and should be able to see that Mikel Arteta was offside when the ball was played forward by Aaron Ramsey. He's only got a few jobs in instances like that and looking out for offside is one of those jobs.
It was exactly the same at Stamford Bridge. The assistant should have been looking across the line and he should have seen that Javier Hernandez was offside. There are no ifs or buts about it. That's nothing new and Clattenburg has been let down by his assistant, just as Anthony Taylor was let down in the Arsenal game. It's part and parcel of the game and you accept that; some weeks you get it and some weeks you don't. You just hope they improve - and maybe some of the assistants need a refresher on the laws of the game so they know exactly what they're looking out for.
At the moment, I don't understand the complaint about Mark Clatteburg's language
Yes, Chelsea should complain about Clatteburg for having a poor game, but I don't understand them complaining about 'inappropriate language'. If a referee showed a yellow card every time foul language or a derogatory remark was used by players then we'd end up with five-a-side every week. Stuff comes out in the heat of the moment and if referees were to capitalise on that then the players would be in all sorts of trouble. I always had a bit of banter with the refs in my playing days and sometimes they'd tell me to do one. You have more affinity with them if they're honest with you, rather than taking offence to everything you said. To be fair, I shouldn't comment too much on this because I don't know what he's alleged to have said and we can't make any judgments until the full facts have come out.
Luis Suarez's goal celebration was absolutely brilliant...
Humour in the game is few and far between these days. Luis Suarez was told that David Moyes had highlighted the fact he was a diver and so he decided if he scored a goal (or a goal that he was claiming...) that he would go and do a dive in front of the Everton manager. Moyesy took it really well, which was great to see, because the game should be about fun. For one second I was worried about the reaction, but even though his team had just gone a goal down he managed to see the funny side of it. Suarez didn't go over with an evil expression to rub it in Moyes's face and it was a fun gesture.
... but he should have been awarded a winning goal in injury time
I've heard it argued that there was a foul on Phil Jagielka at the far post, so the officials ended up with the right outcome but I'm not so sure about that. To disallow a goal for offside was an error. Suarez attacked the situation, he wasn't stood in an offside position, so it was a poor decision by the officials. However, I'll finish talking about the Super Sunday games by saying both were outstanding matches. They were full of talking points and it reminds you why we love this game so much.
Manchester City had to dig deep to beat Swansea
People were making a lot of assumptions after Manchester City lost to Ajax in midweek. They were saying things weren't right in the camp, the manager wasn't happy with some of his players and the players weren't playing for the system. But at the end of the day, they are still unbeaten in the league and after all that disappointment in Europe they dug in and got a result. We saw Celtic put in a mammoth effort in midweek in Barcelona and they ended up getting turned over by Kilmarnock at the weekend. It's easy to let a major disappointment affect your domestic form, but the City players showed a lot of character.
Mark Hughes was let down by his own player - and the officials
Stéphane Mbia let down his manager and the rest of his team-mates with his senseless red card and then the officials let down QPR by not spotting that Arsenal's winning goal was offside. However, nobody will remember that at the end of the season; it's all about results. However, it was an important win for Arsenal because the crescendo of disquiet about Arsene Wenger would have increased if they had failed to beat QPR.
Dimitar Berbatov doesn't need to run around to be a great player
The game of the day on Saturday was Reading's 3-3 draw with Fulham; another Premier League classic, but when I listened to the radio on the way back from Villa Park on Saturday afternoon the reporter was being very disrespectful towards Dimitar Berbatov. He was criticising him for not running around and I assumed he must have had a shocker. Then I watched the game for myself on Sunday morning and thought he was absolutely outstanding; some people don't know a footballer when they see one! You don't have to run around at 300mph when you have his quality.
Aston Villa need to buy some experience in January
I was at Villa Park on Saturday and while Norwich were good, Aston Villa are still searching - and Paul Lambert knows that. His former club were the better team, but Villa got the opening goal against the run of play and dug in to get a point. They need to spend in January and strengthen the squad, that's for certain. It's very well playing youngsters, but they need some experience alongside them.