Tough for Terry
Kammy understands John Terry's retirement and says Liverpool aren't as bad as results suggest.
Last Updated: 25/09/12 11:07am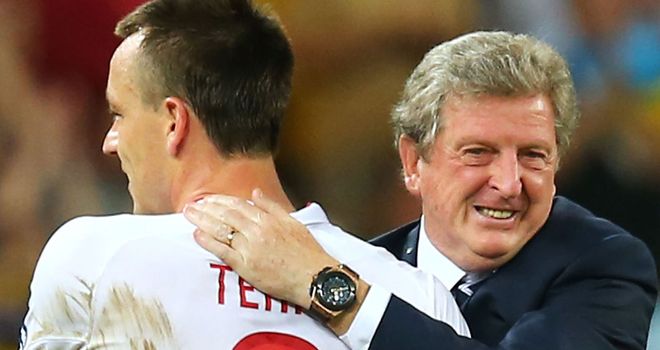 Every Saturday, Chris Kamara heads to stadiums up and down the country to deliver his unique match reports for Soccer Saturday.
On Sundays you can see him back in the Sky Sports studios as he brings you all of the highlights as well as in-depth analysis of all the action on Goals on Sunday.
And then on Mondays you can find Kammy right here on skysports.com as he brings you his views on the weekend.
Join us every week as he runs through his highs and lows of the Premier League...
I completely understand why John Terry has called time on his England career...
John Terry has been to a court of law, which is much higher than the FA, and they found him not guilty but now he has to go to the FA and defend himself again. He has worked for the FA and been the captain of their England team and yet they're saying the decision of a court of law isn't enough for them. I understand why he's saying he wants to step down from England duty, as a result.
The FA should have done their hearing the day after the court case ended. Personally, this whole thing should have been sorted out straight after the incident. First and foremost, the court case should have been held much sooner but it was delayed until after Euro 2012. But once the court case was out of the way, the FA should have held their own hearing straight away. It's a difficult one for the FA as well, who I am sure wanted to avoid all this.
Stoke deserve some credit for pushing Chelsea all the way...
Stoke don't get enough credit. People go to their games and say they aren't great games to watch, but Tony Pulis knows what his side is about. They stop the opposition playing and were it not for one sublime piece of skill from Juan Mata to flick it on to Ashley Cole (who finished like a striker, rather than a left-back) they would have got a draw away at Chelsea. From Stoke's point of view that would have been a great result. Not every game is a classic and we get all sorts of matches in the Premier League and that's one of the things that makes it so compelling.
David Luiz should have been sent off for his challenge on Jonathan Walters...
In this day and age that incident was a clear red card and the inconsistency of it all is very frustrating. A couple of weeks ago Tom Huddlestone was sent off for a perfectly fair and committed challenge and then this week Luiz wasn't in control of his body, but only got a yellow card. That's why managers get upset and angry because one week you get a different decision to the next. I also wonder if it was the other way around and it was a Stoke player making the tackle, then would the outcome have been different? I understand why people say it's easier to give a straight card when it isn't one of the bigger clubs.
Liverpool needed to focus on the positives, despite losing to Man United...
As soon as Liverpool went down to 10 men with 55 minutes left you fancied Manchester United to come out on top, but Brendan Rodgers will be pleased that his players gave it a real go. From his point of view the results just aren't happening. You can't say the players aren't trying or working for him and I think they're playing quite well; it seems circumstances are working against them at the moment. It was an emotional day at Anfield and I'm sure that in a perfect world they wanted a victory, so they will be disappointed. I think they are playing well though.
The tributes to the Hillsborough victims were tasteful and respectful...
I thought the tributes were well respected by the supporters before the game. I've heard reports that there may have been some unsavoury chants at the end of the game, but you can't control everybody. You certainly can't sanction Manchester United who can't control a few mindless idiots. It was good to see the actions of Sir Alex Ferguson, who spoke well in the build-up to the game and made a plea for the fans to show respect.
Arsenal's progress continued with a fine result at the Etihad...
Who would have guessed that Man City v Arsenal would be settled by two set pieces? I didn't see that coming! It was a good result for Arsenal because it's not easy to go to the home of the champions, where they have an extremely strong record, and get a draw. I've noticed massive improvements from Arsenal this year. It can't have been easy for Lukas Podolski and Santi Cazorla to come in and fit into Premier League football so quickly, but they've looked as good as any of the foreign players we've seen on these shores of late.
Rickie Lambert has proved he can score goals at the highest level...
It was a brilliant win for Southampton over Aston Villa. I've written in this column many times over the last five years about how good I think Rickie Lambert is and I was very pleased to see him get two goals on Saturday. I was also pleased for Nigel Adkins because the newspapers last week were suggesting he might be in trouble if he hadn't won that game. After two promotions on the bounce those stories were absolute rubbish.
Leighton Baines is one of the unluckiest players in world football...
With the form he's in at the moment he would walk into most international teams, but he's behind Ashley Cole, who is the best left-back in the world. It's very unfortunate that we can't find room for both of them in the England team. His assist record is tremendous and he looked very good in Everton's win over Swansea. Marouane Fellaini and Steven Pienaar were also impressive, but Baines was excellent.