Right to write
Kammy praises John W Henry and Robin van Persie, and tells Southampton fans to keep the faith.
Last Updated: 03/09/12 5:03pm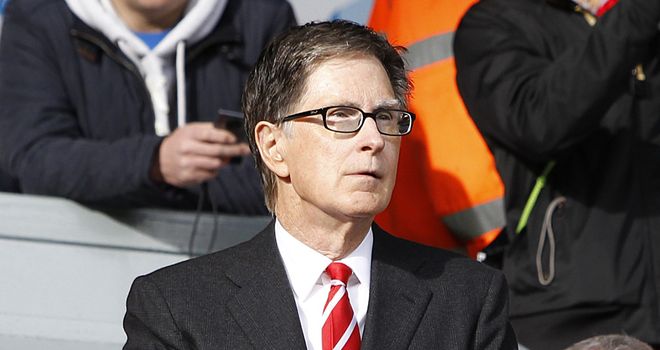 Every Saturday, Chris Kamara heads to stadiums up and down the country to deliver his unique match reports for Soccer Saturday.
On Sundays you can see him back in the Sky Sports studios as he brings you all of the highlights as well as in-depth analysis of all the action on Goals on Sunday.
And then on Mondays you can find Kammy right here on skysports.com as he brings you his views on the weekend.
Join us every week as he runs through his highs and lows of the Premier League...
John W Henry has done the correct thing by writing to Liverpool fans...
If I was Brendan Rodgers or a Liverpool fan I would be bemused and frustrated that Andy Carroll, who has not had a great Liverpool career but is still an England striker, has been let go and no-one else brought in. So I applaud the owner for having the decency to come out and make a statement explaining that getting the club's finances in order is their primary concern. It might not be what the fans want to hear but I think it shows the owners want to protect the club. Rodgers did not want to be in this position, though, and there are no ifs and buts, he is under pressure. The fans seem disillusioned, not by him I'm sure, but the last thing a new manager wants to do is get off to a bad start and his side have had one - their worst in 50 years.
Liverpool could still sign a striker in the next few weeks...
The Reds do look short up front and there have been some press reports linking Didier Drogba and Michael Owen with moves to the club. Drogba, who may become a free agent if he cannot iron out some alleged differences with his Chinese side, Shanghai Shenua, is in the Andy Carroll mould so would he fit into Brendan Rodgers' style? But if you are short of numbers and Michael Owen is available, then getting him is a no-brainer as far as I'm concerned. He won't play 40 games a season but he will be able to step up if Luis Suarez or Fabio Borini are injured for a short period of time.
Robin van Persie was magnificent against Southampton...
Everyone said the signing of Robin van Persie could swing the title in Man United's favour and he has started like a house on fire for Sir Alex Ferguson's side, firstly with his fantastic goal against Fulham last week and now his hat-trick against Southampton, in a game in which he was just awesome. The Premier League is his domain; he didn't make much impact for Holland at the Euros but he finds the target with alarming regularity in the English top flight. Southampton did absolutely nothing wrong in the match, they just came up against a world-class player and a team that never knows when they are beaten.
Tom Huddlestone should never have been awarded a red card...
The Tottenham midfielder's clash with Norwich's Jonny Howson wasn't as a result of a two-footed lunge and there wasn't excess force, it was just two players going for the ball, and genuinely missing it. I don't understand why the referee can't come out, admit he was wrong and rescind the red card. Why do Spurs have to appeal when everyone knows the wrong decision was made? Norwich will feel hard done by, too, as they probably should have been given a penalty when Benoit Assou-Ekotto tugged on Steve Morison's shirt, but I don't think Swansea can have any complaints about Chico's dismissal during their draw with Sunderland. Louis Saha was not injured when he was caught by the Spaniard's high boot but it was still a pretty dangerous move by the Swans defender. Thankfully, it didn't spoil another excellent performance from Michael Laudrup's men.
West Ham, Reading and Southampton WILL compete in the Premier League...
Each of the three promoted teams have proved that they are going to be no pushovers: Reading got a glorious defeat against Chelsea; West Ham have won both their home games; and while Southampton have no points as of yet, they have equipped themselves well against last year's top two. A glance at the table might make grim reading for the Saints but their manager Nigel Adkins is a realist and would have known that getting anything from the Manchester clubs would have been a mirror miracle. He would have pinpointed the home game against Wigan as a winnable but even though they lost that, they are only three points off where they probably expected to be. The new boys could be involved down the bottom but they won't be cut adrift.
The transfer window could work out well for England...
Sam Allardyce and the West Ham board were persistent in their chase of Carroll and the one thing Big Sam will do with the on-loan Liverpool striker is play to his strengths. He did that in Saturday's win over Fulham and Carroll's impact was the main reason they won. Andy will miss England's upcoming World Cup qualifiers against Moldova and Ukraine with a hamstring injury but him playing regularly for West Ham can only be good for the national side in the long run; we saw how big of a threat he can be in his cameos at the Euros. Adam Johnson, too, will be seeing his move to Sunderland as a path to regular England appearances. We all know the guy's potential and he earned his switch to Man City after some excellent performances for Middlesbrough. His game-time dried up at the Etihad but under Martin O'Neill he will be desperate to prove he is still good enough to play for a top-four club - and his country.