Perspective, please
Liverpool and QPR won't be happy, says Kammy, but must not over-react to their opening defeats.
Last Updated: 03/09/12 4:55pm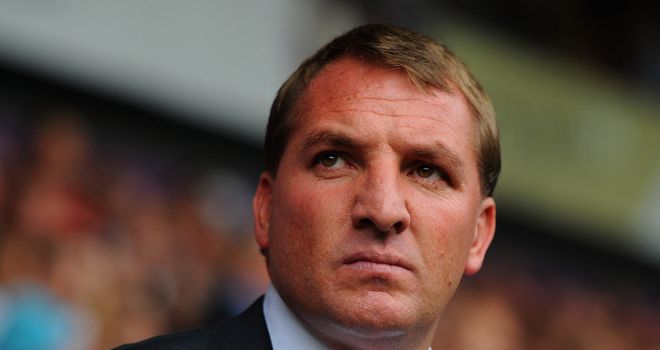 Every Saturday afternoon, Chris Kamara heads to stadiums up and down the country to deliver his unique match reports for Soccer Saturday.
On Sundays you can see him back in the Sky Sports studios as he brings you all of the highlights as well as in-depth analysis of all the action on Goals on Sunday.
And then on Mondays you can find Kammy right here on skysports.com as he brings you his views on the weekend.
Join us every week as he runs through his highs and lows of the Premier League...
Man City's 3-2 win over Southampton will give Roberto Mancini food for thought
The injury to Sergio Aguero will make Manchester City wonder if they should have bankrolled the signing of Robin van Persie. The two goals they conceded may also make them wonder if they should bring in another defender to give the players a rocket and make sure they don't become complacent. In some ways it was better than a 1-0 win for Mancini because the result was an eye-opener for the board. It showed they're not the finished article, it showed that as champions they are there to be shot at and he may now ask for some money to compete... especially after RVP went down the road.
Nigel Adkins might wish he'd played Rickie Lambert from the start
Everybody knows Rickie Lambert is a player I really like. I've watched his career develop from his days in the lower divisions and when he was in League One I would tell people that he could score goals in the Premier League. He reminds me of big John Hartson with his ability to hold the ball up and he's a good finisher too. He's not the quickest, but I thought he made a massive difference when he came on. I was very impressed with Southampton's performance overall. They had a go at the champions and they can take heart from that. Nigel Adkins can tell his players that they were playing against the best and Man City knew they were in a game. Southampton now need to maintain those standards.
All of the promoted teams got off to a good start
The last thing you want to do in your first game after promotion is to suffer a heavy defeat because it sends a negative vibe throughout the club. All of a sudden you get people saying you're going down, even though you've only played one game! Reading will be chuffed with coming from behind to draw with Stoke. That will feel like a victory because it's always difficult to score against them. Sam Allardyce will be pleased as well and I'm sure that West Ham's 1-0 win over Aston Villa was as good for him as a 5-0 win. Speaking of which...
Seeing was believing at Craven Cottage
I was at Fulham's game with Norwich and they deserved to win 5-0. There was no fluke about the result; they were simply superior on the day. For the first 15-20 minutes Norwich had the lion's share of possession, but from the minute Fulham scored the game was won - and that will disappoint Chris Hughton a lot. It was his first chance to have a good look at his players in a competitive game and he wouldn't have liked what he saw. But it was the first game of the season and it was boiling hot, so it was always hard to chase the game. He will be disappointed, but he mustn't be too downhearted.
A 5-0 home defeat is a bitter pill to swallow, but not the end of the world
As I said on Goals on Sunday, my first game last season was QPR v Bolton and it finished 4-0 to the away side, who ended up going down. So while Mark Hughes won't be happy about losing 5-0 at home to Swansea, he must get over it as quickly as possible. If they can return to the form they showed at the end of last season then maybe they can put it down to being one of those days.
We mustn't get carried away by Liverpool's defeat
Zoltan Gera scored a really cracking goal for West Brom and you can analyse things all you like, but sometimes there's nothing you can do as a defence. Then Liverpool had Daniel Agger sent off and it was an uphill task for them. Sometimes I hear peoples' reactions on the first day of the season and they get far too carried away. If Liverpool are still in the bottom three after 10 games then maybe there will be cause for concern, but they might win their next nine games and then everything in the garden will be rosy. They have a massive game against Man City next and they'll be hoping to take their chances in that one. It isn't nice to lose your opener, but let's keep things in perspective.
The early signs were very good for Eden Hazard
I saw Eden Hazard play for Belgium at Wembley a few months ago and I wondered why Chelsea had spent so much money on him? On Sunday, you could see why as he adapted to Premier League life quickly with a great game against Wigan. Roberto Di Matteo has mixed up his squad after the Champions League win and if they can maintain it then maybe it won't be a two-horse race between the Manchester clubs. He'll be pleased with his signings and the spirit they showed. Everybody expected Chelsea to win, but you still have to go out there and do it.
I'd like to clarify some quotes attributed to me in The Sun last week
There was a double-page spread in The Sun last week, featuring my verdict on the Championship. The newspaper rang me and asked me for a team that would win the Championship. As we saw last year, when outsiders Reading and Southampton got automatic promotion, the only predictable thing about the Championship is its unpredictability, so I said I couldn't pick a winner. They asked me to pick a team that would do well and so I said Neil Warnock's record suggested Leeds could have a very good chance. They also asked me to predict where some of the other teams would finish, but I didn't want to go anywhere near that. The last thing any football fan wants to hear before a ball is kicked is some pundit telling them their team is going to struggle!
Then I picked up the paper on Wednesday and read the article. It said Leeds would win the Championship, which is not what I'd said. They also predicted some other teams to be relegated and put my name to the article! I complained and they gave me a right to reply the following the day and they also made a donation to Marie Curie Cancer Care, which is the only good thing that came out of it. I would like to use this opportunity to again clarify that I didn't say those things about The Championship.