Bask in the glory!
Forget the future, let Manchester City savour their miraculous title triumph, says Chris Kamara.
Last Updated: 14/05/12 5:46pm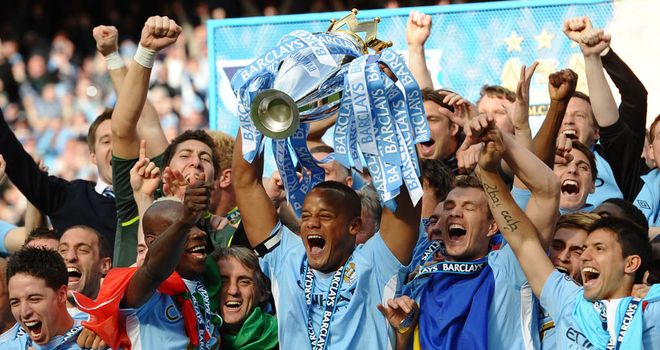 In the end Manchester City's title triumph was pure Hollywood. Except even in Hollywood you could not write a script like that.
If you went to watch a movie and it ended like that you would think, 'yeah, but it would never happen in real life'. But it did. Even as a neutral my heart was racing and pumping at the end, it was amazing.
We had Goals on Sunday beforehand so I watched all the action unfold with Ben Shephard and our producer with United on one screen and City on the other. You just could not believe what was unfolding in front of your eyes.
The final whistle went at Sunderland and it was Manchester United's title and you just thought there was no way back. I thought maybe City would get an equaliser in time-added-on but to score two was just beyond belief.
The only thing that comes close to it for last-day drama is when Mickey Thomas scored for Arsenal to win the title for George Graham's team at Anfield.
That was amazing but it was clash of the titans with one winning it and one losing it. In this situation Manchester United's game had finished, they had won it and City were out of it. But then we got that finale to cap what is probably the greatest Premier League season ever.
Let them enjoy this before thinking about next season and whether they can repeat their success or what players they are going to bring in. Let those players enjoy what happened yesterday because all those people who were there will always remember that final day and how it unfolded.
For United it must have hurt so much. Who would have thought at the beginning of the season that Manchester United would finish without a trophy? It's incredible.
I feel for Sir Alex Ferguson. He is such a great manager and when City were 2-1 down he must have thought, 'right this is it'.
But Ferguson was so gracious afterwards which was brilliant. He did not come out and say United had thrown it away or they won it by default or they spent more money than anybody else or paid more wages than anybody else - none of that.
He said they were worthy champions over the course of the season which shows the class of the man.
The rest of the weekend's talking points
Jon Walters' opening goal against Bolton was a disgrace
Bolton were furious with Jon Walters' opening goal for Stoke - in a defeat that saw the Trotters relegated to the Championship - and rightly so. It was an absolute disgrace. Who knows what would have happened if it was still 0-0 but the goal should never have been allowed.
The referee obviously saw it because he gave it but the assistant should have been flagging. If you were Owen Coyle, knowing your team needed to win, and all of a sudden you are a goal down for something that in any other football match would not be allowed, you would be furious. I would not have minded if Walters had headed the ball but he headed the arms of Adam Bogdan!
The one thing you would have hoped is that this season the refereeing standard would improve but if anything it has got worse. The big decisions that they have made have been terrible.
You can't change what has happened and Bolton are in the Championship next season. You hope they do well there but you don't know, you really don't know.
Joey Barton's dismissal didn't cost QPR - but it may cost him
There are things that we have witnessed this season that we have never seen on the football pitch before - and Joey Barton's reaction to his sending off at the Etihad Stadium is one of them. The original foul on Carlos Tevez was bad enough, but for him to react the way he did is just unacceptable, going to knee Aguero before lunging at Vincent Kompany.
Ultimately it didn't cost QPR but it was a sour note for Mark Hughes' team. The problem for Barton now is that he is going to get a ban so won't be able to play for anyone for at least half a dozen games - you would have thought.
Arsenal were given a helping hand to third place
Well done to Arsene Wenger and Arsenal because people were saying that they would not even finish in the top four this season but what was goalkeeper Fulop doing in that game? He had an absolute shocker among shockers. But these things happen and credit to Arsenal for holding their nerve and snatching third place.
It was tough luck for Toon
It's a real pity for Newcastle to miss out on a top-four finish and possible place in the Champions League but it's been a wonderful season for them. Alan Pardew was quite rightly named manager of the season by Barclays. He may make it a double with the League Managers' Association award - but he has some tough competition from Brendan Rodgers and Paul Lambert, and now of course Roberto Mancini.