The wrong approach
Roy Hodgson is a great coach, says Chris Kamara, but the FA have blundered over Harry Redknapp.
Last Updated: 30/04/12 4:26pm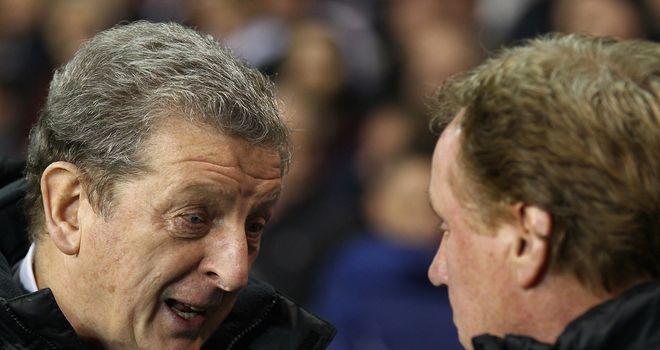 I was with Roy Hodgson on Saturday and I can't believe he didn't tell me he was going to be interviewed for the England job!
Seriously though, he would be a safe pair of hands for the FA. He's a good manager, he's an elder statesman of the game and he knows this sport inside out. He might not be as charismatic as somebody like Harry Redknapp, but you can't argue with his CV.
He's done a fantastic job at West Brom and I find it very surprising that Jeremy Peace didn't knock his door down in January to get him signed up to keep the Baggies in the Premier League for years to come.
People probably underestimate the job he's done at the Hawthorns. A lot of players have grown in stature under him: Chris Brunt has become a central midfield player with authority; Jerome Thomas was considered a Championship player but is now a Premier League regular; and Peter Odemwingie has developed into a striker who is attracting attention from a lot of clubs.
However, his forte is probably the defence and the way he organises the backline. West Brom don't give many goals away but at this moment, if the England team is organised and hard to beat, then that's all we can probably ask for.
He's a great manager and I don't want to diminish that, but I was firmly in the Harry Redknapp camp. I strongly believed he was going to be the manager and I still believe he's the right man.
Something has definitely gone wrong there. Maybe they couldn't agree the compensation to get him out of Tottenham? Officially the FA are saying they have only approached Hodgson, but we all know how this works. Everybody in football knows how it works.
The FA is doing what the FA does best. There was a man they surely wanted, but as soon as the door was half-blocked they have jumped away to move for somebody else without letting the public know what was going on.
I bet they wish they'd gone public at the start of it all when Fabio Capello went. If they'd made a decision straight away they wouldn't have been blamed for Tottenham's dip in form.
They probably thought Tottenham's results would go swimmingly, but they have been on a bad run and a lot of people have blamed it on the speculation over Redknapp's future. In the end maybe the FA didn't want to get involved and have decided to go down a different avenue.
That's no slight on Hodgson. I'm behind him all the way, but a lot of people, like myself, believe it would have been right for Harry.
The team would have been flamboyant under Harry and his forte is working with and reviving senior players. He can get a bit more out of players that others believe have had their day.
That's not Roy's way, but let's give him a chance. He might be great and we're all hoping he will be.
We all know what football's like. It doesn't matter what people think of you, if you get the results then people will get behind you. Look at Alan Pardew as an example; nobody wanted him at Newcastle, but the Geordies absolutely love him now. He's a hero.
If things don't work out well then people will be quick to say "I told you so", but I hope that's not the case.
The rest of the weekend's talking points
Newcastle's defeat to Wigan was a real surprise
Three weeks ago the flavour of the weekend in newspapers was Swansea - and they promptly got battered on the Saturday. Two weeks ago it was Wigan - and they lost at Fulham. This weekend it was Newcastle - and they promptly got battered. Nobody will want any good headlines next weekend!
I watched Newcastle against Stoke last week and they were sensational, so I'd never have foreseen a 4-0 defeat at Wigan. It shows how brilliant Wigan were, they got the first goal and then Newcastle went on to have one of those days that clubs have from time to time where nothing went right for them. The players that have been performing brilliantly didn't perform, but you can't take anything away from Wigan. They were exceptional.
Blackburn Rovers didn't offer a thing against Tottenham
Since the start of the season, Rovers fans have been telling us that the club wasn't right and that they were going to go down. Every week on Goals on Sunday I've been giving them a chance, but that game on Sunday must have been their worst performance of the season. They went down without a fight and that told its own story. Steve Kean didn't want it to happen, but the players made it happen - and to find a way back from that will be very difficult.
Once again, Spurs were brilliant and the race for the third and fourth spot now looks fantastic. Arsenal, Chelsea, Newcastle and Spurs are in there and it will be a great battle until the end of the season.
Roberto Di Matteo has shown he can get the best out of Fernando Torres
I think that's one of the things Di Matteo has done since he's been in charge. He hasn't started Torres in every game, but he's let him take part in almost every game - even in the Nou Camp when he put him on to play on the left wing and asked him to help out with the defending! In the end that scenario worked out perfectly and that restored his confidence to go and score three goals against Queens Park Rangers.
The battle to beat the drop took a few more twists
I think Blackburn are odds-on for relegation now, but football's a funny game. Maybe they'll turn it around against Wigan next week, but on the evidence of what we saw on Sunday it would take an almighty turn around for that to happen.
For me it still goes up to Aston Villa. I think they're in a race with Wigan, Bolton and QPR to avoid that third relegation spot. It was a very damaging defeat for QPR at Chelsea, though.