Take it as Red?
Chris Kamara says the title is still Man Utd's to lose after their rare tactical slip against Everton.
Last Updated: 23/04/12 1:05pm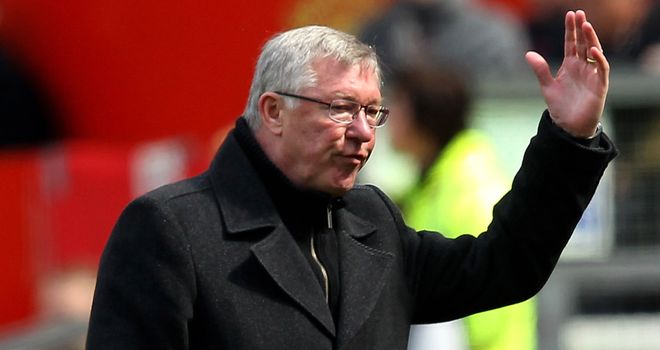 Every Saturday afternoon, Chris Kamara heads to stadiums up and down the country to deliver his unique match reports for Soccer Saturday.
On Sundays you can see him back in the Sky Sports studios as he brings you all of the highlights as well as in-depth analysis of all the action on Goals on Sunday.
And then on Mondays you can find Kammy right here on skysports.com as he brings you his views on the weekend.
Join us every week as he runs through his highs and lows of the Premier League...
I still can't believe that Manchester United didn't close the game off against Everton
I have so much respect for Sir Alex Ferguson, who is such a great manager, but it was very surprising to see them allow Everton back into the game after being 4-2 ahead. In the past it would be game over once Manchester United got two goals ahead - they'd take a striker off and shut up shop - but that wasn't the case on Sunday. It's easy to say it when you're sat at home, but it's much harder when you're in the thick if things. However, it's left the title race in the balance when it could have been done and dusted.
I'd still fancy Man Utd to get a result at the Etihad next week
People seem to forget that Manchester United just need to avoid defeat next Monday. I'd fancy Sir Alex to pick a team to go away from home and get a result anywhere - and he'll be plotting that all week long. The only concern is what happened on Sunday when they had it in the bag and let it slip. But the fact that Man City have to win and Man Utd don't could be crucial. Under normal circumstances you'd fancy Man Utd on the counter-attack - and I think they'll get a draw next week - but I'm less sure after seeing what happened against Everton. It is still Man United's title to throw away in my eyes.
Everton showed there are no favours in the Premier League
I'm sure if you'd given David Moyes the option at 4-2 then he might have shaken Sir Alex's hand and gone home, but there are no easy games and no favours in the Premier League. Those two men are good friends, but after losing to Liverpool in the FA Cup (and I know Moyesey was cut up about that) then a draw at Old Trafford is a bit of consolation for him.
Could he be in line to become the next Man United manager? Well, Sir Alex likes him and that has to make him one of the favourites. If Ferguson moves upstairs and stays on in some capacity then he'll need a manager who he likes and respects - and Moyes fits the bill.
Wolves paid the price for not having a Plan B
Wolves made mistakes this season. They sacked Mick McCarthy, believing that was the right thing to do, but they didn't have a replacement lined up and that has cost them dearly. Terry Connor would have been happier working with Mick until the end of the season, so why did they leave him isolated on his own?
Players always have more respect for a manager than they do for an assistant - and if an assistant takes over then he has to earn that respect by winning football matches. I know that from my own experiences when I took over from Lennie Lawrence. If you don't win matches then even if the players still like you, things aren't going to go in your favour. Unfortunately that's what's happened with TC.
Aston Villa's point against Sunderland could be very significant
Sunderland had a perfectly good goal disallowed, which could be crucial for Aston Villa. QPR and Blackburn both won on Saturday and Bolton still have games in hand, so there could have been a bit of panic at Villa Park if they'd lost that one because people would be wondering where their next point would be coming from. One or two points might be enough to keep them up and I think three will definitely see them out of it.
For the other teams down there it's going to be nip and tuck all the way to the final day. Wigan had beaten all the boys at the top, so you expected them to get something out Fulham, but they lost that one. It doesn't matter what the fixtures are, the games are just impossible to predict at this time of year.
We saw another argument in favour of goal-line technology
I slowed down the tapes of Pavel Pogrebnyak's shot against Wigan and it looked like it was 100 per cent over the line. In the end there was no fuss made about it because they won the game anyway, but I think it was a goal. Several people Tweeted me about it and we didn't have time to analyse it on Goals on Sunday because we had three guests on the show and a lot to fit in, but it looked over the line to me. I haven't forgotten about it!
Newcastle's front three are outstanding
I was at Newcastle on Saturday and they were magnificent. The system is outstanding, unquestionably the best in the Premier League at this time. They have Hatem Ben Arfa on the right (who I've nicknamed Elvis because of the way he moves his knees and shuffles past defenders), the outstanding Papiss Cisse up the middle (who has bucked the trend of foreign players needing time to settle; he seems like he was born to play in that Newcastle shirt) and Demba Ba on the left. He has been doing a job for the team and he was desperate to score on Saturday - and actually made a couple of wrong choices as a result. The work-rate of the front three is brilliant, they fill in for each other, and they defend in the same way as they attack.
And the rest of the team isn't bad either...
The balance of the Newcastle midfield is brilliant. Cheick Tiote sits and pulls the strings, Jonas Gutierrez has vision and then Yohan Cabaye gives them vision and finishing ability. You wonder if they're strong enough at the back, but Fabricio Coloccini's commanding presence seems to have settled everyone down and behind them you've got to beat Tim Krul. I couldn't have been any more impressed with what I saw on Saturday and with Arsenal, Tottenham and Chelsea not bang in form then at this moment a top-four finish is there for Newcastle. But Alan Pardew's not stupid and while he hopes they will play that well in their next game you just never know.