A farce too far
Chris Kamara sees the issue of goal-line technology rear its ugly head yet again at a crucial time.
Last Updated: 16/04/12 1:49pm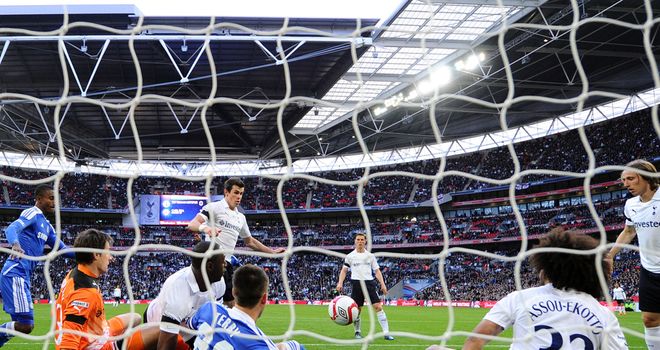 Every Saturday afternoon, Chris Kamara heads to stadiums up and down the country to deliver his unique match reports for Soccer Saturday.
On Sundays you can see him back in the Sky Sports studios as he brings you all of the highlights as well as in-depth analysis of all the action on Goals on Sunday.
And then on Mondays you can find Kammy right here on skysports.com as he brings you his views on the weekend.
Join us every week as he runs through his highs and lows of the Premier League...
Ghost goals are unacceptable and easily avoided
I can't believe what happened with regards to the second goal in the FA Cup semi-final between Tottenham and Chelsea.
This back end of the season, the decisions that have gone on have been incredible. When I was at Watford v Reading and saw the ghost goal, I thought I'd seen it all!
There was a possibility that the ball was heading towards the goal on Sunday, but to get a decision like that wrong in such a high-profile game is just amazing.
We've been crying out for however many years for goal-line technology. Whatever else happens on the pitch, let it happen because that's football, but the only thing we're saying is let us know if the ball has gone over the line.
Everything is in place to do it. It'd be easy to sort out. The fourth official would've known in seconds and would've contacted the referee to say 'no goal', they could've shown it on the big screen at Wembley to prove that it didn't go in, and it'd be done and dusted.
The fact that this was a goal given for a shot that hadn't crossed the line as opposed to no-goal given for a shot that had, makes the decision worse. It wasn't even close. The referee gave it from his position. What did he see? It basically didn't happen.
You have to say 'well done' to Chelsea. They must be annoyed about people harping on about that goal when they've won 5-1, but nobody can take away from them that they're in the final.
In the same way, if the Frank Lampard goal was allowed against Germany, we'd have come from 2-0 down to 2-2, the game would've changed completely and we could have gone on to possibly win the game. But we'll never know.
The decision on Gareth Bale's goal was right. Were Spurs denied a goalscoring opportunity? Adebayor was, but Bale was on-hand to score. I work quite closely with the referees because I need to understand the rules for when I discuss them on Goals on Sunday, and that was the correct decision.
There's no such thing as 'last man' anymore. Petr Cech probably should've been booked. The other scenario is that he sends off Cech and Spurs miss the penalty. I think the correct decision was applied by Martin Atkinson there.
Now everyone will be expecting Ash to dive
Many have been criticising Manchester United winger Ashley Young for diving after a second incident in seven days. The way he went to ground against QPR last weekend didn't win him any friends and the manner in which he won the penalty in Sunday's 4-0 win from Aston Villa has made things worse for him.
The QPR one was a lot worse than yesterday. The touch from Shaun Derry on Ashley Young was hardly anything and I can't believe that that red card has not been rescinded. The fact Derry wasn't allowed to play against West Brom on Saturday was a joke. Whoever is on that panel needs to come out and explain themselves.
In the incident against Aston Villa, he's been clipped on his ankle and there's actually contact, but he then does some kind of triple dive to make sure the referee knows that he's gone down.
Unfortunately now, from his point of view, everybody will be looking for him to dive. He's got to get that out of his game. He accentuated the dive to make sure he got the penalty and it's disappointing. The touch from Derry wasn't enough to send him down against Rangers and the touch against Villa was a kick but he threw himself down.
Then you see Shane Long go all the way through against QPR and get pulled and shoved and tugged from behind, he stays on his feet, knocks the shot past the goal, looks around at the referee for help and nothing happens. You think to yourself: 'Should he have thrown himself over?'
Tevez and Aguero make a striking match
We watched Carlos Tevez and Sergio Aguero put on a masterclass in terms of a striking partnership at Norwich on Saturday.
Tevez and Aguero were a marriage made in heaven. The minute they signed Aguero to play alongside his Argentina team-mate, it looked it. What went wrong along the way?
Questions need to be asked. People need to find out what actually happened. We were all quick to come down on Tevez when Roberto Mancini said he refused to play for the football club. It's since materialised that it wasn't as straightforward as that.
Communication wasn't quite what it should have been and the manager decided he wasn't going to play for Manchester City again. Whoever decided to bring him back made the right decision because he's got himself fit.
The only problem is that it looks like it's too little too late. The hypothetical question is to ask whether City would have won the title had he kept playing. I think it's pretty obvious they probably would've done, but you never know.
Condemnation of Kenny has come way too early
I think the criticism of Kenny Dalglish recently has been unfair, and it will be a massive relief to him that his side were able to edge arch-rivals Everton in Saturday's FA Cup semi-final.
I'm not one of those who has condemned Kenny Dalglish over the past few weeks. I said you have to wait.
In his first full season, he's won the Carling Cup and could win the FA Cup. You name me another manager at another club outside the top four - don't forget Liverpool haven't been in the top four for a while - who's won a Carling Cup and an FA Cup.
Harry Redknapp won the Carling Cup with Spurs and had an FA Cup final but that's about it. You'd have to say it's a job not brilliantly well done but at the start of the season if you'd have said to Dalglish at the start of the season that this is where he would be, it'd be interesting to have seen his reaction.
Obviously a few of his signings haven't been successful but Andy Carroll has started to fire like we knew he could and the next step is for Jordan Henderson to start producing the goods.