A City divided
City's challenge stutters, drama on Tyneside and a relegation rollercoaster. Kammy runs the rule...
Last Updated: 02/04/12 2:57pm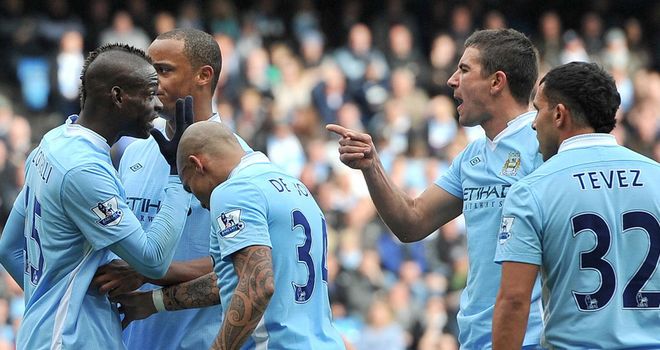 Every Saturday afternoon, Chris Kamara heads to stadiums up and down the country to deliver his unique match reports for Soccer Saturday.
On Sundays you can see him back in the Sky Sports studios as he brings you all of the highlights as well as in-depth analysis of all the action on Goals on Sunday.
And then on Mondays you can find Kammy right here on skysports.com as he brings you his views on the weekend.
Join us every week as he runs through his highs and lows of the Premier League...
City must stop stumbling or it'll be a painful run-in to the end of the season
Let's not take away anything from Sunderland - they deserve a lot of credit because they got beaten by Everton in the FA Cup and you could've expected a hangover. They were massive odds to win or draw.
Having said that, Manchester City are almost handing Manchester United the title at the moment. They're bottling it - they came out and started saying a few things which they shouldn't have done, and now you see them fighting amongst themselves. Roberto Mancini needs to settle it all down and stop all the negative things to give themselves a chance. They've still got a massive chance because you still get weird results at this time of year. They're not out of it but they're throwing it away themselves at the moment.
In terms of Mario Balotelli, it looks as if he does what he wants and you can't have that. Before Carlos Tevez came back, we saw Balotelli playing for the team with a smile on his face - now he has the arrogant head back on. Even though he scored two goals, it was hard to give him the plaudits from the game. His second goal was magical stuff but unfortunately there's another side of him that we thought had gone.
Magpies flying high as Reds cloud darkens over Dalglish
The Newcastle strikers, Pape Cisse and Demba Ba, are absolutely outstanding. What a partnership that is. Ba's off-the-ball movement is special and Hatem Ben Arfa has also come into his own. It's a front three to be very, very wary of. You're hard pressed to name a better front three, the way that they're playing at the moment.
It's pleasing for Alan Pardew. There were a lot of doubters when he took that job and I'm still not sure he's getting the credit he deserves for what he's doing at this moment in time.
What is Andy Carroll doing going down? He made the decision in his head to do it and it didn't seem right. He had an open goal so I have no idea what is going on in his head. There was also the handball on the line but when things are not going for you as they aren't going for Kenny Dalglish right now, you don't get those decisions. Liverpool have the FA Cup semi-final to look forward to and that's not going to be easy for them because Everton are playing very well at the moment.
You can't condone the way James Perch went down and of course you can't put your head in in this day and age. The pair of them won't be proud of their actions and Perch is going to get ridiculed - it's as simple as that. You go from being a victim to a cartoon clown character.
Slick Vic heating up at the right time for Latics
Victor Moses has come to life. When Neil Warnock had him at Crystal Palace, he said he thought he was good enough to play at the top. I just thought he left a bit early and I think that opinion was proved right because it's taken a while for him.
He's got bundles of talent and you're not seeing the consistency but that's to do with being young. When you become a pundit, it's easy to forget when you were 18, 19 or 20 and that you didn't peak until you were 26, 27 or 28! Because you show flashes of brilliance at a young age, it doesn't mean you can do it week in week out but at the time when Roberto Martinez needs him, he has come good.
More misery for Wolves as Wanderers steal a march
It's a big result for Bolton and a poor one for Wolves. Wolves doing what they did has not given them a chance. If you'd have asked Terry Connor if he was happy working for Mick McCarthy, he would have told you 100% that he was happy and would have happily carried on doing so until the end of the season.
Whether he was pushed or forced or whatever, it hasn't worked out for TC and he's probably not done anything wrong - there's just been no freshness for the players. Things haven't been altered. Hopefully it doesn't scar TC and mean he doesn't get another job. He never asked for it in the first place. He was probably hoping another man would come in and take him on board but what was more likely would be they'd have seen him as a Mick McCarthy man and got rid of him.
It's not impossible for Wolves from here, but it's very difficult. It was great to see Michael Kightly fit and firing again but I've been in that relegation situation before with Sheffield United and Luton Town and it's impossible to see the plus-sides.
Hughes' faith pays off as Taarabt ends Gunners run
I've been surprised that Mark Hughes has played Adel Taarabt recently because whenever I've seen him, he's not produced the goods.
Hughes has kept faith with him ahead of Shaun Wright-Phillips so that was clever to keep it going. He knows that if he is performing, he can win a football match on his own because he can do things that other players can't do. The problem is that we saw it in the Championship and we've hardly seen it in the Premier League, so it was a great decision to keep that going.
Suddenly, the club gets a lift. Two games you couldn't see them winning at home were Liverpool and Arsenal and they've won them both, so they go into their remaining home games with renewed confidence.
McLeish's men still not safe after Blues blast four at Villa Park
I think Villa are going to need two wins from their six games. You would have thought it's a formality but there are such strange results at this time of the season.
Lots of things have conspired against Aston Villa this season - the loss of Darren Bent to injury and now the Stiliyan Petrov illness. We wish him all the best, 100%.
You just never know - until you've got the points in the bag, you can't be safe!