Techno time
Kammy looks at the latest goal-line technology farce, hot Hoilett and the tilting balance of the title race.
Last Updated: 13/03/12 1:58pm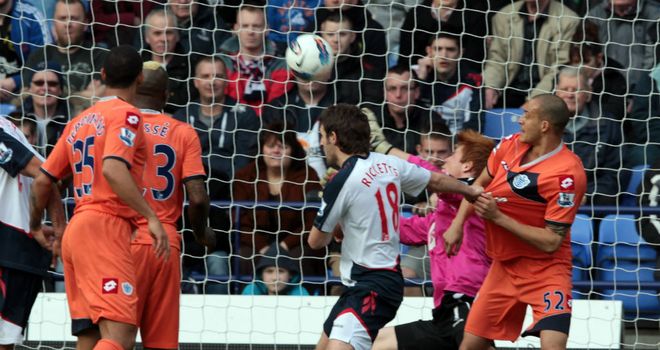 Every Saturday afternoon, Chris Kamara heads to stadiums up and down the country to deliver his unique match reports for Soccer Saturday.
On Sundays you can see him back in the Sky Sports studios as he brings you all of the highlights as well as in-depth analysis of all the action on Goals on Sunday.
And then on Mondays you can find Kammy right here on skysports.com as he brings you his views on the weekend.
Join us every week as he runs through his highs and lows of the Premier League...
Calls for goal-line technology grow again
I don't really understand it in a way. Everybody knew QPR scored a goal against Bolton and the assistant must've been able to see that Adam Bogdan's body was inside the goal. If he can't, he shouldn't be running the line.
The problem is, Bolton would feel hard done by if their goal had been ruled out by technology but then Djibril Cisse's goal for QPR had been allowed to stand because it was clearly offside. I've said it all along - everybody has got to be in agreement that we do it initially for goal-line technology.
If in five years' time referees and assistant referees are still making too many mistakes then we give managers two or three 'reviews' in a game - just like in cricket.
I spoke to somebody from the FA on Saturday and they were thinking of introducing technology where there's a chip in the ball that tells you when it crosses the line, but the only person who would know would be the referee. It would just go off in the referee's ear... Why shouldn't everybody know? Once again you've opened yourselves up to problems because what if the referee doesn't hear the buzzer?
Hot Hoilett may well quit Rovers this summer
Junior Hoilett is a smashing young player who is playing very well in a struggling team. He's only 24 and there's obviously reasons why he hasn't signed his contract, but he's not doing himself any harm and he's not doing Blackburn any harm. The stakes are massive. If Rovers get relegated, his fee will be a lot less than what it would be if it goes to a tribunal. If he keeps them up then it'll be: 'Thanks very much and off you go with our best wishes.'
Steve Kean has been under a lot of pressure - there's no doubt about that. He's not silenced the Blackburn fans but he's at least made them think: 'Let's just get through this season.'
Spurs can recover from a bad day at Goodison
I don't think the wheels have come off for Spurs. This was a game that both teams could've won. Spurs are just having one of those periods and it happens to all the teams in the Premier League - they have good days and bad days. It's just one of those things.
Everton are on a good run at the moment. They're buzzing - it can always happen for them, things starting to go right. All of a sudden, Liverpool fans are looking over at them and seeing Nikica Jelavic scoring goals, and he cost them around £7m, then they look at Andy Carroll, who cost them £30m. They're starting to doubt Kenny Dalglish even though he put a trophy in the bag.
David Moyes has had a fantastic 10 years there and he and Bill Kenwright have done a great job together. Bill came in for a lot of criticism earlier this year but Moyes has kept them going on a shoestring. Well done to the both of them and they deserve all the credit they get now.
Narrow win keeps Blues resurgence going ahead of Napoli tie
Obviously going to 10 men wasn't ideal for Stoke but we've seen 10 men get results before. It wouldn't have been a surprise if Stoke had got a draw out of it and the talk would've been about Chelsea still struggling. They didn't play that well but, as we've seen with Arsenal's recent resugrence winning breeds confidence and you start to get results from it.
It'll be an interesting game oN wednesday night against Napoli - I think Chelsea will rise to the occasion and I don't think that tie is anywhere near over. As for Didier Drogba reaching 100 Premier League goals, he'd certainly be in the top 10 strikers we've seen in the English top flight.
Reina luckless on Wearside again as Cats pounce on Reds
Pepe Reina hasn't had the best of luck at the Stadium of Light in the past (we all remember the infamous 'beach ball' goal)... This time, he must have thought he'd got away with it as most times when the ball cannons off the woodwork and hits the goalkeeper in the back of the head, it goes in the net - this time it didn't, but Nicklas Bendtner was still there to stab in the rebound!
Martin O'Neill is doing a grand job and Fraizer Campbell is looking like a serious prospect. He's come into some good form and with Darren Bent and others injured, England will need him this summer.
Home win crucial to easing pressure on McLeish
I spoke to Alex McLeish on Sunday and he's relieved - he thought his team fully deserved the victory. He's a man under pressure and he's spent hardly anything at all at that football club. They've had to sell their best players and they've lost Darren Bent to injury, lost Robbie Keane who they got in on loan but they still got a result. He's another manager that should be judged on next season.
City's title challenge stutters but Swans deserved a big scalp
Swansea are a really good team - I think that's what people need to take into consideration. It's no fluke the results that they're getting. Obviously you'd expect Manchester City to win there but well done to Swansea.
We're looking at players like Danny Graham at Swansea and Grant Holt and Anthony Pilkington at Norwich at the top level for the first time. People are trying to catapult them from the Premier League to international level but I think you need to see them through another season. Look at DJ Campbell last season - when he was scoring goals for Blackpool, people were saying he should be in the England side, but where is he now? He can't get in the QPR side. You have to slow down a little bit. I'm a massive fan of Graham and Holt but you have to enjoy them at your football club and let them establish themselves at domestic level.
Fergie factor starting to tell as United cruise to the summit
The experience of United could prove crucial. It's what Sir Alex Ferguson is great at. The mind games are working again because how can Manchester City have all those big players and fail to score at Swansea? They were playing expansive, attacking football but now they're hardly effective any more. That's pressure, of course it is.
When United have a bad game then 99 times out of 100 they bounce back the following game. The likes of City and Tottenham still find that hard to do on a regular basis because they're simply not as used to it.
Pleasing point for Wigan but Martinez still has it all to do
It'll be hard for Wigan from here. The only thing you could say is that they were shocking against Swansea and Roberto Martinez had them come back and he got a performance out of them.
As far as they were concerned, it was a good point for them at Carrow Road because Norwich have been playing well this season.
Victor Moses is another good player. You're still not 100% sure about what you're going to get from him every game, but he can definitely produce moments of quality and is one to watch for the future.