Silver jubilance
Liverpool's cup of cheer, Cardiff's fitness, Arsenal's spirit and AVB's approach have got Kammy talking...
Last Updated: 27/02/12 3:29pm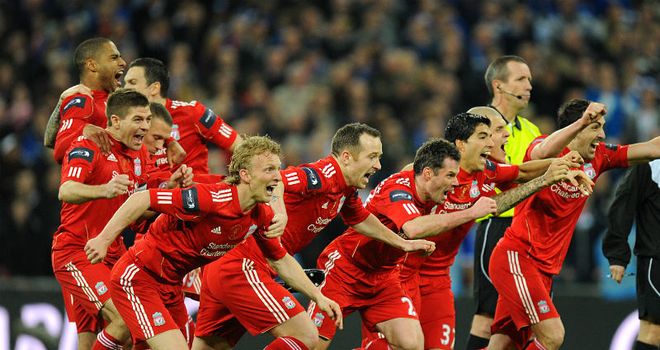 Every Saturday afternoon, Chris Kamara heads to stadiums up and down the country to deliver his unique match reports for Soccer Saturday.
On Sundays you can see him back in the Sky Sports studios as he brings you all of the highlights as well as in-depth analysis of all the action on Goals on Sunday.
And then on Mondays you can find Kammy right here on skysports.com as he brings you his views on the weekend.
Join us every week as he runs through his highs and lows of the Premier League...
Liverpool have ended their long run without a trophy - and that's all that matters
They didn't play as well as they would have liked to have played for their supporters, but the most important thing is that they have a trophy in the bag. There was a lot of pressure on Liverpool because they were expected to win and in the end it went down to a 50/50 chance in the penalty shoot-out. If they'd lost then Kenny Dalglish would be getting slaughtered today, but they came through so they've got to enjoy the moment.
They can move forward from here. They now have the kudos of winning a cup and the American owners will be satisfied with their fantastic day out. Liverpool used to call Wembley their second home and now they'll want more of the same at the New Wembley. They've been there once and they'll be desperate to get back there next year.
Malky Mackay's men can walk away full of pride
I spoke to the Cardiff manager after the game and he was really proud of his team's achievements. They are a very good team and they showed that. It looked as if they got tired - the Liverpool players weren't pulling up with cramp as much - and it appeared there was a massive physical difference between the two teams. I'm not entirely sure that was the case. I'm sure the Cardiff players could match the Liverpool players on a cross-country run, but I think Sunday's fatigue was mental fatigue. They'd got themselves a goal in front and they were worrying about sustaining it. Their brains were telling them they were tired and it affected their muscles.
They can learn from that the next time they come up against a big team, but they gave a really good account of themselves. They proved again that there are no mugs in the Championship - and if Kenny Miller had scored just before the 90th minute it could have been all so different!
Arsenal mustered some incredible strength of character to beat Spurs
I watched the Arsenal v Tottenham game in a hospitality lounge at Wembley and I reckon I could have got 10million-to-one on that result when Spurs went 2-0 up! The mental resilience was frightening and it was the sort of display we haven't seen from Arsenal for a long time. There has been a spark missing at that club, we haven't seen commitment and people wearing the jersey with pride, and it all came flooding back on Sunday.
They showed fighting spirit, determination and the delight on Arsene Wenger's face said it all. The supporters didn't think they could get anywhere near Tottenham in the table, but now they have a real incentive to try to catch them. There's no reason why Arsenal shouldn't be able to build on that result.
Can anybody out there think of a more consistent player than Ryan Giggs?
This guy has to be the most consistent player the Premier League has ever seen. There might be one or two players who have been more gifted than him, but there's no doubt that he stands head and shoulders above everybody else. With him and Paul Scholes scoring against Norwich it was like rolling back the years. How many times have we seen those two names on a scoresheet?
The best players right now are the senior ones... maybe Andre Villas-Boas should learn that
The success of Giggs brings us on nicely to the Chelsea manager. Before you try and teach the older players a lesson, you need to make sure they can't be of service to you any more. Sir Alex, Harry Redknapp and others have got a lot out of their senior players over the years, but unfortunately AVB has been trying to make a mark and he's gone down the wrong road. He decided to put Frank Lampard and Didier Drogba back in from the start against Bolton and I just hope he keeps it that way.
Sometimes as a manager you'll lean towards your own signings. You'll notice their one good game in 10, whereas with players you haven't signed you focus on their one bad game in 10. It seems that if Juan Mata or Ramires have a bad game then they can bounce back, but if Lampard has a bad game they don't need him at the club any more. Experience is a wonderful thing in management and to be fair to AVB, maybe he could have done with someone alongside him saying these things to him.
QPR are never going to win football matches if they play with 10 men every week
I had a chat with Tony Fernandes before Saturday's game with Fulham and I had a chat with him at Wembley and I felt so sorry for him. He's staying positive, but he can't help but wonder why nobody told Samba Diakite to calm down. He was flying in for challenges all over the place, even though he'd been booked, and he should know that the game isn't played like that in this country any more. Joey Barton and the other lads should have had a few words with him because they need everybody on the pitch. They keep shooting themselves in the foot.
It was a comeback of massive proportions for new Wolves boss Terry Connor
Wolves could have been 5-0 down to Newcastle at half-time, so it was incredible how the new manager managed to revive his players during the break. He deserves great credit for that.
It was always going to be hard for Mick McCarthy to recover from being thrashed by their neighbours West Brom - and he knows that. No matter what he did, the fans would have kept reminding him of that game! West Brom showed against Sunderland that they have hit form at a really good time, but it is almost impossible to recover from a home defeat like that.