Gunners can recover
Kammy talks Robbie Keane, Fernando Torres and why it is not all over for Arsenal this season.
Last Updated: 23/01/12 3:28pm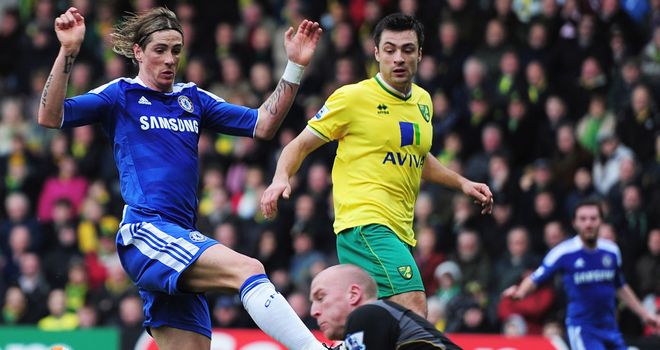 Every Saturday afternoon, Chris Kamara heads to stadiums up and down the country to deliver his unique match reports for Soccer Saturday.
On Sundays you can see him back in the Sky Sports studios as he brings you all of the highlights as well as in-depth analysis of all the action on Goals on Sunday.
And then on Mondays you can find Kammy right here on skysports.com as he brings you his views on the weekend.
Join us every week as he runs through his highs and lows in the Premier League...
Gunners must respond to defeat
Arsenal are by no means a spent force, they're just having problems and for the first time you heard supporters singing 'you don't know what you're doing' to Arsene Wenger. That must have been hard for him to take. I have to say when you've got a player in as good as form as Alex Oxlade-Chamberlain was, why take him off? But it could have gone the other way for them. Andrey Arshavin could have come on and scored the winner. Manchester United were strong and compact as they normally are, but it's still too early to write Arsenal off. Of course we don't want to hear any manager getting abuse but from the Arsenal fans' view it has been building up. They've let off a bit of steam and now they will hopefully get back to supporting Arsene Wenger. They can now fall away and be nothing or respond.
Keane can still cut it at the top
What a loan signing Robbie Keane is for Aston Villa. I said at the time when he went to the MLS that he shouldn't have been allowed to go in the first place - a player of his quality going to America when he's still got so much to give the league. One or two people looked and thought 'we've seen the best days of Robbie Keane already' but no you haven't. Those days are still there. He turned the game against his former club Wolves and plunged them into a crisis for the first time this season, losing the FA Cup game against Birmingham and then dropping into the bottom three. When you move around as much as Robbie has done in the past, you don't settle everywhere brilliantly. Sometimes as a manager you don't get time and sometimes as a player you don't get time as well. When you consider that he hasn't played for a month or so, to come in and perform like that was just incredible.
Villas-Boas needs to back Torres
Anyone who understands strikers knows in that particular game against Norwich you leave Fernando Torres on the pitch; that was a strange decision from Andre Villas-Boas to bring him off. It made more of a public show of him, in his own head he knows he had an opportunity to score and if he'd have stayed on he may have got one, you just never know in football. He's the type of person you've got to stand by and play in every minute of every game. When you've got (Didier) Drogba away that's his opportunity to perform. At the moment it looks like it's not going to work out for him but you never know.
Only Balotelli knows the truth after 'stamp'
At the end of the day only Mario Balotelli knows if he was guilty of a stamp. You can't 100 per cent say he did it deliberately. Did he know Scott Parker's head was there? Only he knows. The referee doesn't see it all, Howard Webb followed the ball. I know we've got peripheral vision but there's no blame on that one from his point of view. What a cracking game it was, Spurs could easily have won it. The pendulum swung both ways and it's unusual for Ledley King to give away a penalty in those circumstances. To be fair to Jermain Defoe we're talking about fractions for his late chance, was it a miss or did he do well to get there in the first place?
Carroll and Henderson must step up for Liverpool
Kenny Dalglish came out and had a go at his players because it was so comfortable for Bolton on Saturday. They desperately needed a win to get themselves out of the bottom three and they got it. It wasn't as if they were hanging on either, they were up against a Liverpool side who, like Kenny said, turned up thinking they were going to win. If you go there and think 'we don't have to do too much to get a result', you're not going to do it. It's the first time away from home that Liverpool have underperformed like that, it must be a worry. Kenny's going to feel the pressure, he's spent a lot of money - imagine what would be going on if Torres was scoring lots of goals at Chelsea, it would be a totally different scenario, he would be right on the brink. Andy Carroll and Jordan Henderson need to come alive, it's as simple as that. It was a big outlay on them, all the Torres money, so he needs those two to step forward and perform to their ability.
Karl Henry let Mick McCarthy down with red card
Henry's stamp on Marc Albrighton was stupid. Albrighton will live to fight another day but it was just a stupid thing to do. Sometimes players do these things in the heat of the moment, you don't know why you've done it but you have. The consequences are that his manager has lost a game to near neighbours and because of ill discipline on the pitch, the chairman and directors start to wonder what's going on. Karl Henry has done Mick McCarthy no favours, it's frustrating and not excusable.