Tackling the issues
Kammy talks two-footed challenges, Yakubu's red card, and Swansea's sumptuous football.
Last Updated: 16/01/12 2:38pm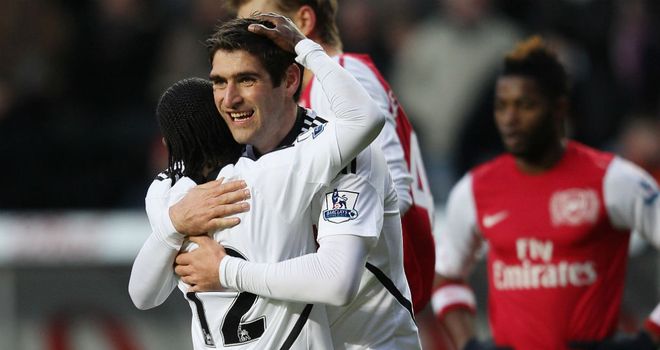 Every Saturday afternoon, Chris Kamara heads to stadiums up and down the country to deliver his unique match reports for Soccer Saturday.
On Sundays you can see him back in the Sky Sports studios as he brings you all of the highlights as well as in-depth analysis of all the action on Goals on Sunday.
And then on Mondays you can find Kammy right here on skysports.com as he brings you his views on the weekend.
Join us every week as he runs through his highs and lows of the Premier League...
Where is the consistency over two-footed tackles?
Over the weekend we saw QPR's Shaun Derry, Blackburn's Morten Gamst Pedersen, and Norwich's Daniel Ayala slide in, much like Glen Johnson and Vincent Kompany the week before. There is very little difference between these challenges, yet sometimes a red card is awarded, sometimes a yellow and sometimes it's not even a foul. What is incredibly frustrating is that there is no clarity from anyone. You have to come out and explain things as a manager, as a player you have to come out and explain yourself, but the referees and their board do not. We're just supposed to sweep bad decisions under the carpet and move on. Newcastle boss Alan Pardew described Derry's tackle on Yohan Cabaye as somewhere between a yellow and a red. We shouldn't have that situation, we should have something definitive, but until the referees explain themselves, we won't.
There were some officiating errors at Stamford Bridge
Phil Dowd didn't think John O'Shea's tackle on Fernando Torres was a penalty. That's fair enough, even though if that was anywhere else on the pitch I'm sure a free-kick would be given. However, the officials have to get the Ashley Cole foul on Nicklas Bendtner and the Phil Bardsley foul on Fernando Torres right; they were both stonewall penalties. To add insult to injury, Torres gets booked for diving when he gets a clear bang on the knee. The decisions may have evened themselves out, if you like, but that's no consolation.
Swansea's season has been a dream come true
Swansea were terrific against Arsenal. Who would have thought at the start of the season they would be beating and outplaying Arsenal? It's a fairytale turned into reality. Danny Graham and Nathan Dyer were superb and could they be long shots for Euro 2012? There are probably far from Fabio Capello's thoughts at the moment but they are playing in a fluent, successful and confident side, so if they maintain their level of performance and there are a few injuries before the summer, they may have a squeak of getting called up.
If Blackburn fans can't back Steve Kean, they definitely shouldn't barrack him
You can understand the supporters' frustrations; they are lower in the table than they would have hoped and feel the club has regressed under the Venky's. But Rovers have picked up a few results lately and on Saturday they did it with 10 men after Yakubu's sending off. Steve Kean is not going anywhere so the fans should get behind him or if they can't do that, lay off him. He has handled himself with such dignity and he never criticises the fans who don't like him. He wants to get the club to safety and he's got a chance because the players are certainly behind him. Just briefly on Yakubu's dismissal, I think it was the right call. He has tried to nick the ball away from Danny Murphy but the end product is that his foot is really high and he catches the Fulham player. It wasn't vicious or deliberate but, at the end of the day, he had to go.
Paul Scholes and Michael Carrick stood out at Old Trafford
It is great to see Paul Scholes back; he's a true legend of the Premier League. You worry when people return that they won't be the same as they were before, but it's worked so far for Thierry Henry and Scholes got a goal in United's win over Bolton. He's already made an impact and that will delight Sir Alex Ferguson. Michael Carrick, meanwhile, had an excellent game. He disappoints you at times because for how good a footballer he is, he doesn't dominate matches enough. But against Bolton he scored a goal and showcased his passing ability.
Wolves and Newcastle were excellent this weekend
Tottenham were a little bit hard done by during their games with Wolves; Wanderers' goal came from a corner that shouldn't have been given and Emmanuel Adebayor's goal was wrongly ruled out for offside. But Wolves deserve a lot of credit; they always seem extra motivated against teams challenging for the title and that was the case on Saturday. Newcastle, meanwhile, have lost their top scorer Demba Ba and their midfield enforcer, Cheik Tiote, to the African Cup of Nations but are still winning football matches. Alan Pardew has done a great job; he has spent very little money despite the club raking in money for Andy Carroll and Jose Enrique. Players keep stepping up and Leon Best - who the board wanted out when Chris Hughton was manager - did it on Sunday. His winning goal against QPR was brilliant.