Bottom's up
Chris Kamara says Bolton won't go down, Stoke deserve more credit and the refs got it wrong... again.
Last Updated: 12/12/11 12:06pm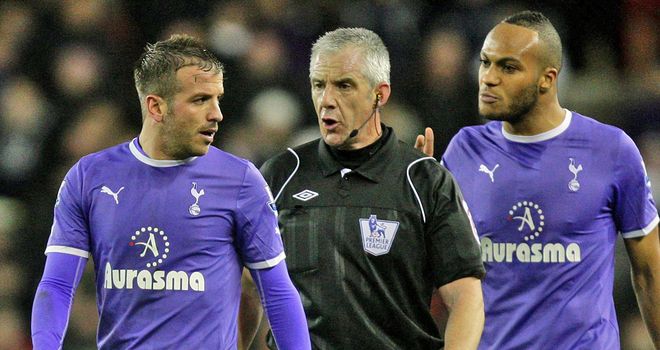 Every Saturday afternoon, Chris Kamara heads to stadiums up and down the country to deliver his unique match reports for Soccer Saturday.
On Sundays you can see him back in the Sky Sports studios as he brings you all of the highlights as well as in-depth analysis of all the action on Goals on Sunday.
And then on Mondays you can find Kammy right here on skysports.com as he brings you his views on the weekend.
Join us every week as he runs through his highs and lows of the Premier League...
After last weekend's controversies, you'd think the referees would make sure it would all go smoothly...
... but it was back to square one in the Stoke v Tottenham game. There's three officials on the pitch and a fourth official, so how could they all miss a definite handball on the line and Emmanuel Adebayor being two yards onside? It doesn't make any sense. When it's borderline you can forgive human error, but they gave that offside when it wasn't even close. It's baffling. I just wish it had happened on Saturday so we could have digested it in detail on Goals on Sunday.
Why were people slagging off Stoke's style of play on the radio on Monday morning?
Stoke aren't given enough credit. The reason we've got the best league in the world is because our teams don't all play the same. You have to deal with different styles and situations every week and that's what makes it great. There's no bigger lover of football than me; Barcelona are my favourite team and I love watching them, but I also love watching Stoke when they set their stall out to stop teams and you find out how their opponents react. If all 20 teams in the Premier League played like Barcelona, after a while I think we'd get fed up.
What on earth did Chris Samba do wrong?
The answer is nothing. Blackburn had a perfectly good goal disallowed before half-time because of a supposed foul by Samba. That was another poor decision and it could have been game over by half-time. That would have been a huge result for Steve Kean, but it seemed to be written in the stars that Martin O'Neill was going to get a win in his first game as Sunderland manager. I'm delighted for them, but it was a bad decision.
There's no way that Bolton are relegation fodder
I was at their game against Aston Villa and neither side looked like relegation material. Villa have too much pace and while Owen Coyle could do with adding a bit of that, there's enough good footballers in his team. They're bottom of the table, but I would still back them to stay up. Aston Villa didn't allow them to play for the first 45 minutes, but Bolton weren't bad in the second half. The injury to Ivan Klasnic possibly killed their chances of getting back into it because he was their best player, but they look short of confidence, that's all.
Paul Lambert deserves credit for some clever management
Norwich can play various ways, but on Saturday they exploited the fact Newcastle had no recognised centre-halves. Every goal came from a header or resulted from a header and it's clear the manager weighed up the situation and told his players to get more crosses in and to exploit them in the air. They caused problems all game long with that approach.
Wayne Rooney is still the spark for Manchester United
I said on Goals on Sunday that I thought Wayne Rooney didn't perform against Basel and as a result, the rest of the team wasn't ignited. I got a few Tweets back saying they're not a one-man team and Nani has been their best player this season, but the thing I spotted from the European game was that if Rooney had been on fire then the rest of them might have been also. I'm not taking anything away from the other players but, for me, he's still the one that sparks it all off. On Saturday, he played well against Wolves - and the rest played well, too.
Arsenal keep soldiering on
I'm not sure you could describe their victory over Everton as an "ugly win" when you see the goal that Robin van Persie scored, but they have toughened up. Earlier in the season they looked vulnerable every time the opposition attacked, but they don't look that way now. They've sorted themselves out and Alex Song deserves some credit. It was a wonderful finish by Van Persie, but the pass and the vision from Song was tremendous.
You can't keep Luis Suarez out of the news
We saw another goal from him against QPR and it will be interesting to see what happens over that charge for his gesture after the Fulham game. Obviously he shouldn't react to supporters, but when there are mitigating circumstances I think he should only get a slap on the wrist. If there was only one fan hurling abuse at him as he walked off the pitch it would have been out of order, but there was a whole load of them. Obviously it can't be tolerated if he does it again, but I'd like to see a slap on the wrist on this occasion.