Ref and ready
Kammy looks at ways to help refs, Steve Kean's tough task and why Mario Balotelli is good for football.
Last Updated: 05/12/11 12:18pm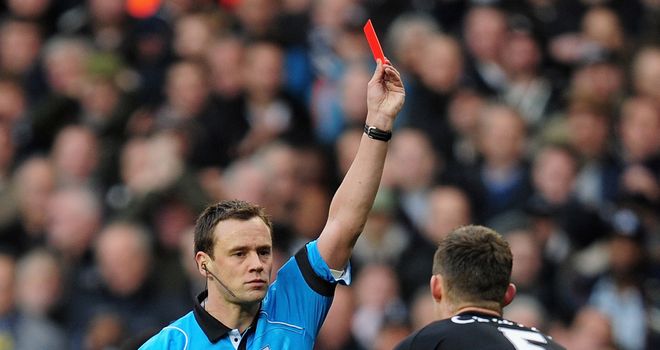 Every Saturday afternoon, Chris Kamara heads to stadiums up and down the country to deliver his unique match reports for Soccer Saturday.
On Sundays you can see him back in the Sky Sports studios as he brings you all of the highlights as well as in-depth analysis of all the action on Goals on Sunday.
And then on Mondays you can find Kammy right here on skysports.com as he brings you his views on the weekend.
Join us every week as he runs through his highs and lows of the Premier League...
We saw two decisions that were very wrong on Saturday afternoon...
You don't need me to tell you that Gary Cahill should have got a yellow card and David Luiz should have had a red, but the referees got them the other way around. They were good talking points on Goals on Sunday and it was a good day to have the Newcastle manager on the sofa! Alan Pardew admitted Chelsea were the better team, but - and it's a massive but - if Luiz had been sent off it would have been a completely different game.
Why don't we help the referees out a bit more?
Referees have a hard job, I understand that, so let's get them on the training ground, let's get them working with the reserves so they know the ins and outs of football. When I - or most of the people reading this column - watch a match we probably only notice the referee when a decision is made. But refs watch refs; they don't watch the game in the same way as we do. We need to help them get a feel of what it's like on the pitch. It seems every foul is a booking these days and we need to help them see why that shouldn't be the case.
I'm not saying every decision is wrong, but some fine tuning is needed to help eliminate mistakes. Pards made a wonderful point on Goals on Sunday about needing to train them as a unit, to put more money in their coffers and let the assistants be full-time as well. They need to work together because there's so much at stake these days.
I can't wait to meet Andre Villas-Boas...
I like to study managers and find out what their personalities are like. I haven't had a chance to meet Andre Villas-Boas yet, but Pards told me he's a top-class fellow, who was gracious, courteous and really understands the English game. He said the players were playing for him - you normally notice the cracks when they're not - and he seems to know what he's doing. Perhaps he's had a few quiet assurances from Roman Abramovich, but it would be helpful to get some public backing. It seems we only ever hear from him when he sacks a manager!
The diving debate goes on...
I was at QPR and James Morrison went wriggling into the box, hoping that someone would nick him and then he went down. He didn't get the decision, but then on Sunday Seb Larsson anticipated the touch from Jody Craddock and dived to win a penalty. The referee has no chance in those situations because it happens so quickly and managers and coaches need to try and eradicate this from the game.
Larsson was on the other end of it last week. He didn't touch Victor Moses of Wigan, but a penalty was given, they lost the game and Steve Bruce ended up losing his job. Maybe he was aggrieved by that and thought the next time that situation arose he would do exactly the same.
The only way is up for Sunderland under O'Neill...
Steve Bruce had been on a sticky wicket for a while. Results weren't great, they'd only won three home games all year and they'd lost twice to Newcastle at the Stadium of Light. So I'm sure the Sunderland fans are delighted to end up with Martin O'Neill, a manager who was being linked to every job that became available. I know him very well, he has a fantastic record and he'll be hoping to do for Sunderland what he has done at the other clubs he has managed. After losing to Wolves, they start as low as they've been for some time, so the only way is up!
I thought it was a bit strange that O'Neill wasn't involved in the Wolves game. I assume Eric Black is going to be leaving the club, but he had to take charge for that match. If they'd won the game it would have been because O'Neill was in the stands, if they lost it was down to Eric Black! That was a strange one.
It will take a miracle for Steve Kean to survive...
Steve Kean seems to be on a game-to-game basis with the supporters. I'm sure the fans were delighted to have beaten Swansea, but there were still protests and they're wondering if that performance will be the norm or if things will revert back. Gary Megson was in the same situation at Bolton; the supporters didn't like him, even though he kept them up, and there was grumbling after every defeat and eventually it wore him down. At the moment he has the support of the board, but when the banners change from 'Kean out' to 'Venky's out' then it will be impossible for him.
Mario Balotelli is good for the Premier League...
As his cheeky goal showed on Saturday, this guy is a real character. He likes to play the pantomime villain, but he has great ability as well. When he first arrived it seemed he didn't want to be here, so he gave it the 'mean and moody' in his public persona. You can't do that unless you can back it up on the field, but he certainly does that.
Man City's depth could make all the difference...
City look awesome. Adam Johnson won't like being called a super sub, but it's a great position to be in when you can bring someone like him off the bench. They're ahead of the rest in that regard. I don't see someone like Dimitar Berbatov making the same impact as him and I think Chicharito is going to be a massive loss for Manchester United for six weeks. You'd have to say City will go into the New Year in front... it's just a matter of how many points ahead they'll be.
This was a weekend of unity...
I'd like to thank every football supporter at every club for the tributes to Gary Speed this weekend. I live in the Yorkshire area and the tributes at Leeds were amazing, but football as a whole came together. Our game gets some bad press from time to time, we've had allegations of racism and such this year, but we're not as bad as some people would like to say we are. In a situation like this, a situation I still can't come to terms with, the one positive that has come from Gary Speed not being here any more is the unity that has been shown.