Fond memories
Chris Kamara remembers his friend Gary Speed and their time playing together for Leeds United.
Last Updated: 28/11/11 12:49pm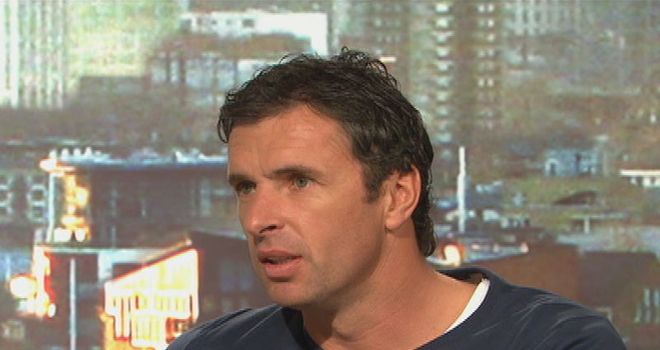 When I first heard the news about my good friend Gary Speed my initial reaction was shock. Now the feeling is getting worse; I'm devastated.
I just can't get my head around it.
He was the life and soul of the party, an all-round nice guy who was always smiling. He was a regular guest on Goals on Sunday and we would speak each week on the phone. He was always positive and eagerly looking forward to the next football game.
I was lucky to play with Gary at Leeds United and I have fond memories from that time. We had a brilliant dressing room at Elland Road and the two jokers in the pack were David Batty and Gary Speed, the two young boys, always playing pranks.
A fine player
One thing about Speedo was that, even as a young player, he was always a listener and trying to learn from the senior players at the club. He saw how hard we worked in training and carried that throughout his career - that's how he was able to play at the top level longer than most.
As a player Gary had virtually everything. The only thing he didn't have was pace, but he more than made up for not being lightning quick with his other attributes. At Leeds our manager Howard Wilkinson put him out on the left wing to make room for the likes of myself, Batty, Vinnie Jones and Gary McAllister but, because of his wonderful stamina, he always wanted to play in central midfield.
When he got that opportunity, after leaving Leeds, he flourished. He was a great team player with a magnificent leap, great technique and he was also a good tackler.
An inspiration
As a manager he was really starting to build his reputation with Wales after his time with Sheffield United. He thought he was too young to become an international manager when actually he wasn't because Wales were developing a very young squad when he took over. Many of the old guard were retiring and the new breed was coming through.
Those young players looked up to Gary. They'd watched him for years and years, playing in the top flight and proudly playing for Wales. The thing about Gary was that, even though he played for top teams, he was always committed to Wales. The national team wasn't the most glamorous team to play for at the time but he always turned up, never pulled out and would even play with injuries for his country.
As a manager he fitted perfectly with Wales. He had so much to look forward to with that team and he told me he was looking forward to qualifying for the World Cup and becoming the most successful Wales coach ever.
None of it makes sense now. It just doesn't seem right to be writing someone's obituary who was only 42 and who I spoke to a week ago.
But the grief I'm feeling for a great friend can't be anything like what his family is feeling. I'd like to send my best wishes to them.