Backed into a corner
Kammy has some sympathy for Andre Villas-Boas and Roberto Martinez... but not Premier League defenders.
Last Updated: 21/11/11 2:46pm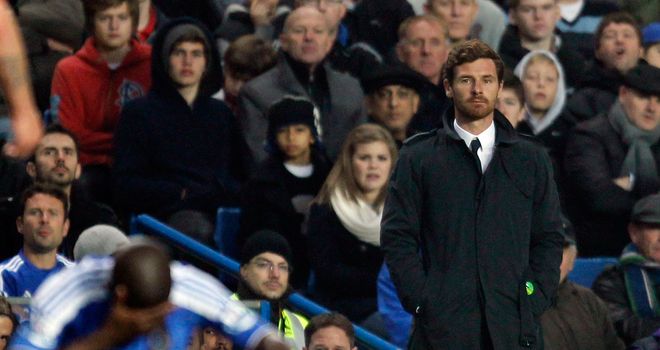 Every Saturday afternoon, Chris Kamara heads to stadiums up and down the country to deliver his unique match reports for Soccer Saturday.
On Sundays you can see him back in the Sky Sports studios as he brings you all of the highlights as well as in-depth analysis of all the action on Goals on Sunday.
And then on Mondays you can find Kammy right here on skysports.com as he brings you his views on the weekend.Join us every week as he runs through his highs and lows of the Premier League...
Every game now could be Villas-Boas's last...
Instead of answering questions about Chelsea's performance, Andre Villas-Boas has ended up answering questions about his own job. I do feel a bit sorry for him and did say when he came in to Chelsea that they should have come out, said he's got a five-year deal, he's here for the long haul and he is the one that makes the decisions. There can only be one gaffer at any football club. Roman Abramovich has, we are led to believe, interfered in the past, but now his silence has put his manager in a difficult situation. Is Guus Hiddink going to be taking over from him? Is he the right man to change Chelsea around? All Villas-Boas can do is ride the storm and he is going to have to for the next few games because all people are going to be talking about is the manager - and not his team. Personally I didn't think Chelsea would beat Liverpool and had it down as a draw, because they do so well at Stamford Bridge under Kenny Dalglish. But defeat has made it 10 times worse for Villas-Boas.
Defending in the Premier League is getting poorer...
The Chelsea players know how to defend and they are the same players that defended so well under Jose Mourinho and every manager after him. It just seems to be a problem across the league that defenders have suddenly forgotten how to defend. With the exception of Manchester City everyone is shipping goals this season. Joe Hart is playing out of his skin, but can you say the same of David de Gea at United and although he did well enough on Sunday, Pepe Reina? It's not a good time to be a defender right now and I do think a few coaches, like Villas-Boas, might need to get back to basics. If there was one coach in the Premier League you would bank on to get you a 0-0 draw it is Tony Pulis, yet Stoke are now letting in goals. Maybe everyone is trying to open up and change the way they play, but every week now we highlight bad defending throught the Premier League. It's not just Chelsea.
Angel Rangel won't make the same mistake again...
What the Swansea full-back did was criminal. Yes, Brendan Rodgers wants his side to play football because that is the Swansea philosophy, but when you are up against the champions and are faced by Ryan Giggs, it is not the time to be clever on the ball. You don't see Micah Richards or Gael Clichy doing it for Manchester City, playing a square ball across the back; they put it downfield out of danger. I know Brendan has taken the blame because he wants his players to play their way out of trouble, but that must have been a bitter pill to swallow. This season is all about learning for Swansea and Rangel will learn from that. Last season they were the best footballing side in the Championship by a mile and could've got away with it, but at this level you get punished. It's a harsh lesson and I don't like 'outing' individuals but that little incident should be a warning to Swansea City.
Marriner was all at sea...
The first thing to say is that crafty corner routine is nothing new. Carl Bradshaw and Glynn Hodges used to do it when I was at Sheffield United and Teddy Sheringham told us on Goals on Sunday that Manchester United used it plenty of times. I was surprised to hear Teddy say they used to inform the linesman first - we never did - but the key issue is that the player putting the ball down, would touch it - which Yakubu didn't. But the biggest issue at Wigan was Andre Marriner was looking right at the incident, so how come he didn't see that? And if he thought Yak touched it why not come out afterwards and say so? If he'd have said, "I thought he touched the ball, I got it wrong" it would not ease the pain for Roberto Martinez, but it would help him understand. It did happen quickly, but we could all see straight away, Garry Birtles on commentary saw it so why didn't the ref, who was yards away. Morten Gamst Pedersen probably saw it and was just being crafty so you can't blame him. But I do think the referee was at fault, more than once.
Shane Long is old-school...
It was such a lift for West Brom to have him back and way ahead of schedule as well. I can't believe he has made such a quick recovery after that horrendous tackle by Alan Hutton and I am sure the medical staff at The Hawthorns are thinking the same thing. There is no way he would've been 100 per cent, but he wanted to play and was rewarded with the winner. It is nice for an old timer like me to see a player going over the head of fitness coaches, physios if he needs to, just because he wants to play. I know we made problems for ourselves by playing on with ridiculous injuries, but sometimes you have to show that sort of desire and I am sure Roy Hodgson loves that in Long. I am also impressed with how well he's done in the Premier League; a lot of strikers flourish in the Championship but take their time to settle in the top tier. Not this lad. He's been a revelation.
The new teams are defying the odds...
Two of them might have got beat, but I think we have seen this weekend just how well the three promoted sides have done. Norwich's workrate against the Arsenal was outstanding and but for Robin van Persie, they might have got something from the game. Swansea did really well against and had Scott Sinclair's control not let him down at the wrong moment, their game against Manchester United might have gone differently. And I don't think any of us expected QPR to go and win at Stoke. Yes, Stoke are conceding goals they wouldn't normally, but the quality of QPR's finishing was superb. It was not just a case of Stoke playing poorly, it also had plenty to do with QPR playing really, really well. Swansea, in 13th, are the lowest-placed of the three and although there is a long, long way to go, you wouldn't back against all of them being in the Premier League next season. All three managers, Paul Lambert, Neil Warnock and Brendan Rodgers deserve credit for what they've achieved so far... it has exceeded all expectation.
Newcastle are no flash in the pan...
What did we learn about Manchester City on Saturday? That they are a very good football team from front to back. The reason we learnt that is because another very good side, Newcastle, pushed them all the way. But for a couple of great saves from Joe Hart and crucial times, they could've pushed them even more. But City have so much strength, the moment they brought on David Silva, you knew it was going to be hard for Alan Pardew's men to hang in there and get something. But, they came away with their heads held high and I think that in defeat, they showed the rest of the Premier League that they are a good, well-organised, hard-working side with a terrific team spirit. Of course the key is how they bounce back from this, but on this evidence, they should be ok.