Sepp's step too far
Chris Kamara says Sepp Blatter has damaged the fight against racism and now cannot stay in his job.
Last Updated: 17/11/11 11:14am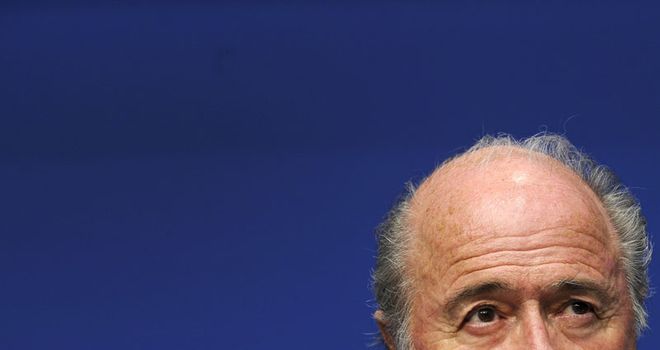 Sepp Blatter's comments are incomprehensible, they really are.
There speaks someone who has never been abused for their colour or their creed throughout their whole life. This sounds like someone who has gone through life thinking that everything in the world is perfect.
How can somebody like that be the head of FIFA, an organisation that represents so many countries and so many cultures?
It saddens me. I am a patron of Show Racism The Red Card and I'm involved with the Kick It Out campaign as well and it's so sad to hear the head of football suggesting that on-field racism can be dealt with by a handshake after a match.
It explains an awful lot. I look at some of the sanctions imposed on countries found guilty of racist chanting and they are laughable. Some of the fines issued in the past have been a joke, quite disgraceful, and now we understand why. It's because the issue isn't being taken seriously. It's being brushed under the carpet.
It's impossible for him now to continue because all of the countries around the world cannot trust him. Regardless of whether he resigns or whether he is kicked out, he can't stay. You can't have somebody like that at the head of football.
He should be the one person who doesn't see any colour. He should be the one person who's helping the cause, not damaging it.
Of course, he shouldn't be focussing on this all day long, his job is to govern football and we shouldn't forget that's what FIFA is all about. But he should be the one person who really hammers home the point that it doesn't matter where you're from or what colour you are, any sort of racism will not be tolerated.
Those should be the words coming out of his mouth and not "at the end of the game, we shake hands".
I accept that he has released a statement saying he is committed to the fight against racism and I'm sure that 97 per cent of the stuff he's saying is along the right lines. But there's still three per cent of what he's saying that is old; it's stuff from years gone by.
You can't suggest in one interview that it really isn't that important and then come out and say "I'm leading the fight to get rid of it." He is very wrong.
Understand
Racism exists in society and we all understand that. Yes, football has cleaned its act up over the years, but there is still room for improvement. Allegations have reared their ugly head this season and that tells you that it's not gone away completely.
When I first started playing the game in the mid-1970's it was simply horrendous. That was a world when Alf Garnett and Love Thy Neighbour were on television and you'd go into training the next day and the lads would relay stories from the show. It'd always be: "I'm not talking about you... but did you hear it when he called him this or that." That's how society was and unfortunately you had to accept it or fall by the wayside.
From where it was then to where it is today is a million miles apart and I, like all the players who were around at that time, know how different it is now. For us, it would have been a dream for the situation to be like it is in 2011.
But just because we've improved things 90 per cent, why shouldn't we try to eradicate racism 100 per cent?
All Blatter has done is to encourage people to have the attitude: "I've made a mistake there, but the head of FIFA says it's ok if I shake your hand. Is that okay?" Absolutely not. It's unacceptable.
People do say things in the heat of the moment and you'd like to think you can say sorry for it afterwards, but sometimes sorry isn't enough. You can't expect to make up for your words with a handshake, it doesn't work like that. The FIFA President should understand that more than anybody else.
Blatter cannot stay in his job, it's as simple as that. What we need now is for all of the governing bodies to get involved and say we can't have a head of football coming out with comments like this.
I honestly can't see him remaining in his job and that would be for the good of the game. We've heard his comments about women's football, we've heard his comments about homophobia and that's before we get to his views on things like goal-line technology.
This is the latest in a long line of gaffes, but this one is irreparable.