Total poppycock
Kammy says England are right to pick John Terry, but feels Fifa's poppy stance is a disgrace.
Last Updated: 07/11/11 11:23am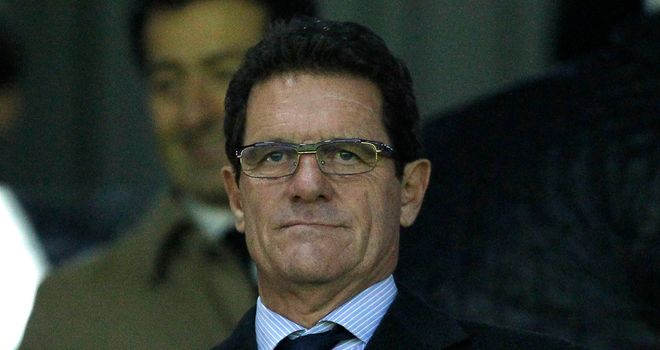 Every Saturday afternoon, Chris Kamara heads to stadiums up and down the country to deliver his unique match reports for Soccer Saturday.
On Sundays you can see him back in the Sky Sports studios as he brings you all of the highlights as well as in-depth analysis of all the action on Goals on Sunday.
And then on Mondays you can find Kammy right here on skysports.com as he brings you his views on the weekend.
Join us every week as he runs through his highs and lows of the Premier League...
I suppose you couldn't name the whole stadium after Sir Alex Ferguson...
... but naming a stand after him is the least they could do after all he's done for that football club. Bob Paisley and Bill Shankly were great managers, but Ferguson is the best I've known in my lifetime. Sir Alex has constantly rebuilt teams and has fought off the likes of Blackburn, Newcastle and Chelsea when they came in with loads of money and now they're battling Manchester City. If they lose the title to their rivals this year - and there's no guarantee they will - it will only make him more determined next year. Whenever the new kids on the block come along he's always maintained a winning team.
We'll soon know for sure if Newcastle are serious contenders...
People say they are riding their luck, but anyone who saw them against Stoke City will have been given a wake-up call over how hard this team works. You can't buy team spirit and desire like that. The next three games will tell us a lot and if they can get five points against Man City, Man Utd and Chelsea then I'd say they are contenders for the top four alongside Arsenal who seem to have got themselves on track again. Tottenham are in good shape too. I was with Harry Redknapp last Sunday and I knew he was going in to have his pipes cleaned out, so I was pleased his team gave him a good result.
It's right to put John Terry in the England squad ...
At the end of the day, he's innocent until proven guilty. I know John Terry, he's a friend of mine and you have to treat people as you find them and I wouldn't go for a drink with someone if I thought they were racist. I don't know if he said what he's been accused of saying, but if he did then does that make him a racist or does it make him guilty of racist abuse? People might not think there's a difference, but of course there is. We'll find out when the inquiry is complete if he's innocent or guilty, but at this moment in time it's right to put him in the national squad.
I understand why Capello has left out Rio Ferdinand and Wayne Rooney...
I think Sir Alex probably made Fabio's mind up over Rio when he said he doesn't have the pace he once had. I don't think he's been 100 per cent fit for a while and once he is then he'll still have enough pace to play for England. I know what it's like to have a niggling injury and you do lose your sharpness but if you get games under your belt it's amazing how it comes back. The Spain players are lightning quick and you risk opening yourselves up to that if Terry and Ferdinand are in the same team. As for Rooney, we know what he can do and Capello needs to figure out how to play without him for the first three games of Euro 2012. If the ban is upheld then we need to look at other options.
Andy Carroll probably isn't in international form right now...
Kenny Dalglish has been patient with him and 99 times out of 100 he would have scored that great chance against Swansea and all would have been rosy in the garden. But because he missed it, people are saying he's not good enough and he wasn't worth the money. That's football, but from what we've seen so far he probably shouldn't have been called up for England. Fabio Capello likes a big striker though, so in some ways you could say it's a strange omission because he could have found reasons to pick him.
Gabriel Agbonlahor is the real deal...
I saw him against Norwich on Saturday and he was the one class player on the pitch. There were good performances from Anthony Pilkington and Daren Bent, but the reason Aston Villa won the game was Gabriel Agbonlahor. He's got pace, his technique is great, he's got two good feet and he can finish, so I don't see why he shouldn't play for England. I spoke to Alex McLeish before the game and even he said he was a better player than he realised he was.
Why would the FA want to comply with Fifa's poppy ban?
This situation is a disgrace. It's the first time England have been playing the day before Remembrance Sunday and it seems that the players may not be allowed to have poppies on their shirts because of an old rule about political, religious or commercial messages. Well, this is 2011 and while you don't want to flout the laws, this is a draconian rule and who is going to punish us if we do wear poppies? Maybe they could wear black armbands with poppies on or something like that?
Stephen Hunt showed why players have to go down sometimes...
The Wolves player was fouled in the box at the start of their game with Wigan, but because he didn't go down the penalty wasn't given. His courage and desire cost his team a certain penalty. People criticise the likes of Luis Suarez for going down too easily, but you've got to look at it both ways. Sometimes you only get the decision if you go down - and you can't say it's cheating because it was a foul. On Saturday, you'd have to say Suarez was pushed, although we don't know if it was sufficient to knock him off his feet.
That was a very important win for Mick McCarthy...
The Wolves fans have shown their dis-appreciation towards Mick this season and a home defeat to Wigan would have made things even harder, so it was a mega result for them. I'm sure chairman Steve Morgan isn't questioning him, but that win really eases the pressure. It's a desperate situation for Wigan, but not so for Roberto Martinez. Dave Whelan has come out and said publicly that he's the man for that job and he's behind his man all the way.
I'm glad Owen Coyle never lost belief at Bolton...
I think he was scratching his head over why his team was playing so poorly, but he has been rewarded eventually for his belief with a 5-0 win over Stoke. I feel sorry for Tony Pulis though because even though he has strengthened his squad, it is very tough to cope with playing in Europe in midweek and then playing in the league on the weekend. Stoke fans should appreciate that scenario and I hope they don't question him because he's done a brilliant job. This season will be a bit topsy-turvy because of the disruptions of the European campaign.