Forward fireworks
Kammy doffs his hat to City's strikeforce but is left scratching his head at two reds that don't make a right.
Last Updated: 24/10/11 3:58pm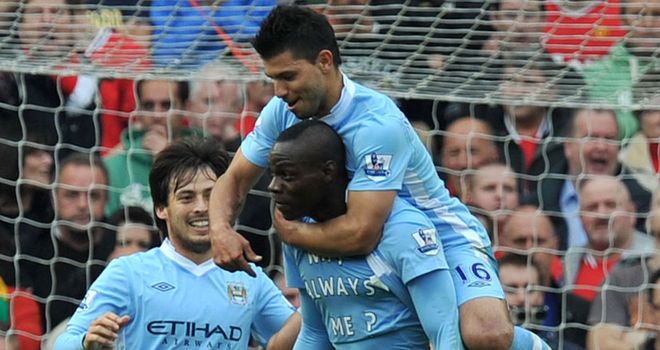 Every Saturday afternoon, Chris Kamara heads to stadiums up and down the country to deliver his unique match reports for Soccer Saturday.
On Sundays you can see him back in the Sky Sports studios as he brings you all of the highlights as well as in-depth analysis of all the action on Goals on Sunday.
And then on Mondays you can find Kammy right here on skysports.com as he brings you his views on the weekend.
Join us every week as he runs through his highs and lows of the Premier League...
City's forward options are frightening...
Even before Sunday I always said that if Manchester City put everything they've got together and it clicks into place, anyone on the Premier League will find it hard to live with them - and that's just what we saw at Old Trafford on Sunday. The firepower they can call on is just incredible - and that's even without Carlos Tevez. I still find it amazing that he doesn't appear to want to get involved with City again because I really do think Roberto Mancini and his players are on the verge of something special. It reminds me of when that Arsenal side came together. They went unbeaten that season and although it is too early to start talking about that, City have a wonderful team and a wonderful record. They are favourites to win the league now and rightly so. Even United don't have that strength-in-depth to call upon, it really is frightening. And the best thing to come out of the whole Tevez situation has been Mario Balotelli. Had the firework incident have happened last season, it would've hung over him and the club, but it didn't make an ounce of difference this time. He just went out and played his part in a very, very good Manchester City performance.
Two reds don't make a right...
Let's get this straight, Didier Drogba's was a sending-off, but Jose Bosingwa's wasn't. At Villa Park, Chris Herd's wasn't, but Alan Hutton's was. The clearest way to tell these things, even at first glance, is to look at the reaction of the players involved. Had Shaun Wright-Phillips even thought he'd been fouled, he'd have gone down in the box and looked straight towards the ref. Not get up, play on and chase the ball. If they are the ones making the challenge, players react instantly and look innocently at the referee in those situations; I didn't see that with Bosingwa and I don't think anyone saw anything wrong with what Herd did, other than Phil Dowd. But then, he goes and misses the worst tackle of the weekend from Alan Hutton. I thought we were starting to see some consistency when it came to two-footed tackles or challenges that can cause serious damage, but not in this case. Phil's assistant let him down for the Herd sending off, but he let himself down for not red-carding Hutton, too. I am sure he will be livid.
It's bleaker than ever for Steve Kean at Blackburn...
I said two weeks ago that Steve Kean needs a miracle and nothing has changed my mind. The one good thing for Steve is the owners, the Venkys, do not want him out, but the fans do. They want to stay in the Premier League and some of them clearly believe if they can bring in a new manager, they would have a better chance of doing just that. Now, these Blackburn fans are not going to stay quiet about it, but Kean's situation is worse than say, Mick McCarthy at Wolves. Mick can affect the Wolves public because he is the man that got them where they are; Steve Kean does not have that behind him at Blackburn. The fans are not going to accept him, just like the Bolton fans never accepted Gary Megson - even though he saved them from going down. Normally a couple of wins will change the situation, but sadly Steve needs more than that. He probably needs to win five or six in a row to get some sort of slack. And even then, if he loses one, he might find himself back at square one. It is a tough scenario for him to deal with.
Gunners are getting there slowly...
Arsenal are now sat in seventh and slowly getting it back together. They have not quite got that old swagger back but the best way to restore confidence at any football club is by winning football matches, and that is what Arsene Wenger has done of late. Once you do that, the belief will start to come back, slowly but surely and although it still doesn't look great, if they keep picking up three points, Arsenal will blossom. When you consider a few weeks back we were all talking about this being the worst season under Wengerm, to be sat in seventh shows what a few wins can do. Sunday's showed how important Robin van Persie is too them as well. Wenger says he is world class and I don't think anyone would disagree. He is the one player that could get into the Manchester City, United or Chelsea team and just as they couldn't afford to lose Cesc Fabregas or Samir Nasri, they cannot afford to lose van Persie. And he has to stay fit.
Norwich were Ruddy marvellous at Anfield... again
What an amazing save it was from John Ruddy late on to deny Luis Suarez. And what an amazing result it was for Norwich at Anfield. Ruddy made some great saves on Saturday and has been making them all season. It seems England keepers are retiring left, right and centre at the moment and Paul Lambert is right; Fabio Capello could do a lot worse than head to Carrow Road to keep an eye on Ruddy. He is a great example of what Lambert has done at Norwich; he didn't bring in players who were on fortunes or players coming to the end of their Premier League days, he kept things the same - and that was a huge gamble. And he identified players in the Norwich mould that he thought would do well in the top flight, like Anthony Pilkington, Bradley Johnson and Steve Morison. To be able to see that these guys would fit into the team and flourish at this level, is a real art and of course there's no guarantee that Norwich will stay up, they'll give themselves every chance with results like Saturday's.
Mick McCarthy deserves some credit for his changes...
I can understand the modern football fan, but I have to admit I was slightly baffled to see Mick McCarthy getting booed. Wolves are not like Blackburn, Wigan and Bolton; they are not in the bottom three in what looks like a very, very tight bottom half of the league. I can though, understand their frustration when they are 2-0 down at home to Swansea, who have just come up and in truth were giving them a football lesson. They then get upset when Mick makes two substitutions, not because of who was coming on, but because Matt Jarvis and Adam Hammill were going off, but Wolves turn it round and end up drawing 2-2. What would've happened if Mick had not brought those players off and they'd have lost? He'd still have copped the flak, so now you have to turn round and give him credit. Mick's doubters will say it was more down to luck than judgement, but that's not the case. It's almost as if Wolves fans are waiting though; Mick needs results to go in his favour and if there is another bad one on the horizon, you can see that crescendo rising again. I hope it doesn't happen.