No fun of the Mil
Kammy says Milner should celebrate, Tevez should apologise and Pardew should get more praise.
Last Updated: 17/10/11 3:10pm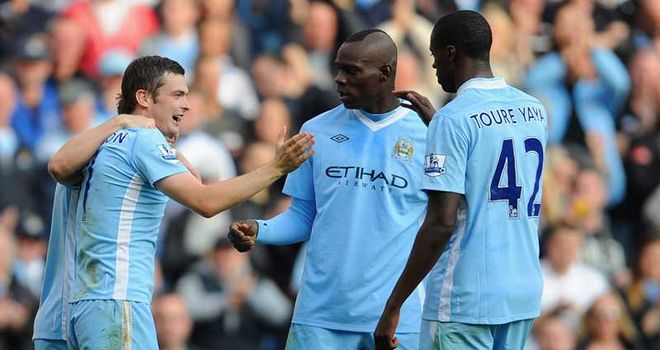 Every Saturday afternoon, Chris Kamara heads to stadiums up and down the country to deliver his unique match reports for Soccer Saturday.
On Sundays you can see him back in the Sky Sports studios as he brings you all of the highlights as well as in-depth analysis of all the action on Goals on Sunday.
And then on Mondays you can find Kammy right here on skysports.com as he brings you his views on the weekend.
Join us every week as he runs through his highs and lows of the Premier League...
Man City showed the strength of their squad...
Joe Hart aside, Roberto Mancini left out all the players who'd played for their national teams in the game against Aston Villa and that meant stars like Samir Nasri, Edin Dzeko and David Silva were on the bench. To be able to do that - and still dominate the game - was incredible. No other team, not even Manchester United and Chelsea, can call on the bench that they can. No other team has as many goalscorers in its squad.
Why doesn't Carlos Tevez apologise?
Why doesn't he hold his hands up to Mancini and the Man City fans and admit he was out of order? Why not promise to give his absolute best for the team until January and then leave on a high? He can't go anywhere until then, so why not try to leave on a good note? That would resolve the problem without the need for inquiries or training with the youth team. This issue is going to hang over them until he's out of the door. If his advisors can't see that's the way forward then he's got no chance.
James Milner should have celebrated his fabulous goal...
There were some great goals this weekend, but Milner's was the best - and yet he didn't celebrate it. I know he used to play for Aston Villa, but I don't think their fans would mind you celebrating as long as you don't go over the top like Emmanuel Adebayor did against Arsenal. The home fans and your teammates want you to celebrate the best goal of your career, but he suppressed himself because he didn't want to upset one or two Aston Villa fans. I think 90 per cent of footballers are cleverer than that, they know most footballers will move on and they appreciate that, as long as you're not kissing another badge in front of their faces.
It made sense to put Wayne Rooney on the bench...
On last week's Goals on Sunday, Gus Poyet said he would have considered leaving Wayne Rooney on the bench for the England game because of what he'd been through with his dad being all over the newspapers. I don't think Sir Alex Ferguson left him out because of that betting scandal, but because of how much he was hurting over his three-game ban for Euro 2012. He wasn't trying to make a statement towards the player, I just think he didn't want him to go onto the pitch in the wrong frame of mind and do something stupid.
It's hard to say whether Charlie Adam was fouled or not...
If you're travelling at pace then you will lose your balance, even if the contact from the opponent is only minimal. However, if you don't go down then you don't get the free-kick. From where the referee was, it looked like a clear free-kick, but when you slowed it down on television it was hard to see the contact. There's no rights and wrongs in that situation and both sides are correct in what they're saying. If a goal hadn't been scored directly from that incident then nobody would be talking about whether it should have been a free-kick in the first place.
Wolves aren't playing well, but it's still early days...
I heard on the radio that this was Wolves' worst start to a season in a long time, which is incredible after they won their first two games. They can't be too upset because they're not in the bottom three at this moment, but I'm sure Mick McCarthy won't be too delighted with the way they're performing. It's hard for the supporters to lose to West Brom, but I don't think they should call for a change of manager. Who would they get in? If they want to spend money on a new manager, why not just give that money to Mick to spend in January? The supporters' concerns are natural, but he hasn't become a bad manager. Just look at Bolton - they didn't call for Owen Coyle's head and they were rewarded with a big win over Wigan.
Alan Pardew deserves more praise for the job he's doing...
For a team that is still unbeaten they haven't had enough of a mention. People expected them to lose to Tottenham, but they twice came from behind and got a draw. I'm sure Alan will tell everybody his first priority is to get to 40 points, but there's still no reason why they can't challenge for European football. The same can be said of Stoke, who are up to seventh now and are flying.
It's hard to believe Anthony Pilkington was playing League One football last year...
I remember asking Huddersfield boss Lee Clark who was better out of Pilkington and Jordan Rhodes last season and he couldn't really split them. He said if push came to shove he'd say Pilkington, but there wasn't a lot in it. I thought it would be hard for him in the Premier League and he missed a great chance against Manchester United, but that didn't dent his confidence and he scored two crackers against Swansea. Good on him.
The table isn't taking shape just yet...
I think you need to wait for a dozen games before you can say that. Arsenal didn't play very well against Sunderland, but when they do start playing well there's a good chance they will jump above the likes of Aston Villa, Newcastle and Stoke. Sunderland aren't playing well, but they could still move up, you just don't know. Chelsea are going about their business efficiently and maybe they are more in the title mix than people are saying.
Neil Warnock isn't going to change attitudes towards football boots...
He says DJ Campbell got injured because his boots are like "slippers", but I can't see players digging out the old heavy leather boots again. The modern footballer wants to feel the ball close to his feet and you have to move with the times. Modern football boots are very thin, but injuries are few and far between. We seemed to have an epidemic of metatarsal injuries a few years ago, but most injuries aren't due to direct kicks, they're due to issues within the bones themselves. Campbell might have broken his foot with heavy boots on, you never know.