Lamps burns brightly
Frank Lampard, Spurs and Aston Villa win Kammy's adulation. Two referees and a linesman do not.
Last Updated: 04/10/11 11:41am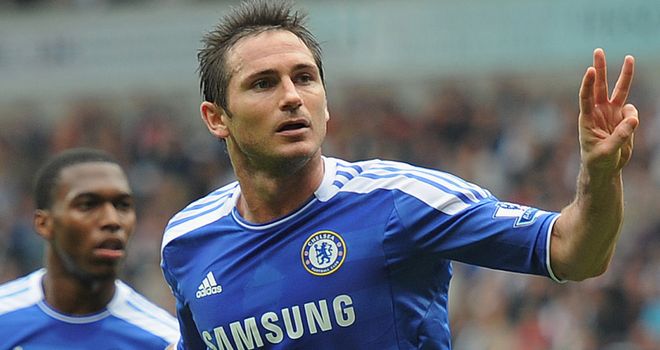 Every Saturday afternoon, Chris Kamara heads to stadiums up and down the country to deliver his unique match reports for Soccer Saturday.
On Sundays you can see him back in the Sky Sports studios as he brings you all of the highlights as well as in-depth analysis of all the action on Goals on Sunday.
And then on Mondays you can find Kammy right here on skysports.com as he brings you his views on the weekend.
Join us every week as he runs through his highs and lows of the Premier League...
Tottenham are in with a great chance of finishing in the top four...
Spurs won the North London derby because they had a few more chances than Arsenal and defended 10 times better. With the arrival of Emmanuel Adebayor to complement the likes of Gareth Bale, Jermain Defoe, Rafael van der Vaart and Luka Modric, they are a fearsome attacking proposition, but Harry Redknapp will be delighted with his side's defensive display against an Arsenal side that played well - going forward anyway! They had the reassuring presence of Ledley King but Younes Kaboul had a magnificent game at the heart of Tottenham's defence. He doesn't often get a mention and if Michael Dawson and William Gallas were fit, he probably wouldn't be starting. But he is a very good player, as he proved when he left Spurs first time around to get games at Portsmouth. The one thing that Harry always has is options, in fact, he probably had too many last year with so many players on the books. They have good strength in depth; Sandro came off the bench and they still have Gallas, Dawson, Tom Huddlestone and Stephen Pienaar to come back. It's too early to declare a favourite for fourth place but Spurs are right up there.
Jack Rodwell's sending of was unjustifiable...
We analysed the incident on Goals on Sunday and we cannot excuse it in any way, shape or form. This isn't a slight on Martin Atkinson because he has sent three other players off this season and they were the correct calls - but this wasn't. It would have been harsh on Rodwell to even have a foul given against him, let alone a red card. Players are often warned not to get caught up in the derby atmosphere but maybe in this case the referee did. But the only way we'll ever know why the decision was made is if Atkinson comes out and explains it. Losing a man so early made things extremely difficult for Everton but typical of David Moyes' side, they dug in and gave their neighbours a really good game.
Wolves were dealt two hammer blows...
The incident when Newcastle's Steven Taylor fouled Jamie O'Hara was a stonewall penalty; the fact it wasn't given is nearly as mystifying as Martin Atkinson's decision at Goodison Park. At the time, the point was made that O'Hara's fall happened outside the box and that perhaps Mark Halsey might have seen that and not the initial challenge, but as we showed on
Goals on Sunday
, he saw the incident in its entirety, so I have no idea why he didn't give a spot-kick. And then there was a second event late on in the game. The linesman, in a black cap, flagged that the ball had gone out of play, preventing Wolves' equaliser from standing. From his position, he couldn't see that the ball had gone over the line and I think he should have given the benefit of the doubt to the attacking side in that situation, leaving well alone and allowing play to continue. The game is, after all, about goals. Newcastle deserved their win but Wolves were extremely unlucky.
Frank Lampard is not over the hill...
Frank has been painted as a midfielder whose only attribute is scoring goals, but he is much more than that. He's a fantastic all-round player; you don't get someone like Jose Mourinho saying he's one of the best players he's ever worked with if you only turn up in the box. The problem that Frank has had is that his influence in the early part of this year hasn't been as big as in previous seasons, which is why he has been left out of the team. But the only way any player can hit back is by performing, as Frank did with aplomb against Bolton on Sunday, scoring goals, passing the ball quickly and making a massive contribution. There is plenty left in Frank's tank and the fact he might not play in every game nowadays should prolong his career at the top level.
Owen Coyle is a long, long way from the sack...
I am surprised that Bolton are at the bottom of the table. Owen Coyle has had a great time as manager since he arrived but he is having a sticky period at the moment. Their fixtures haven't been great but this time last year they were looking forward to playing the league's heavyweights; they were nicking points here and there and causing problems. Now they're leaking goals and not scoring enough. But it's far too early to be looking at Coyley's position at that football club and his job shouldn't be under any threat. However, even though Bolton have a relatively easier October in terms of fixtures, if they defend like they have been they will be in trouble; they gave Chelsea's players far too much space on Sunday.
But Steve Kean needs a miracle to stay in his job...
The problem the Blackburn board have is that the fans are against him and no manager can survive that. I remember Gary Megson at Bolton; he kept them up but the fans never took to him and, ultimately, he was let go. It's the same for Steve Kean; the supporters don't want him there. The only way I see him getting any respite is if he can get four or five wins on the bounce, but that's hard enough for a top team, let alone one in the lower reaches of the table. It would be a miraculous turn of events but it's something Steve desperately needs.
It was a good weekend for Fulham and their strikers...
After the North London derby and Chelsea's five-star performance against Bolton, Fulham's 6-0 thumping of near neighbours QPR has been overlooked. It was a fantastic performance by the Cottagers and a great way to claim their maiden Premier League win of the season. Andy Johnson netted a hat-trick which will be a terrific boost for him after a couple of seasons blighted by injury and lack of form. That's five goals in two games for the former Crystal Palace man after he netted a brace in the Europa League and if he can stay fit he should score plenty more as he has the pace to unsettle defenders. Plus, he knows he has to perform with £10.6million Bryan Ruiz ready to come in and take his place! Bobby Zamora scored at Craven Cottage and then got an England call-up on Sunday evening. He probably would have gone to the World Cup if he wasn't injured because he was playing some of the best football of his career at that time. He's what Fabio Capello likes; strong, good in the air, can hold the ball up, very good technically and can score goals. Once he'd proved his fitness, he was always going to get selected.
Gabby Agbonlahor is playing with freedom...
The Aston Villa forward scored again on Saturday to continue his great start to the season. He's running around the pitch and enjoying himself and you have to give the manager, Alex McLeish, credit for that. Agbonlahor is making a difference, whether he plays wide or through the middle, where he was more prominent than £24million Darren Bent against Wigan. I was at the game reporting for Soccer Saturday and I was very impressed with Villa. Aside from Agbonlahor, Barry Bannan and Stephen Ireland were very effective in midfield, Stiliyan Petrov and Fabian Delph looked good and at the back they never look like conceding. They remain unbeaten, yet McLeish is still under pressure, but I suppose that's a given considering where he came from.