Don't miss the point
Never mind the miss, says Chris Kamara, because Fernando Torres is getting back to his best.
Last Updated: 19/09/11 1:10pm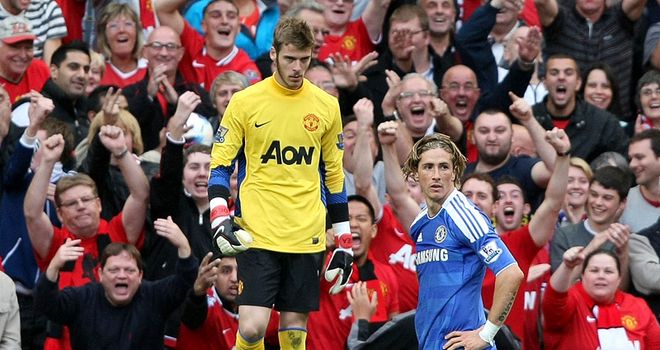 Every Saturday afternoon, Chris Kamara heads to stadiums up and down the country to deliver his unique match reports for Soccer Saturday.
On Sundays you can see him back in the Sky Sports studios as he brings you all of the highlights on Goals on Sunday.
And then on Mondays you can find Kammy right here on skysports.com as he brings you his views on the weekend. Join us every week as he runs through his highs and lows...
Forget that miss... Fernando Torres is back
I had doubts about Fernando Torres after watching him in Europe in midweek. He was searching for his form and seemed pleased just to provide a couple of assists. But on Sunday we saw the Torres of old and that's the first time we've seen that in a Chelsea shirt. Never mind that miss; lots of strikers miss opportunities, he got himself in the position and that's something he hasn't done much lately. He walked past the goalkeeper as if he wasn't there and even though he missed the target, his performance told me that Chelsea will now start to see the player that Liverpool had.
Of course, that miss will be a bit of infamy for him and when he hangs up his boots I'm sure he'll look back on it and giggle. He won't laugh about it right now, and I'm sure his team-mates won't let him forget it in training, but overall I think he's back to his best.
They may have lost, but Chelsea played very well
You'd have to say that, as a team, Chelsea are back as well. Sunday's match was a Premier League classic, an incredible game, and I thought the away team did very well. They probably couldn't believe they were 3-0 down at half-time, but United were clinical and put away most of the chances they had in the opening 45 minutes. Nani's goal, in particular, was something special.
Phil Jones could become a Manchester United great
Phil Jones looks awesome. Big Sam Allardyce told me all about him long before he went to Manchester United and recommended him to Sir Alex when he phoned to ask about him. Some managers don't see the potential in players, but Ferguson was very sure that he had what it takes to play for the champions and he has fitted into the shirt very comfortably. After the way he's started, I think he could become a United great.
Man City have got to get used to the demands of the Champions League
Roberto Mancini says Man City's squad isn't big enough. That's absolute rubbish. They simply have to get used to playing Champions League games in midweek and then Premier League on the weekend. Manchester United have been doing it for years, but you saw how hard Spurs found it last year and their league form suffered.
This weekend, Harry Redknapp made 10 changes from the side that played in Europe and they ended up winning 4-0. Over the last season he has learned how to cope with the demands and he made sure he had plenty of fresh faces against Liverpool. Manchester City have got to come to terms with it and the manager must learn to freshen things up. Despite all the players in their squad he didn't make enough changes against Fulham and they suffered for it. That's not rocket science and I'm sure I'm not the only one saying it.
Liverpool's players should take more responsibility for their actions
You don't want to see sides going down to nine men, but I think the players sometimes need to take a bit more responsibility. Charlie Adam should know that if he's on a booking then he shouldn't do what he did and the second tackle was reckless. The same goes for Martin Skrtel, who was late and clumsy on Gareth Bale. Kenny Dalglish is doing his best to defend his players, as any manager worth his salt will do, but when your players do those things then what can you do? Liverpool could have done nothing about Luka Modric's goal, but as soon as they were down to nine men then it was always going to be difficult.
Arsenal were bad, but give Blackburn some credit
On Goals On Sunday we maybe didn't proclaim Blackburn's win over Arsenal as much as we should have. We had a lot of Tweets from Arsenal fans complaining about the defence - and it was almost too bad to be true - so that dominated our analysis. It doesn't matter how well you play going forward; if you defend like that then you'll get nowhere. They have adopted a zonal system, but even within that they should be able to mark players who are stood free.
We mentioned that it was a great win for Steve Kean and we explained why Yakubu was such a good signing, but we should have given Blackburn more praise than we did. That was a pressure game for them and they deserve a lot of credit for the hard work they put in.
I don't agree with Joey Barton about Karl Henry
I think the hype affected Karl Henry in the Wolves v QPR game and he didn't put in a tackle in the first 45 minutes. That allowed Joey Barton - and the likes of Shaun Wright-Phillips and Adel Taarabt - to play some clever football.
We then had Joey on Goals on Sunday and he made it very clear he didn't like Karl Henry and he said he thought the feeling was mutual. You don't often get people saying things like that on the sofa - and we don't usually ask people to say things like that - but as he said, he's responsible for his own actions. Personally, I feel Karl Henry is a good professional who has worked hard in the lower leagues and grafted into the position he finds himself in. That's my view of him, but Joey gave his own verdict.
It was good to see Steve Bruce ease the pressure
The game with Stoke was a pressure one for Steve Bruce. There was an article in one of the Sunday newspapers saying the Sunderland owners were losing patience with him, but in my opinion they haven't been too bad this season, even though they haven't been getting the results. I know Steve has said he was bugged by the Newcastle defeat - and that's the one that hurts the supporters the most - but it was good to see them right a few wrongs on Sunday. I know they caught Stoke at a good time, straight after a European game, but it was still a very impressive 4-0 win.