Those fine lines
Kammy hails the game that reignited the title race and bemoans the lack of goal-line technology.
Last Updated: 02/05/11 4:14pm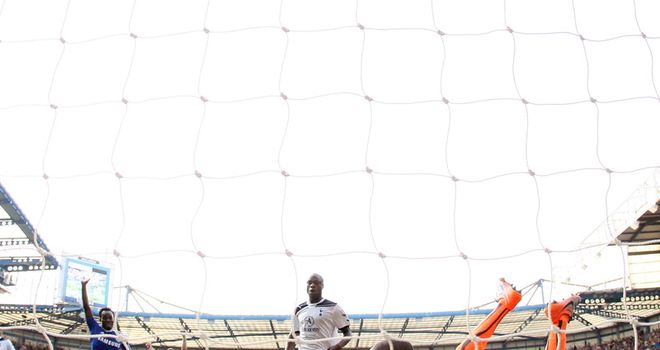 Every Saturday afternoon, Chris Kamara heads to stadiums up and down the country to deliver his unique match reports for Soccer Saturday.
On Sundays you can see him back in the Sky Sports studios as he brings you all of the highlights on Goals on Sunday.
And then on Mondays you can find Kammy right here on skysports.com as he brings you his picks of the weekend.
Join us every week as he runs through his highs and lows...
GAME - Arsenal 1-0 Man Utd

I have to choose this game because it's put the title race back in the balance. Arsenal have had a lot of stick of late after wasting so many opportunities to get back into it, but then they go and win the one game that people thought they might lose! It may be too little, too late for them, but it was good to see them bounce back after the disappointment of losing to Bolton. To be honest, I was surprised by the result and while some will say United were poor, sometimes you can only be as good as the opposition allow you to be.
TEAM - Arsenal

Fulham had a great win up at Sunderland, it was great to see West Brom come back to beat Aston Villa with 10 men and Blackburn picked up a big derby win against Bolton, but I have to choose Arsenal here. We all know Arsenal are capable of these performances, but they can't produce them as regularly as the Gunners teams of years gone by. The pressure was off them on Sunday - and we saw the best of them.
GOAL - Aaron Ramsey

In terms of importance, the goal from Aaron Ramsey is my pick because it's brought Chelsea back into the title race - and perhaps has even brought Arsenal back into play as well. As Arsene Wenger has said, this has been a strange season and it's not over yet. Last week I said the title race was all over, but this week I'm backtracking and saying there's all to play for! I look at the table and wonder how it's happened, but that's the beauty of football. It's also great for the player because before his long-term injury he was better than Jack Wilshere, so it's good to see him back and scoring again.
PLAYER - Maxi Rodriguez

I bet Maxi Rodriguez wishes there was 33 games to go rather than three because the forgotten man of Liverpool Football Club is finally showing us what he's all about. Rafa Benitez said he could be one of the best free signings ever, but we've not seen the best of him until now. I think he's thriving in the feel-good factor that Kenny Dalglish has brought to Anfield, he feels comfortable in himself and like the rest of them, he's realised they're not a bad bunch of players. It's come a little bit late as far as Champions League qualification is concerned, but hopefully that confidence will be there for next season.
GAFFER - Steve Kean

The Blackburn board have shown immense loyalty towards Steve Kean, but I think it would have been hard for them to stand by him if the team had lost to Bolton on Saturday. That would have left them out of the relegation zone only on goal difference and would have left a lot of questions to be answered. But he came through it and after 10 games without a win everything has changed. Now they can go to West Ham knowing that they just need to avoid defeat, rather than worrying about taking all three points.
GRIPE - The technology debate... again

I've been calling for goal-line technology for years and years and it's becoming like a broken record... in fact I'm sure people are fed up of hearing about it! But this has been an issue since Geoff Hurst in 1966 and we still haven't sorted it out in 2011. When Frank Lampard's shot squirmed past Heurelho Gomes, the referee should have been able to look at a monitor and decide quickly whether or not it was a goal. Then we could move on quickly and everybody can get on with the game, knowing that we'd got the right decision.
People say this would be the start and you'd then you'd have to use technology to make other decisions. I disagree. Nobody that I know in the game wants it for anything other than deciding conclusively whether or not the ball has crossed the goal line. We don't want to be analysing every decision, those are up to the referee, but we should be able to say whether or not a ball has crossed the line. It wouldn't take anything away from the game and in fact, it would probably add to the drama.