It's handy Carroll!
Kammy hails Roy's revolution and Andy's big breakthrough, but he's not impressed with Lee Mason.
Last Updated: 12/04/11 3:43pm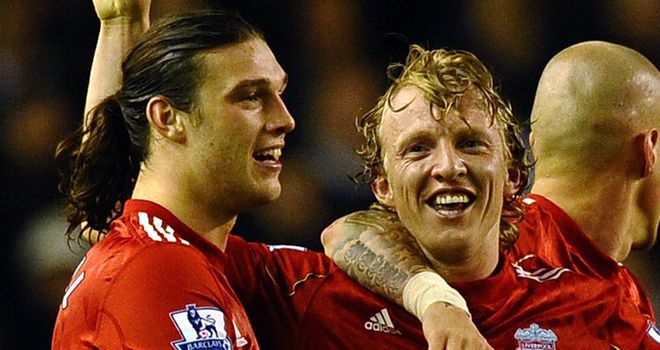 Every Saturday afternoon, Chris Kamara heads to stadiums up and down the country to deliver his unique match reports for Soccer Saturday.
On Sundays you can see him back in the Sky Sports studios as he brings you all of the highlights on Goals on Sunday.
And then on Mondays you can find Kammy right here on skysports.com as he brings you his picks of the weekend.
Join us every week as he runs through his highs and lows...
GAME - Sunderland 2-3 West Brom

The game of the weekend was the one I was at! I was at Sunderland's clash with West Brom for Soccer Saturday and you couldn't pick a winner as it swung one and the other, although after Youssouf Mulumbu's equaliser I felt Albion were more likely to take the three points. Sunderland have been on a poor run, but could easily have won that game and it was very even in the first half. After the break, West Brom swamped the midfield, and maybe on another day Steve Bruce would have made a change to cope with that because there were too many bodies for Lee Cattermole and Kieron Richardson to cope with. But you have to give credit to Roy Hodgson for the incredible job he has done, They probably need one more win - or maybe one more point - to be safe, but as Sunderland have found in the last few games, those points are not always easy to come by.
GAFFER - Roy Hodgson

I'd have to say Roy Hodgson. His players were 2-1 down at half-time, but they didn't change their philosophy and won the game well after the break. People are starting to say that Hodgson can only handle lesser players, but that's not true. He's been at big clubs like Inter Milan before and the fact is that at Liverpool it just didn't work for him. It's got nothing to do with his ability to handle big players... remember, people were talking about him as the next England manager last season. He wasn't accepted when he arrived at Anfield and sometimes that happens in football. Sometimes you go to a club that isn't right for you. It happened to me with Stoke; I took the manager's job there having been a former player, but I inherited some players who didn't want to accept me and I made a few mistakes along the way. That's the way it goes in football and Roy should be left to get on with doing things his way.
GOAL - Paul Scharner

I don't think this goal has got the credit it deserved. Even when we showed it on Goals on Sunday, we didn't run it right from start to finish, but if you look at the full move you'll see how West Brom carved Sunderland open with their passing. For a team under pressure to get results to go away from home and create a goal like that was something special. Hodgson couldn't mould Liverpool's players into adopting the style he wanted, but West Brom are accepting his methods. This goal showed that.
TEAM - Liverpool

They set about Manchester City and stopped them playing right from the word go. Kenny Dalglish was very clever with his tactics in that game; he saw City's strength and power in midfield and he stopped that at source. Every one of the Liverpool players was up for it and they'd won the game before the first half had finished; there was no way back for City whatsoever after the break. Under Rafa Benitez, the Liverpool side was all about Fernando Torres and Steven Gerrard and if they didn't play then they often failed to win. Well neither of them played on Monday night and it's a welcoming sign for Kenny that he's been able to change that mentality. They proved that they have quality players and the result was never really in doubt.
PLAYER - Andy Carroll

He's erased the memory of Fernando Torres from Liverpool Football Club, which is amazing because the Spaniard was adored there. The jury was out on Carroll and his £35million price tag, but in one night he has become the darling of the Kop. They can now see him forming a partnership with Luis Suarez, which could get even better when Gerrard comes back into the midfield. He won acceptance on Monday night and that was a big hurdle to get over. He looked like the ultimate centre-forward against City.
GRIPE - Lee Mason again

How could he fail to spot Laurent Koscielny's foul Gary Taylor-Fletcher in the penalty area? What a shocker! I still think Arsenal would have won the game, but a spot-kick would have made things interesting. I wrote about Lee Mason last week when even Sir Alex Ferguson said Nemanja Vidic was lucky to stay on the field, and this week he gave another big decision in favour of the "bigger club". I'm sure all of the Arsenal fans would admit it was a penalty, but on the day the only person in the ground who couldn't see it was the referee. It always seems to happen to the teams at the bottom of the table. I'm sure Wigan will complain about Fernando Torres' foul on Al Al-Habsi on Saturday as well. People say it evens itself out over the course of the season, but I'm not so sure it does. Everyone make mistakes, but this is two weeks in a row for Mason - and it's been at the expense of the teams near the bottom.