Sky Sports Digital Services enhanced for new football season
Sky Sports aims to be the destination of choice for sports fans wherever they are
Last Updated: 08/08/14 4:05pm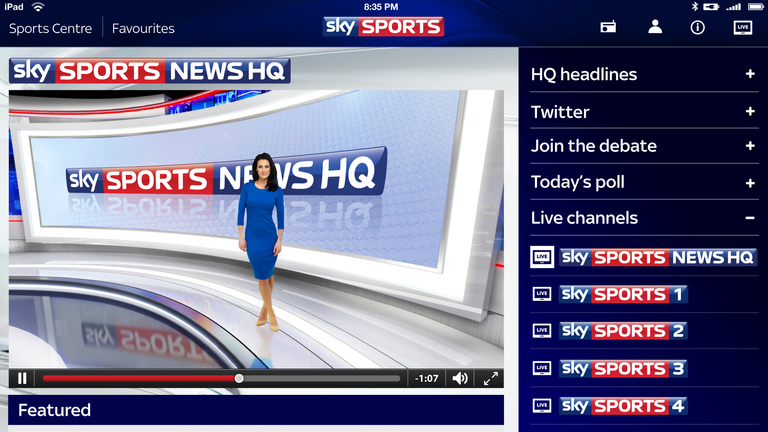 Sky Sports will offer more content, more functionality and more ways for users to enjoy their sport, thanks to enhancements made across its digital services from 12 August.
The upgrades across all apps and skysports.com will be introduced from the start of the new football season and will also include the launch of Sky Sports 5 and a complete redesign. Live streaming of Sky Sports 5 will be available to Sky Sports subscribers across all apps and the website.
Additional features to enhance functionality, content and ways to personalise include:
FOOTBALL SCORE CENTRE – Sky Sports' most popular app will benefit from a new video section, enhanced match coverage including team form, previews, match video and stats, plus a broader set of mobile push notifications for up to four separate teams and individual matches.
SKY SPORTS FOR IPAD APP – The award-winning app will feature a Sky Sports News HQ second-screen experience, with catch-up video and content alongside the live channel and club personalisation for rugby union and rugby league news feeds.
MOBILE APPS – The mobile apps for iPhone and Android, available to all, will now highlight breaking news and include user polls. Live streaming of Sky Sports 5 alongside the other Sky Sports channels is also available for Sky Sports subscribers on iPhone.
SKYSPORTS.COM – The website has been updated with a new design, the addition of Sky Sports 5 as a live streaming channel, and live polls that feed into Sky Sports News HQ coverage to allow users to join the debate across multiple sports.
Director of Sky Sports Digital Media, David Gibbs, said: "We aim to make Sky Sports the destination of choice for sports fans wherever they are – at home or on the go. Therefore we're bringing more content and functionality to all our apps and website with more of the features users love like video content, personalisation, stats, polls, enhanced match coverage and notifications. Ahead of our biggest-ever football season with more of the games that matter in the Barclays Premier League, the Ryder Cup, Formula 1, rugby union and more, Sky Sports customers will be up-to-date wherever they are."
All Sky's digital products are available free of charge to Sky Sports subscribers as part of their subscription. Non-subscribers can purchase access to the Sky Sports for iPad app for £4.99 a month which includes a live round-the-clock stream of Sky Sports News HQ. All other live channels can also be streamed on iPad and iPhone but are restricted to Sky Sports subscribers only.