Football Commentator & Columnist
Life without Luis
Are Liverpool better without Suarez? How do play-off winners do after promotion? Martin Tyler knows...
Last Updated: 02/05/13 4:27pm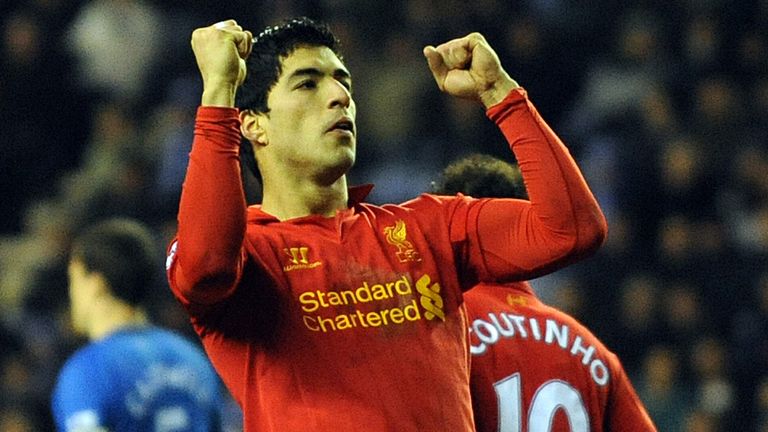 Martin Tyler's stats and facts column is here!
Every week on skysports.com he answers your questions and offers you statistical gems from what he's seen as he tours the world commentating for Sky Sports.
Sky Sports' voice of football and his back-up team of experts want your queries on all things statistical and historical from the beautiful game.
So if you have spotted something from a match or have been stumped by a pub quiz question, simply email skysportsclub@bskyb.com and he will do his best to help.
Tyler's teaser
But as usual we'll kick off with a question for YOU. Click play to see this week's Tyler's Teaser.
Martin's Starting Stats
I was in the Nou Camp on Wednesday night knowing that no team has come back after losing the first leg 4-0 in a two-legged European Cup tie - and so it remains. The only four-goal deficits that have been overcome came when a team scored an away goal. In fact the last time it happened was when Borussia Mönchengladbach beat Real Madrid 5-1 at home in 1985/86 but lost 4-0 away and went out. The manager of the German club that day? Jupp Heynckes.
Barcelona had not lost to German opposition in 17 games - which makes a 7-0 double defeat even more remarkable. Bayern have conceded only eight goals in 23 away games this season and kept up their record of scoring in all away games in the Champions League this year. In fact, their only failure to score in 12 games was at home to Arsenal. Since that night they have played 11 games, winning them all, scoring 40 goals and conceding only five!
Arjen Robben had played in a winning team against Barcelona at the Nou Camp only once before - and that was when he was a Real Madrid player in December 2007. He was also a Chelsea player when they were knocked out of the competition by Barca in 2006. It was a pretty special day for the Dutchman, especially coming the day after Willem-Alexander was sworn in as king of the Netherlands!
Thomas Muller played in his 200th game for Bayern Munich and scored his 71st goal, taking his Champions League tally to eight for this season, equalling the absent Lionel Messi.
Victor Valdes played in his 100th Champions League game and made his 499th appearance for Barca overall, while Gerard Pique played in his 50th Champions League game for the Catalans, but marked it with an own goal and a yellow card that would have kept him out of the final.
Andres Iniesta made his 450th Barcelona appearance, while Daniel van Buyten played in his 50th career Champions League game.
LIFE WITHOUT LUIS
Hi Martin. Big fan of the column. Liverpool's 6-0 win at Newcastle without the suspended Luis Suarez got me thinking - what's their record like without him in their team? Everyone always says he's their key player but do the stats back that up? Barry (West Ham United fan)
MARTIN SAYS: The guys at Opta pulled together Liverpool's record in the Premier League with and without Luis Suarez since he joined from Ajax in January 2011 and it appears Liverpool do better WITHOUT the Uruguay striker. They have a better goals-per-game record, a better points-per-game record and a higher winning percentage They certainly did ok at St James' Park without him on Saturday!
However, it should be noted that Suarez has only missed 10 of 87 Premier League games for the Reds since signing for the Anfield club, so perhaps the stats which suggest they do better minus their forward should be taken with a pinch of salt - and his 23 league goals and nomination for the PFA Player of the Season award surely demonstrate he has had a positive impact for them in this campaign.
| | | |
| --- | --- | --- |
| Liverpool | With Suarez | Without Suarez |
| Games | 77 | 10 |
| Wins | 30 | 6 |
| Draws | 23 | 1 |
| Losses | 24 | 3 |
| Goals for | 122 | 20 |
| Average goals for | 1.58 | 2.00 |
| Goals against | 83 | 12 |
| Average goals against | 1.08 | 1.20 |
| Win % | 39% | 60% |
| Points per game | 1.47 | 1.90 |
DOWN TOON?
Martin, after seeing Newcastle hammered 6-0 by Liverpool I'm worried we might get relegated. We've already lost 18 times this season with three to play. Have any teams ever survived with more defeats than that? Mikey (Newcastle fan)
MARTIN SAYS: Whilst the home defeat to Liverpool may not fill you with confidence, you'll be pleased to know plenty of sides have avoided relegation after accruing more than 18 defeats. In fact, four have maintained their top flight status with 21 or more losses, a tally Newcastle would rack up if they lost their remaining games to West Ham, QPR and Arsenal. Below is a table of the four teams to have survived after losing 21 games in a 20-team Premier League season (ie: from the 1995/96 season onwards).
| | | | |
| --- | --- | --- | --- |
| Team | Season | Lost | Final place |
| Manchester City | 2005/06 | 21 | 15 |
| West Ham Utd | 2006/07 | 21 | 15 |
| Sunderland | 2007/08 | 21 | 15 |
| QPR | 2011/12 | 21 | 17 |
Of course, every season we see different points totals result in clubs going down or staying up - and the number of losses a team experiences doesn't necessarily dictate where they finish in the table. In 2002/03 Man City finished 9th with 17 defeats, while West Ham went down with 16; in 2003-04 Leicester were relegated with 17 defeats and Spurs finished 14th with 19.
This shows it's the points that matter - and it doesn't matter how you get them. At Kingstonian this season we won 18, lost 19 and finished 11th after drawing only five times all year!
HOME HELP
Hi Martin. I was watching the City v West Ham game this weekend and my mate was telling me City now have the record for scoring in consecutive home games. Is this true? Thinking about it, it's been a long time since I've seen us fail to score at the Etihad in the league! Steven (Man City fan)
MARTIN SAYS: Manchester City are enjoying a fine run of goal-scoring at home in the Premier League and Sergio Aguero's opener in their 2-1 win over West Ham ensured their streak of scoring at home now stretches to 48 consecutive matches. Their 1-0 win over Wigan on April 17 saw them create the second longest such streak in Premier League history, moving them past Arsenal's 46-game mark, which came to an end with a 0-0 draw against Fulham on 20 November 2003.
But Manchester United, who have just taken the Premier League title from their neighbours, are in fact on a longer run of scoring in consecutive home games. Sir Alex Ferguson's men have netted in 66 Old Trafford Premier League matches in a row. The last time they drew a blank in the league was in a 1-0 defeat to Aston Villa on 12 December 2009. A remarkable achievement. I am commentating on their final two home games of the season, so we'll see if this run continues.
| | | |
| --- | --- | --- |
| Team | Home PL games scored in | Date of final game in run |
| Manchester United | 66 | Ongoing |
| Manchester City | 48 | Ongoing |
| Arsenal | 46 | 8/11/2003 |
| Manchester United | 40 | 2/12/2000 |
| Chelsea | 38 | 28/4/2007 |
City, despite their current impressive run, actually hold the record for most consecutive Premier League home games without scoring - they failed to find the net eight times in a row towards the end of the 2006/07 campaign when Stuart Pearce was in charge.
| | | |
| --- | --- | --- |
| Team | Home PL games without scoring | Date of final game in run |
| Manchester City | 8 | 5/5/2007 |
| Newcastle United | 6 | 18/8/2007 |
| Portsmouth | 6 | 29/12/2007 |
| Everton | 5 | 17/10/1998 |
| QPR | 5 | 23/2/2013 |
UNBELIEVABLE BEN-TEKKERS
Martin. As a Villa fan it was fantastic to see us put six past Sunderland - Christian Benteke doesn't deserve to be relegated from the Premier League! His hat-trick against Sunderland means he has now got 18 league goals this season. Has any player got 20 in their first season in the Premier League? Cheers - Harry (Aston Villa fan)
MARTIN SAYS: Christian Benteke has certainly had a big impact for Aston Villa since arriving from Genk last summer - and as he's only 22 years of age it will be interesting to see just how good he can become. However, he is still some way off topping the goal scoring chart of players featuring in the Premier League for the first time - Andy Cole's incredible 34 goal haul for Newcastle in 1993/94, after they'd been promoted as Division One champions, is the record - although that was a 42-game season. Kevin Phillips' 30-goal-season for Sunderland in 1999/2000 is the record for a 38-game campaign.
In terms of goal-scoring records for foreign players in their debut season in England, Spaniard Fernando Torres holds the record with his 24 strikes for Liverpool in 2007/08 after transferring from Atletico Madrid. He's followed by Manchester United's Dutch PSV signing Ruud van Nistelrooy, who netted 23 in 2001/02 and Argentina's Sergio Aguero who bagged the same amount last season for Manchester City after arriving, like Torres, from Atletico.
Belgium international Benteke will have the opportunity to improve his record in Villa's remaining games of the season - Norwich, Chelsea and Wigan. He needs two more to become the 10th player to score 20+ goals in their debut Premier League season.
Nine players to score 20+ goals in their debut Premier League season:
| | | |
| --- | --- | --- |
| Player | Goals in debut PL season | Season |
| Andrew Cole | 34 | 1993/94 |
| Kevin Phillips | 30 | 1999/00 |
| Fernando Torres | 24 | 2007/08 |
| Ruud van Nistelrooy | 23 | 2001/02 |
| Sergio Aguero | 23 | 2011/12 |
| Teddy Sheringham | 22 | 1992/93 |
| Andy Johnson | 21 | 2004/05 |
| Les Ferdinand | 20 | 1992/93 |
| Jurgen Klinsmann | 20 | 1994/95 |
RISING STARS
Hi Martin. With West Ham looking likely to finish highest of the newly promoted teams, I was wondering on how many occasions the play-off winners have fared better in the following Premier League season than their automatically promoted rivals? Thanks Sean (West Ham fan)
MARTIN SAYS: In the 20 completed Premier League seasons we've seen teams promoted via the play-offs finish higher than those automatically promoted on five occasions - Blackburn in 1992/93, Leicester in 1996/97, Ipswich in 2000/01, West Ham in 2005/06 and Swansea in 2011/12. And, as you say, West Ham have the opportunity to repeat that occurrence this season, although Southampton are just three points behind them.
As you can see from the table below, eight times we've seen the second tier title holders finish top of the promoted teams, with second-place teams taking that on honour on seven occasions.
I believe there's a reason for that outcome and it's because the play-off final is often two weeks after the season has finished. Once promotion is sealed the automatically promoted sides can go about their transfer business and get targets in place. The later you know you're promoted the harder it is to catch up. Play-off winners are often fighting the structure of the transfer system.
| | | | |
| --- | --- | --- | --- |
| Highest promoted side | Season | Position | How promoted |
| Blackburn Rovers | 1992/93 | 4 | Play-offs |
| Newcastle United | 1993/94 | 3 | Champions |
| Nottingham Forest | 1994/95 | 3 | Runners-up |
| Middlesbrough | 1995/96 | 12 | Champions |
| Leicester City | 1996/97 | 9 | Play-offs |
| Bolton Wanderers | 1997/98 | 18 | Champions |
| Middlesbrough | 1998/99 | 9 | Runners-up |
| Sunderland | 1999/00 | 7 | Champions |
| Ipswich Town | 2000/01 | 5 | Play-offs |
| Blackburn Rovers | 2001/02 | 10 | Runners-up |
| Manchester City | 2002/03 | 9 | Champions |
| Portsmouth | 2003/04 | 13 | Champions |
| West Bromwich Albion | 2004/05 | 17 | Runners-up |
| West Ham United | 2005/06 | 9 | Play-offs |
| Reading | 2006/07 | 8 | Champions |
| Sunderland | 2007/08 | 15 | Champions |
| Stoke City | 2008/09 | 12 | Runners-up |
| Birmingham City | 2009/10 | 9 | Runners-up |
| West Bromwich Albion | 2010/11 | 11 | Runners-up |
| Swansea City | 2011/12 | 11 | Play-offs |