Football Commentator & Columnist
Dempsey's late piece
Man Utd have conceded ONE injury-time winner in Premier League history. Martin has the stats...
Last Updated: 23/01/13 1:46pm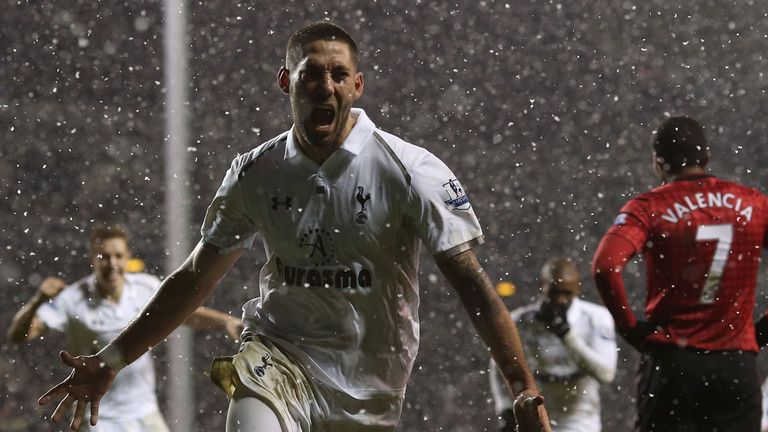 Martin Tyler's stats and facts column is here!
Every week on skysports.com he answers your questions and offers you statistical gems from what he's seen as he tours the world commentating for Sky Sports.
Sky Sports' voice of football and his back-up team of experts want your queries on all things statistical and historical from the beautiful game.
So if you have spotted something from a match or have been stumped by a pub quiz question, simply email skysportsclub@bskyb.com and he will do his best to help.
Tyler's teaser
But as usual we'll kick off with a question for YOU. Click play to see this week's Tyler's Teaser.
Martin's Starting Stats
Bradford City will play in their first-ever League Cup Final, having got through their first ever semi-final, against Aston Villa, this week. In fact, prior to this season, the Bantams' best League Cup memory was probably their very first game in the competition, in 1960, when they knocked out Manchester United - and United were so disgruntled they opted out of the League Cup for next six years (as you could in those days)!
The game at Villa Park was Bradford's 41st match of the season, making them the busiest club in the top four divisions. They became the first club from the fourth tier to knock out three different Premier League clubs after Wigan and Arsenal. They also got to Wembley despite winning only two of their 10 matches since knocking out Arsenal in the quarter final.
James Hanson had gone nine games without a goal and had scored only two in his previous 27, but he did start Bradford's Capital One Cup run with his only previous goal in the competition this season - the extra-time winner in round one away to Notts County. He has also been playing with a toe injury and had hardly trained between the first and second legs.
Villa have now scored 19 goals in seven cup ties (FA Cup and Capital One Cup), the same number they have managed in 23 Premier League games. They have also won six cup games this season, compared to just four in the league. Andreas Weimann has nine goals this season - all in his last 13 games - and even though he scored in both legs of the semi-final, he still ended up a loser.
Referee Phil Dowd will be 50 on Saturday, so that was his last game as a 49-year-old. He gave an excellent performance to suggest he's got many years left - but I would not expect all Aston Villa fans to agree!
INSULT TO INJURY TIME
Dear Martin, When Clint Dempsey scored on Sunday I turned to my mate and said 'that's very unlike Manchester United'. It's very rare to see them concede an injury-time goal that costs them points. Can you tell me how many times that has happened in the Premier League before, if at all? Amir (Chelsea fan)
MARTIN SAYS: According to those clever chaps at Opta, this was only the seventh time in 795 Premier League games that Manchester United have conceded an injury-time goal that affected the final result of the match (so this doesn't include, for example, Craig Bellamy's 90th-minute equaliser for Manchester City at Old Trafford in September 2009 because Michael Owen then went on and scored the winner afterwards).
This was the second time Tottenham have snatched an injury-time equaliser against Manchester United in the Premier League; the previous occasion was December 1998 when Sol Campbell struck late to salvage a 2-2 draw.
Everton have also scored injury-time equalisers against Manchester United on two occasions (including the memorable 2010 clash when they scored twice in added time to draw 3-3), while Arsenal have also scored two game-changing injury-time goals against them.
Incredibly, Manchester United have only conceded ONE added-time winning goal in the history of the Premier League. That came from Arsenal's Thierry Henry in January 2007, as Arsenal battled back from 1-0 down to win 2-1 at the Emirates (current United hero Robin van Persie scored an 83rd-minute equaliser that day and broke his foot in doing so).
It's also worth noting that all of these games were played away from home. Manchester United have never conceded an injury-time Premier League goal at Old Trafford that has altered the final result.
Premier League added-time goals scored against Manchester United that have affected the final result:
20/01/2013: Tottenham 1-1 Manchester United (Dempsey)
11/09/2010: Everton 3-3 Manchester United (Cahill & Arteta)
03/11/2007: Arsenal 2-2 Manchester United (Gallas)
21/01/2007: Arsenal 2-1 Manchester United (Henry)
11/09/2004: Bolton 2-2 Manchester United (L Ferdinand)
08/08/1999: Everton 1-1 Manchester United (Stam og)
12/12/1998: Tottenham 2-2 Manchester United (S Campbell)
Out of interest, another stat I used on Sunday was that Manchester United have only lost five times under Sir Alex Ferguson in 26 years when they have been leading at half-time. Those games were all away from home and were against QPR (08/05/1989), Arsenal (25/112001), West Ham (29/12/2007) and Chelsea (01/03/2011) and Sheffield Wednesday (26/10/1991).
GOAL GLUTS
Dear Martin, I am probably your biggest fan in my country (Malawi) as I aspire to be a magnificent and magniloquent football commentator like you. I am always delighted when you are on TV because I always enjoy and learn a lot from your expert commentary. Love your amazing columns and statistical gems. I have noticed that there have been a staggering total of 87 goals in the 23 Premier League games that Manchester United have played so far this season (averaging nearly four goals per game) including several goal fests (two 4-3 wins and numerous 3-2 wins). Has any other team been involved in such a high number of goals after 23 games into a Premier League season? Thanks. Mark Kawanga (Manchester United fan)
MARTIN SAYS: Thank-you for your kind words Mark and thanks for your interesting question. I have travelled many countries but never been to Malawi. I hope one day to do so and maybe say hello.
I can tell you that Manchester United's record of 87 goals (for and against) is far higher than the same stage last season when there had been 77 goals in their games (F56 A21). They have only scored one more goal this term but have conceded nine more than they had this time last season!
That total of 87 is the second highest total at this stage in more than 20 years of the Premier League. The record was set by Manchester United themselves in the 2001/02 season when there were 89 goals in their first 23 games. That season they scored 56 and conceded 33 in their first 23 games (a run that included a 4-3 defeat to Newcastle, a 5-3 win at Tottenham, a 5-0 win over Derby and a 6-1 win against Southampton).
However, they finished third that season behind Liverpool and Manchester United. As you'll see from the list below only one side has had more than 80 goals in their first 23 games and gone on to lift the title (Manchester United in 1999/2000).
Most goals (for and against) in opening 23 games of a Premier League season:
| | | | | |
| --- | --- | --- | --- | --- |
| Season | Team | For | Against | Total |
| 2001/02 | Manchester United | 56 | 33 | 89 |
| 2012/13 | Manchester United | 57 | 30 | 87 |
| 2009/10 | Arsenal | 59 | 25 | 84 |
| 1999/00 | Manchester United | 56 | 28 | 84 |
| 2007/08 | Tottenham | 44 | 40 | 84 |
| 1997/98 | Sheffield Wednesday | 36 | 46 | 82 |
| 2011/12 | Blackburn | 33 | 47 | 80 |
| 2011/12 | Manchester City | 60 | 19 | 79 |
| 1992/93 | Oldham | 35 | 44 | 79 |
| 2007/08 | Reading | 30 | 49 | 79 |
FOUR ENGLAND
Dear Martin, Following Liverpool's 5-0 win vs Norwich I was wondering has there been many results since the Premier League era has started where there has been four different English goalscorers (If Sterling gets credited with the goal) that have been on the same team because of the influx of foreign players? Many thanks Mike (Newcastle Fan)
MARTIN SAYS: Hi Mike. Jordan Henderson, Daniel Sturridge and Steven Gerrard have all been credited with goals against Norwich, but Liverpool's fifth has been recorded by Opta as a Ryan Bennett own goal. Even though he is English we're not counting own-goals towards games with four Englishmen scoring for one team. I am a great advocate of the attacker being given the goal wherever possible, but without prejudging the Dubious Goals Panel, which incidentally seems to be meeting more regularly these days, I can't see Raheem being given that fifth Liverpool goal.
So the last time a side had four different English scorers in the same game was Aston Villa's 5-2 win over Burnley in February 2010. On that day the goals came from Ashley Young, Stewart Downing (2), Emile Heskey and Gabriel Agbonlahor.
That was the 24th instance in Premier League history of four English players scoring for one team in one Premier League match. Interestingly, 19 of those came in the first 10 years of the Premier League and only five have come in the last decade.
There has only been one occasion when five English scorers have scored for the same team in a Premier League game. That was back in February 1996 when Paul Scholes, David Beckham, Nicky Butt, Andy Cole and Steve Bruce scored in a 6-0 victory for Manchester United against Bolton.
Four or more English players scoring in same game (excludes own goals):
2002-2013:
21/02/2010: Aston Villa 5-2 Burnley (Agbonlahor, Heskey, Young, Downing)
22/11/2009: Tottenham 9-1 Wigan (Bentley, Lennon, Crouch, Defoe)
29/10/2008: Arsenal 4-4 Tottenham (Bent, Lennon, Jenas, Bentley)
12/04/2008: Derby 0-6 Aston Villa (Harewood, Barry, Young, Agbonlahor)
04/12/2005: Charlton 2-5 Manchester City (Cole, Sinclair, Vassell, Barton)
1992-2001:
14/10/2001: Blackburn 7-1 West Ham (Hignett, Flitcroft, Jansen, Dunn)
23/12/2000: Liverpool 4-0 Arsenal (Fowler, Gerrard, Owen, Barmby)
12/02/2000: West Ham 5-4 Bradford (Sinclair, Lampard, Moncur, Cole)
25/08/1999: Everton 4-0 Wimbledon (Barmby, Jeffers, Unsworth, Campbell)
16/01/1999: Liverpool 7-1 Southampton (Thompson, Owen, Carragher, Fowler)
24/10/1998: Charlton 4-2 West Ham (Tiler, Mills, Hunt, Redfearn)
22/11/1997: Wimbledon 2-5 Manchester United (Butt, Beckham, Scholes, Cole)
15/03/1997: Newcastle 4-0 Coventry (Lee, Elliott, Watson, Beardsley)
29/01/1997: Newcastle 4-1 Everton (Shearer, Elliott, Lee, Ferdinand)
25/02/1996: Bolton 0-6 Manchester United (Scholes, Beckham, Butt, Cole, Bruce)*
11/03/1995: Leicester 2-4 Nottingham Forest (Lee, Woan, Pearce, Collymore)
07/05/1994: Swindon 0-5 Leeds (White, Deane, Wallace, Fairclough)
27/04/1994: Newcastle 5-1 Aston Villa (Bracewell, Cole, Sellars, Beardsley)
12/03/1994: Norwich City 3-4 QPR (Peacock, Barker, Penrice, White)
15/01/1994: Everton 6-2 Swindon Town (Cottee, Ablett, Beagrie, Ebbrell)
18/12/1993: Sheffield Wednesday 5-0 West Ham (Palmer, Jemson, Waddle, Bright)
23/10/1993: QPR 5-1 Coventry (Impey, Barker, Allen, Ferdinand)
07/11/1992: Manchester City 4-0 Leeds (Sheron, Brightwell, White, Hill)
* Only Premier League match in history with five English goalscorers for one team.
NOT SEEING RED
Hello Martin, I am absolutely stunned to find out that a quarter of the Premier League teams are yet to receive a sending off at this stage of the season. Has a team or have several teams ever gone an entire Premier League season without registering a red card? Thanks. (Manchester United fan)
MARTIN SAYS: You're right. Five Premier League teams - Manchester United, Norwich, Reading, Southampton and Sunderland - are yet to receive a red card this season.
It's not totally unusual to see teams go through an entire Premier League season without seeing red. In the past, 26 sides have achieved the feat - but exactly half of those came in the first two Premier League seasons (six sides did it in 1992/93 and seven in 1993/94). As you can see from the list below, just seven teams have managed it since the turn of the century.
Fulham are the only team to achieve to do it in the last three seasons and there was a six-season spell between 1997/98 and 2002/03 where every team picked up at least one red card.
Teams to go through a full Premier League season without getting a red card:
1992/93: Aston Villa, Leeds, Man Utd, Norwich, Oldham, QPR
1993/94: Blackburn, Coventry, Everton, Ipswich, Leeds, Man City, Wimbledon
1994/95: Leeds, Southampton
1995/96: Liverpool, Sheffield Wednesday, Tottenham
1996/97: Nottingham Forest
1997/98: NONE
1998/99: NONE
1999/00: NONE
2000/01: NONE
2001/02: NONE
2002/03: NONE
2003/04: Bolton, Liverpool
2004/05: Chelsea
2005/06: NONE
2006/07: Liverpool
2007/08: Bolton
2008/09: Liverpool
2009/10: NONE
2010/11: NONE
2011/12: Fulham
We have never got to the 23rd game of a 38-match Premier League campaign with more than five teams yet to have a man sent off. Back in 2003/04 and 2004/05 and 2007/08 we also got to this stage with five teams yet to see red. That contrasts with the 1999/2000 season when every single team had seen at least one player sent off by the 23rd game!
A GAME OF ONE HALF
Dear Martin. Big fan of you down here in Kenya. Life would be greater though if I wasn't an Arsenal supporter. Speaking of the most frustrating team in the world, it become too evident that Arsenal simply don't show up in the first half of most matches. While on the other hand, United seem to shutdown in the second half. If we were to take only the goals scored in the second half of every game and use that as the final score, where would Arsenal and United be in the table? Dennis Waigi (Arsenal fan)
MARTIN SAYS: I can tell you that your suspicions are quite close to the mark. If only second half goals were taken into account then Manchester United and Arsenal would be LEVEL on points and the Gunners have a game in hand (Wednesday night's home clash with West Ham). Arsenal would be six points better off if the opening 45 minutes was discounted, while Manchester United would be 16 points worse off.
Under your criteria, Manchester City would be seven points clear at the top of the table (although their points tally is lower than it is in real life), Liverpool would be fourth, Swansea would be fifth and Chelsea would be down in eighth.
The second-half table also looks good for QPR, who would have eight more points than they do in reality and would move out of the relegation zone.
Premier League second-half table 2012/13:
| | | | | | | | | |
| --- | --- | --- | --- | --- | --- | --- | --- | --- |
| | P | W | D | L | F | A | GD | PTS |
| 1. Man City | 23 | 13 | 8 | 2 | 29 | 11 | +18 | 47 |
| 2. Man Utd | 23 | 11 | 7 | 5 | 30 | 17 | +13 | 40 |
| 3. Arsenal | 22 | 10 | 10 | 2 | 22 | 10 | +12 | 40 |
| 4. Liverpool | 23 | 10 | 8 | 5 | 22 | 12 | +10 | 38 |
| 5. Swansea | 23 | 9 | 10 | 4 | 24 | 12 | +12 | 37 |
| 6. Tottenham | 23 | 10 | 4 | 9 | 29 | 20 | +9 | 34 |
| 7. Everton | 23 | 9 | 7 | 7 | 15 | 13 | +2 | 34 |
| 8. Chelsea | 23 | 8 | 9 | 6 | 21 | 14 | +7 | 33 |
| 9. West Brom | 23 | 7 | 10 | 6 | 20 | 17 | +3 | 31 |
| 10. Southampton | 23 | 6 | 10 | 7 | 17 | 19 | -2 | 28 |
| 11. Stoke | 23 | 6 | 10 | 7 | 11 | 15 | -4 | 28 |
| 12. Sunderland | 23 | 6 | 8 | 9 | 13 | 17 | -4 | 26 |
| 13. Fulham | 23 | 6 | 8 | 9 | 19 | 24 | -5 | 26 |
| 14. Norwich | 23 | 4 | 13 | 6 | 11 | 18 | -7 | 25 |
| 15. Wigan | 23 | 6 | 7 | 10 | 17 | 25 | -8 | 25 |
| 16. West Ham | 22 | 5 | 9 | 8 | 12 | 15 | -3 | 24 |
| 17. QPR | 23 | 4 | 11 | 8 | 11 | 20 | -9 | 23 |
| 18. Newcastle | 23 | 5 | 8 | 10 | 17 | 27 | -10 | 23 |
| 19. Aston Villa | 23 | 4 | 8 | 11 | 8 | 32 | -24 | 20 |
| 20. Reading | 23 | 4 | 7 | 12 | 16 | 26 | -10 | 19 |