Football Commentator & Columnist
Tyler's festive stats
Martin Tyler brings you some stats on EVERY live Premier League game on Sky over the next fortnight.
Last Updated: 19/12/12 4:17pm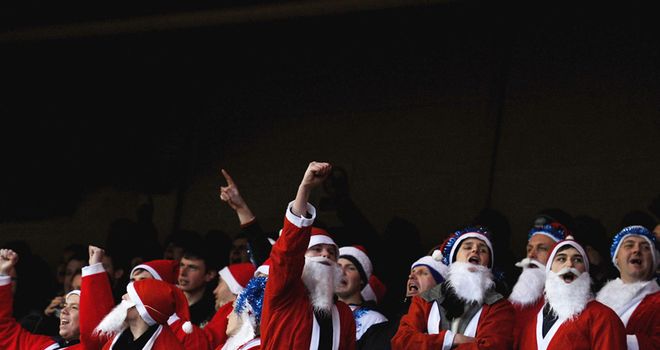 We've a feast of live Premier League football coming your way over Christmas and New Year.
Martin Tyler will be at the heart of our coverage and in a break from answering your stats and facts questions, he's come up with some fascinating facts on every game you'll see in the next fortnight.
His regular column will return in 2013, so keep your questions coming in to skysportsclub@bskyb.com and he will do his best to help.
Merry Christmas and a Happy New Year from Martin Tyler and his team!
Tyler's teaser
But as usual we'll kick off with a question for YOU. Click play to see our festive Tyler's Teaser.
Martin's Starting Stat
Before we look ahead, let's look back at Arsenal's 5-2 win over Reading on the final Monday Night Football of 2012.
Arsenal took their record against Reading to P11 W11 (five of those wins coming in the Premier League) and it was their seventh away win against them (four at the Madejski Stadium). It was also Reading's sixth consecutive Premier League defeat of the season and they've won only one of their last 19 league games either side of promotion.
Santi Cazorla became the third Spaniard to get a hat-trick and the second this season (Jordi Gomez got the other, also against Reading). In total, three Spaniards have scored trebles in 2012, including Fernando Torres against QPR last season.
It was Arsenal's first away win since they won on October 30 at Reading in the League Cup. Theo Walcott was the only Arsenal player to start both the Capital One Cup game and the Premier League game, while Reading used seven of their starters from that day.
Sat Dec 22: Wigan v Arsenal (12.30pm, Sky Sports 2 HD)
Last Monday's game against Reading was a first for Lukas Podolski. It was the first time he had started a game for Arsenal in the league and not been substituted. His run of 14 consecutive substitutions is a longer streak than any player in Premier League history.
Arsenal have won 5-2 on two occasions in the Premier League this season (v Tottenham and Reading). They'd only won by that scoreline twice in all of the previous 20 years of the Premier League (v Tottenham last year and v West Brom in 2002).
Arsenal's game with Wigan in May 2006 was momentous for many reasons. Thierry Henry scored the final ever league goal at Highbury, from a penalty that was conceded by Wigan's Andreas Johansson less than a minute after he'd come on as a substitute. He became one of only three players to be sent off within a minute of stepping onto the pitch in a Premier League game!
Wigan had more injury time in their games last season (169minutes, 25seconds) than any other Premier League side.
Sun Dec 23: Swansea v Man Utd (1pm, Sky Sports 1 HD & Sky 3D)
Robin van Persie has featured in 65 consecutive Premier League games ahead of this one. According to the boys at Opta, his longest run before that was just 14 games back in 2009!
Swansea's clash with the other Manchester club in October witnessed more second-half injury time than any other Premier League game in Opta's record books. They played 12mins42secs additional time in their defeat at Manchester City.
Manchester United have never lost a Premier League game after being 2-0 ahead - or indeed any game in which they have led by two goals.
If this game does not end level then Manchester United will match the record for the longest run without a draw from the start of a Premier League season (the 18-game record was set by Bolton last term).
Sun Dec 23: Chelsea v Aston Villa (3.30pm, Sky Sports 1 HD)
When Aston Villa faced Stoke on December 8 and Liverpool on December 15, none of the starting line-up had ever played for another team in the Premier League.
Chelsea have won more Premier League games by a 1-0 scoreline than any other team. Their tally of 102 is one more than Manchester United. In contrast, Aston Villa have won 75 games by a 1-0 score over the years.
No Premier League team has been waiting longer for a penalty award than Aston Villa. They are currently on a 31 game run without a spot kick (their last one was against Wolves in January).
Wed Dec 26: Aston Villa v Tottenham (5pm, Sky Sports 1 HD & Sky 3D)
No current Premier League player has scored more goals than Gabriel Agbonlahor without scoring at least one penalty. Former Spurs favourite Les Ferdinand leads the all-time list with 150 goals without a penalty.
Just 30 opposition players have been sent off at Villa Park in the Premier League years (including Danny Rose and Jermain Defoe in the last two matches played there between these two teams), compared to 46 at White Hart Lane (a league high).
Aston Villa goalkeeper Shay Given has had 16 managers (including caretakers) in the Premier League era; more than any other player. He has worked under Bobby Robson, Graeme Souness, Glenn Roeder, Alex McLeish , Mark Hughes, Ruud Gullit, Kenny Dalglish, Roberto Mancini, Joe Kinnear, Sam Allardyce, Kevin Keegan, Nigel Pearson , Chris Hughton, Tony Parkes, Paul Lambert and John Carver.
Wed Dec 26: Stoke v Liverpool (7.30pm, Sky Sports 1 HD)
Stoke haven't won away at Liverpool in their last 49 attempts - a top-flight record. Most recently they drew 0-0 with the Reds there in January this year. No other team has gone more than 40 top-flight games without winning away against a single opponent!
Liverpool did not win at home until their fifth Premier League home game of the season. The only two occasions in history when they've had to wait that long were 1894/95 (finished 16/16) and 1911-12 (finished 17/20).
When Luis Suarez scored a hat-trick at Norwich this season, he became only the second player to score trebles twice on the same opposition ground in the Premier League (he also scored three at Carrow Road last season). The only other man to achieve this feat is Manchester United's Wayne Rooney, who has twice scored hat-tricks at Bolton's Reebok Stadium.
Sat Dec 29: Sunderland v Tottenham (12.30pm, Sky Sports 2 HD & Sky 3D)
Emmanuel Adebayor is one of only four players to have scored a Premier League hat-trick after coming on as a substitute (for Arsenal v Derby in 2008). The other three are Ole Gunnar Solskjaer, Jimmy Floyd Hasselbaink and Robert Earnshaw.
Stéphane Sessegnon is the only player from Benin to have scored a Premier League goal, while Emmanuel Adebayor remains the only player from Togo.
Sunderland's top Premier League scorer in the month of October was Demba Ba (who scored at the wrong end in the North East derby). In fact, it wasn't until Adam Johnson's strike on November 10 against Everton that a Sunderland other than Steven Fletcher scored a Premier League goal.
Sun Dec 30: Everton v Chelsea (1pm, Sky Sports 1 HD & Sky 3D)
In the Premier League years, 12 players have been sent off in games between Everton and Chelsea. Only three other fixtures have produced more (Everton v Liverpool, Liverpool v Man Utd and Everton v Newcastle).
Everton have had two (or more) players sent off in seven games in Premier League history. That's more than any other team. Chelsea are joint second on the list; their clash with Manchester United this term was the fifth occasion they have been reduced to nine men.
Everton won their opening two fixtures for only the third time in Premier League history. On the other occasions they had mixed results; in 1993/94 they finished 17th and in 2007/08 they finished fifth.
However, that's nothing compared to the best EVER start to a Premier League season. That was made by Chelsea, who won nine in a row at the start of the 2005/06 season before drawing with... Everton.
Sun Dec 30: QPR v Liverpool (3.30pm, Sky Sports 1 HD)
Harry Redknapp has taken charge of more Premier League goalless draws than any other manager. Before the Christmas fixtures he'd been a manager in 59 games without a goal.
QPR's start of 16 games with a victory is the longest winless start in Premier League history. The previous record was set by Swindon Town in 1993/94, who failed to win any of their first 15 games (W0 D6 L9) before eventually picking up three points with a 1-0 win at home to QPR on November 24.
Reading went 25 days without a Premier League game earlier this season, but QPR once went a remarkable 28 days without a fixture; a Premier League record! After they lost to Manchester United on Saturday February 5, 1994 they did not play again until exactly four weeks later against Manchester City on Saturday March 5, 1994. In fact, they didn't play a game at all in that time as they'd already been knocked out of the FA Cup by Stockport.
Tue Jan 1: West Brom v Fulham (12.30pm, Sky Sports 1 HD)
This season Chris Brunt became West Brom's leading appearance-maker in the Premier League, overtaking the record of 106 held by Jonathan Greening. Meanwhile, Aaron Hughes is likely to do the same for Fulham this season and is closing in on Clint Dempsey's record of 184.
Martin Jol joined West Brom as a player in the same year that Steve Clarke made his professional debut for St Mirren.
Dimitar Berbatov is the only player to score four or more goals in a single Premier League game for two different clubs. He hit four for Tottenham against Reading in December 2007 and then scored five for Manchester United against Blackburn in November 2010.
Tue Jan 1: Southampton v Arsenal (5.15pm, Sky Sports 1 HD)
As mentioned above, Santi Cazorla became the third Spaniard to score a Premier League hat-trick (after Fernando Torres and Jordi Gomez). That's the same number of Premier League hat-trick scorers as Argentina (Tevez, Maxi, Aguero), Ivory Coast (Drogba, Dindane, Kalou) and Russia (Kanchelskis, Arshavin, Pogrebnyak).
Southampton conceded 24 goals in their first eight Premier League games this season; a Premier League record. However, the last time they conceded more than 20 goals in the first eight games (1998/99) they still managed to avoid relegation.
The Saints also went four games without putting a point on the board at the start of this season. Of the three teams to have gone longer before recording their first win, the only one to survive was... Southampton. In 1998/99 they went five games before securing a point but still finished 17th.
Wed Jan 2: Newcastle v Everton (7.30pm, Sky Sports 1 HD)
Everton conceded their 1,000th Premier League goal in their clash with Stoke City in December - only a few days after Steven Pienaar had scored their 1,000th Premier League goal (against Tottenham).
Newcastle beat Everton to the 1,000 goal mark (despite playing two seasons fewer in the Premier League). They achieved the tally AGAINST David Moyes' side when Demba Ba scored at Goodison Park earlier this season.
As mentioned above, there have been 13 red cards in matches between Everton and Newcastle in the Premier League era. Only games between Liverpool and Manchester United (14) and the Merseyside derby (20) have produced more.