Football Commentator & Columnist
Added value
Who gets most injury time? Why are Man Utd's losses GOOD for their title hopes? Martin has the answers...
Last Updated: 02/10/12 3:55pm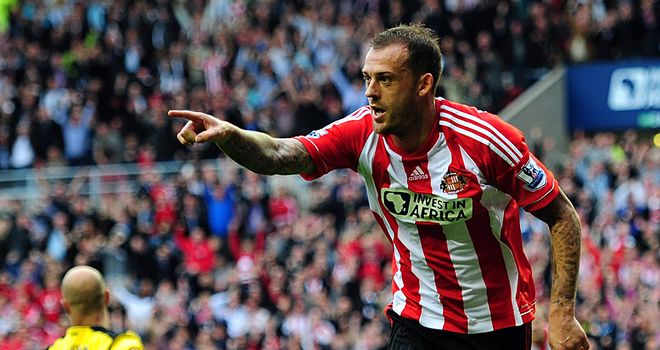 Martin Tyler's stats and facts column is here!
Every week he will be here on skysports.com to answer your questions and to offer you statistical gems from what he's seen as he tours the world commentating for Sky Sports.
Sky Sports' voice of football and his back-up team of experts want your queries on all things statistical and historical from the beautiful game.
So if you have spotted something from a game or have been stumped by a pub quiz question, simply email skysportsclub@bskyb.com and he will do his best to help.
Tyler's teaser
But as usual we'll kick off with a question for YOU. Click play to see this week's Tyler's Teaser.
Martin's starting stat
I was at Villa Park on Sunday to see Darren Bent's 150th league goal in 352 games. It was his third against West Brom after previously scoring against them for Ipswich in 2004 and in this fixture last October. He had gone 700 minutes without a Premier League goal until he scored against Southampton and came off the bench to score in this one.
Meanwhile, Shane Long scored his third goal against Aston Villa. The other two were for Reading in a 4-2 home defeat in an FA Cup quarter-final in 2010. West Brom have still only scored one first-half Premier League goal this season (Zoltan Gera on the opening day against Liverpool). Their other seven have all come after the break.
The draw left Villa with one win in their last 16 Premier League games and took their tally for points in 2012 to 20 from 24 matches. In comparison, West Brom have 36 in the same time.
There was a debut for Goran Popov who was playing his first game for west Brom at any level after picking up an injury in pre-season. He did, however, play against Stoke in the Europa League last season and the last time he played in England he was the receiving end of Mario Ballotelli's "retaliation" when the Manchester City striker was sent off against Dynamo Kiev.
Also, look out for West Brom's home game with QPR on Saturday. Their three previous home results have gone 3-0, 2-0, 1-0 in that order. I wonder if it will be 0-0 on Saturday?
STATS FOR OUR TIME
Hi Martin. All the way from Australia this one and still give your article a read every week! After Sir Alex Ferguson's moan about injury time I wonder who had the most added time adding all games from last season. My bet is Chelsea. They got a lot if I remember right. Thanks, Sam Dadwal
MARTIN SAYS: Sam, it was in fact Wigan that played the most added time in last season's Premier League (169minutes 25seconds) followed by Newcastle and Stoke.
Sir Alex Ferguson, who protested at the lack of injury time in Man United's defeat to Tottenham on Saturday evening, saw his side earn the second lowest amount of added minutes, with only Bolton, who went on to get relegated, handed less.
Man City finished third lowest on the table, just ahead of their local rivals, but their period of added time on the final day of last season was perhaps the most memorable few minutes of the campaign as they clawed their way back to 2-2 against QPR with an Edin Dzeko goal before Sergio Aguero swept home a winner to hand the Etihad Stadium side their first top-flight title in 44 years.
Injury-time isn't always so exciting though. In Monday's game between QPR and West Ham there was five minutes in the first half and six in the second, but nothing really happened in either spell!
| | |
| --- | --- |
| Team | Total injury time (minutes and seconds) |
| Wigan | 169m 25s |
| Newcastle | 168m 20s |
| Stoke | 166m 52s |
| Arsenal | 164m 54s |
| Chelsea | 161m 31s |
| Blackburn | 161m 28s |
| Norwich | 160m 48s |
| Everton | 159m 50s |
| Aston Villa | 159m 14 s |
| Sunderland | 156m 19s |
| Tottenham | 156m 14s |
| West Brom | 153m 18s |
| QPR | 150m 57s |
| Wolves | 150m 42s |
| Fulham | 150m 34s |
| Liverpool | 149m 45s |
| Swansea | 148m 44s |
| Man City | 146m 42s |
| Man United | 140m 40s |
| Bolton | 139m 35s |
|   |   |
ROAD WEARY
Dear Martin. Thanks for your column every week. Tottenham hadn't won for 22 league matches at Old Trafford until Saturday. Is this the longest run without a victory on an opponent's ground in top-flight history? Sebastien Holmes (QPR fan)
MARTIN SAYS: Tottenham's long wait for a win at Old Trafford came to an end in a thrilling 3-2 win on Saturday evening. However, while Spurs fans had to suffer that long streak there are in fact several Premier League teams in the midst of much longer winless runs at certain grounds.
Pity the Stoke City fans who continue to follow their side to Anfield. The Potters haven't won at Liverpool in their last 49 attempts - a top flight record. Most recently they drew 0-0 with the Reds there in January this year.
In fact, Anfield truly has been a fortress for Liverpool. Four of the five longest winless streaks at away grounds in the top flight involve teams failing to secure three points at Anfield. West Ham (39 and counting), Tottenham (38 games up until March 1984) and Chelsea (31 games up until October 1990) are all in the top five, with only Everton's 35 game winless run at Leeds United's home, Elland Road, up to December 2001, breaking the pattern.
Manchester City's on-going failure to win at Arsenal stretches to 27 games. Those sides meet at the Emirates on 12 January 2013 this season and no doubt Roberto Mancini will be aiming to end that streak - especially if Arsenal maintain their strong start to the season and are challenging his side for the title. They did manage a League Cup win there last season, remember.
Dates marked with an * indicate on-going winless runs
Longest Away winless streaks:
| | | | |
| --- | --- | --- | --- |
| TEAM | OPPONENT | GAMES WITHOUT WIN | FINAL/LATEST GAME IN RUN |
| Stoke City | Liverpool | 49 | 14/1/12* |
| West Ham | Liverpool | 39 | 20/11/10* |
| Tottenham Hotspur | Liverpool | 38 | 10/3/1984 |
| Everton | Leeds United | 35 | 19/12/01* |
| Chelsea | Liverpool | 31 | 27/10/90 |
| Preston North End | Sunderland | 29 | 5/9/1936 |
| Newcastle United | Manchester United | 28 | 26/11/11* |
| Manchester City | Arsenal | 27 | 8/4/12* |
| Birmingham City | Arsenal | 26 | 16/10/10* |
| Birmingham City | Everton | 26 | 9/3/11* |
LET LUIS IN NORWICH
Hi Martin. Love your weekly column! Here's an interesting poser that I'd be interested in knowing the answer to. After Luis Suarez's three goals at Carrow Road on Saturday, following on from the treble he scored there last season, I was wondering if this is the first time any player has scored a hat-trick at the same away ground two seasons running? plandsberg2708
MARTIN SAYS: According to our friends at Opta, Luis Suarez's hat-trick was the 250th of the Premier League era, but it was also unique because it was the first time a player has scored a treble on the same opposition ground two seasons running. As you say, he followed up the treble he scored at Carrow Road on April 28 last season with another on Saturday.
He is also only the second player in the history of the Premier League to score two hat-tricks away from home on the same ground. The only other man to achieve this feat is Manchester United's Wayne Rooney, who has twice scored hat-tricks at Bolton's Reebok Stadium. He first did so in a 4-0 win on October 28, 2006 but waited almost five years before he did it again in a 5-0 win on September 10, 2011.
SOLO STEVEN
Hi Martin, love the column every week. I heard from the announcers of the game that Steven Fletcher is the first to score the first five goals of a season for Sunderland. I'd be interested to hear what fate has befallen clubs whose first five goals came from a single player. Thanks, Stephen Slaboda, Sunderland obsessed from Denver, CO - yes, you read that right.
MARTIN SAYS: Sunderland's new signing has indeed scored all five of their Premier League goals this season and it won't take me long to tell you about other clubs whose first five goals came from a single player because it has only happened once before in the Premier League!
That instance was Newcastle's 2003/04 season when Alan Shearer scored the first five goals of their campaign. He scored both goals in a 2-2 draw at Leeds on the opening weekend and then scored another in a home defeat to Manchester United the next weekend. After a 1-0 defeat to Birmingham, he then scored a brace in a 2-2 draw at Everton. Following a 0-0 draw with Bolton, we finally saw a different Newcastle player get on the scoresheet when Laurent Robert scored at Arsenal in their sixth game. Newcastle went on to finish fifth that year.
If Fletcher scores Sunderland's next goal then he'll become the first player to score his side's opening six goals of a Premier League season. Their next two games are away at Manchester City and home to Newcastle, so Martin O'Neill will hope for more returns from his summer signing.
Bobby Zamora could have challenged the record after scoring QPR's first three goals this season, but he was interrupted by Adel Taarabt on Monday night. There are several other players on good scoring streaks right now (Peter Crouch, Demba Ba), so perhaps we should look into the longest scoring streaks in this column one week?
A FEAT OF DEFEAT
Dear Martin. As a Manchester United supporter I am concerned to see the team lose twice with just six fixtures completed. Has this ever happened before in the Premier League and what impact did that have on their season? Anput (Manchester United fan)
MARTIN SAYS: There is not too much cause for concern for Manchester United fans. Sir Alex Ferguson's side have only gone unbeaten in their first six games in seven of the 21 Premier League seasons. They were unbeaten at this stage of the last two Premier League seasons, but before that you have to go back to the 2000/01 campaign to find the last time they made it to game seven without a loss to their name.
To reassure you further, there have only been two seasons when Manchester United have lose twice in their opening six fixtures - and on each occasion they went on to win the title.
Back in the very first Premier League season they lost their opening two fixtures at home to Sheffield United and away to Everton, but they drew their next game with Ipswich and went on a five-game winning run as they steered themselves towards the title.
And back in 2002/03 they were unbeaten in their first four games, only to lose back-to-back matches 1-0; at home to Bolton and then away at Leeds. However, they still finished up in top spot.
It's worth noting the pattern here. In 1992/93 they lost two of their first six games and won the title; 10 years later in 2002/03 they lost two of their first six games and won the title; 10 years later in 2012/13 they lost two of their first six games... we'll see what happens come May.
| | | |
| --- | --- | --- |
| Season | Record | Final position |
| 2012/13 | LWWWWL | ? |
| 2011/12 | WWWWWD | 2nd |
| 2010/11 | WDWDWD | 1st |
| 2009/10 | WLWWWW | 2nd |
| 2008/09 | DWLDWW | 1st |
| 2007/08 | DDLWWW | 1st |
| 2006/07 | WWWWLD | 1st |
| 2005/06 | WWWDDL | 2nd |
| 2004/05 | LWDDDW | 3rd |
| 2003/04 | WWWLWD | 3rd |
| 2002/03 | WDDWLL | 1st |
| 2001/02 | WDDWLW | 3rd |
| 2000/01 | WDDWWW | 1st |
| 1999/00 | DWWWWW | 1st |
| 1998/99 | DDWWLW | 1st |
| 1997/98 | WWDWWW | 2nd |
| 1996/97 | WDDDWW | 1st |
| 1995/96 | LWWWWW | 1st |
| 1994/95 | WDWWLW | 2nd |
| 1993/94 | WWDWWW | 1st |
| 1992/93 | LLDWWW | 1st |
By the way, it intrigues me that the last time they lost 2-3 at home (to Blackburn last season) they played away to Newcastle in the next game and lost 3-0. I suggest people watch Sky Sports on Sunday to see what happens when they play Newcastle this time!
CAPITAL BETTERS
Dear Martin. With so many London teams in the Premier League this year we are likely to see a derby match almost every week. As Chelsea have already played both Arsenal and QPR away without losing, I wondered if a London team has ever gone through a Premier League season without losing to at least one of the other London teams? And which team has won the most points from London derbies in a season? Anthony (Chelsea fan)
MARTIN SAYS: QPR are the only side to take any points off Chelsea in the league so far this season, holding Roberto Di Matteo's men to a 0-0 draw at Loftus Road. However, the Blues got the better of Arsenal at the Emirates on Saturday and remain undefeated against London opposition in this campaign. However, it's Arsenal, not Chelsea, who have the best record against fellow London sides in the Premier League era.
The Gunners have taken 24 points from local rivals in two seasons - 2002/03 and 2004/05. Chelsea have done this once - in 2004/05 - but the Emirates outfit also registered the best points per game record in London derby performances in 2007/08. That season they took seven wins from their eight games and averaged 2.63 points per game against fellow capital clubs.
London Derby Performances - Most Points:
TEAM
SEASON
WON
DREW
LOST
POINTS
Arsenal
2002/03
7
3
0
24
Arsenal
2004/05
7
3
0
24
Chelsea
2004/05
7
3
0
24
Arsenal
1997/98
6
4
0
22
Arsenal
1998/99
6
3
1
21
The following teams have gone unbeaten in London derbies in a single season:
2002/03: Arsenal (P10 W7 D3 L0)
2004/05: Arsenal (P10 W7 D3 L0)
2004/05: Chelsea (P10 W7 D3 L0)
1997/98: Arsenal (P10 W6 D4 L0)
2003/04: Arsenal (P8 W5 D3 L0)
We have six London teams this year, but in 1994/95 we had seven when Arsenal, Chelsea, Tottenham, QPR, West Ham, Crystal Palace and Wimbledon were all in the top flight.