Football Commentator & Columnist
The goals of Scholes
Martin has some stunning Scholes stats - and considers if this is Liverpool's worst ever start.
Last Updated: 19/09/12 3:49pm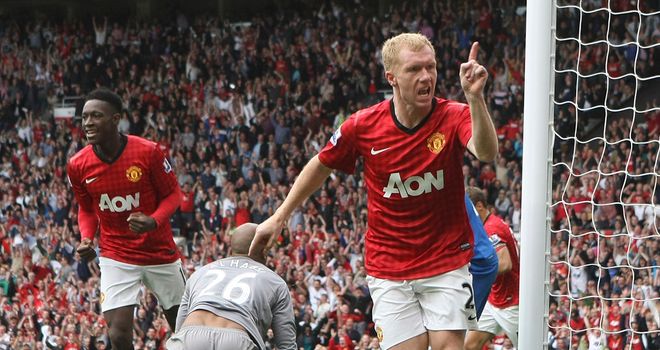 Martin Tyler's stats and facts column is here!
Every week he will be here on skysports.com to answer your questions and to offer you statistical gems from what he's seen as he tours the world commentating for Sky Sports.
Sky Sports' voice of football and his back-up team of experts want your queries on all things statistical and historical from the beautiful game.
So if you have spotted something from a game or have been stumped by a pub quiz question, simply email skysportsclub@bskyb.com and he will do his best to help.
Tyler's teaser
But as usual we'll kick off with a question for YOU. Click play to see this week's Tyler's Teaser. NOTE: One of the eight players Martin refers to DID leave the Premier League before the deadline...
Martin's starting stat - Defoe earns his Spurs
I was at the Madejski Stadium to see Tottenham's victory over Reading on Super Sunday. Jermaine Defoe scored his second and third Tottenham goals of the season - and his 197th and 198th career goals in total on his way to being appointed the Sky Sports man of the match. Meanwhile Gareth Bale netted his first league goal since January; his last came in a 3-1 win over Wigan on January 31 last season.
Despite all the pre-match talk about Tottenham's goalkeepers, Brad Friedel retained his place and played in his 308th consecutive game extending own record run. He has now played in 442 Premier League games in total - a stark contrast to Alex McCarthy at the other end who was playing in his first Premier League game for Reading.
THE GOALS OF SCHOLES
Dear Martin. I read that Wigan was the 34th team that Paul Scholes has scored against in the Premier League. Has anybody scored against more clubs than him in the competition? Given the length of his career I would think it's unlikely. Laurence (Man Utd fan)
MARTIN SAYS: Wigan have indeed become the 34th team to have concede a Paul Scholes goal in the Premier League - and in his 700th Man Utd game. This was the 11th time he has faced them in the league and his first goal. He has now scored against 34 of the 45 sides to have played in the Premier League. He has so far failed to score against Reading, Stoke, Leicester, Sheffield United, Watford, Blackpool, Hull and Burnley - while he has never faced Oldham, Swindon or, of course, Manchester United.
However, there are four players to have scored against more than 34 clubs in the Premier League. Those players are:
ANDREW COLE (38 teams)
Scholes' former Man United team-mate managed to score against 38 of the 40 teams he faced during his Premier League career. The only two teams he didn't score against were Swindon and Reading (and he never faced Blackpool, Burnley, Hull, Stoke or Swansea in the top flight).
ALAN SHEARER (37 teams)
Scholes' former England team-mate managed to score against 37 of the 39 teams he faced during his Premier League career. He never scored against Watford or Birmingham (and he never faced Blackpool, Burnley, Hull, Reading, Stoke or Swansea in the top flight).
FRANK LAMPARD (37 teams)
Like Scholes, the Chelsea midfielder has faced 42 Premier League teams, but he has managed to score against 37 of them. He has never scored against Ipswich, QPR, Burnley, Watford or Chelsea (and he has never faced Oldham, Swindon or Swansea in the top flight).
TEDDY SHERINGHAM (35 teams)
Another of Scholes' former team-mates netted against 35 of the 39 opponents he faced in the Premier League. He didn't score against Wolves, Watford, Wigan or Reading (and he never faced Blackpool, Burnley, Hull, Stoke, Swansea or Swindon).
RED ALERT
Dear Martin. Brendan Rodgers has been getting a lot of criticism of late, but is this really Liverpool's worst ever points tally after four games of a league season? Michael Carson (Liverpool fan)
MARTIN SAYS: Liverpool's tally of two points from their opening four games is their worst in more than 100 years, but it is not quite the worst in their history. In fact, there have been two seasons when Liverpool lost all four of their opening league matches.
That happened all the way back in 1903/04 when they lost 2-1 at Nottingham Forest, 3-1 at home to Sheffield Wednesday, 2-1 at Sunderland and 3-1 at home to West Brom. They also lost 4-2 to Notts County in their fifth game before breaking their duck with a 2-1 win at Birmingham. They eventually finished 17th, second from bottom, and were relegated.
Their worst ever start was in Division One in the 1899/00 season when they lost their first EIGHT league games to Stoke, Sunderland, West Brom, Everton, Blackburn, Notts County, Derby and Bury. A 3-1 home win over Notts County finally saw them get off the mark in late October and they eventually finished 10th.
If we apply the current format of three points for a win, then there have only been two other seasons in history when Liverpool have had such a low tally after four games:
1894/95 (2 points): a 1-1 draw at Blackburn and a 3-3 draw at Burnley were followed by home 2-1 defeats to Aston Villa and Bolton. They eventually finished bottom and were relegated.
1911/12 (2 points): Liverpool drew 2-2 at Arsenal, then lost 2-1 at Bolton, then drew 2-2 at Man City and then lost 2-1 at Everton. They finished in 16th place, one point above relegation.
NO YELLOW CANARIES
Dear Martin. Is it true that Norwich have gone four games without picking up a booking? Has any team in the Premier League ever waited longer for their first booking? How much longer do they need to go to break the record? Craig Neilson (Aston Villa fan)
MARTIN SAYS: It is true that the Canaries haven't picked up a yellow card yet, but we have seen three teams in Premier League history go even longer without a booking at the start of a Premier League campaign.
The longest starts to a Premier League season without a booking:
Blackburn Rovers 1993/94 (4 games): Rovers went through their first four games (against Chelsea, Norwich, Oldham and Man City) without a booking until Patrik Andersson was booked in their fifth game at Newcastle.
Everton 1992/93 (4 games): The Toffees started the first Premier League campaign without picking up any bookings against Sheffield Wednesday, Manchester United, Everton and Aston Villa, but in the fifth game against Wimbledon, Dave Watson was booked.
Middlesbrough 1992/93 (5 games): However, the Premier League record is held by Middlesbrough, who, in the first Premier League season did not pick up any bookings in the first five games (against Coventry, Man City, Leeds, Southampton and Ipswich), but the run ended against Sheffield United when three players - Morris, Peake and Wilkinson - were all booked. They went on to be relegated thatat the end of the season.
That means Norwich need to play two more games without a booking to break the record. However, in the context of modern Premier League football it's a very impressive run. Since the turn of the century only one side - Aston Villa in 2008/09 - have managed more than two games at the start of a Premier League season without a booking. I would like to congratulate Norwich - and also the men who have refereed their games!
SAVING FROM THE SPOT
Hi Martin. Ali Al-Habsi seems to have saved a lot of penalties in the last year or so. He saved one from Hernandez on Saturday and made a few last year including one against Liverpool. I was wondering if any goalkeeper has made more penalty saves than he has in the Premier League? Regards, Nick (Liverpool fan)
MARTIN SAYS: Ali Al-Habsi has the best penalty-saving record of any goalkeeper since the start of last season. He has saved a remarkable FIVE penalties in that time, which is three more than any other goalkeeper has managed in the Premier League in the same period. In total, he has now made SIX Premier League penalty saves:
30/04/2011: v Everton (Mikel Arteta)
10/09/2011: v Manchester City (Carlos Tevez)
15/10/2011: v Bolton Wanderers: (Kevin Davies)
21/12/2011: v Liverpool (Charlie Adam)
21/01/2012: v Queens Park Rangers (Heidar Helguson)
15/09/2012: v Manchester United (Javier Hernández)
However, there are several goalkeepers to have made more stops than that. Our friends at Opta have only been keeping data on penalty saves since the 1998/99 season, but in that period the record is held by Stoke goalkeeper Thomas Sørensen who has stopped a remarkable 11 penalties:
21/08/1999: v Leeds United (Harry Kewell)
18/11/2000: v Newcastle (Alan Shearer)
19/05/2001: v Everton (David Unsworth)
29/09/2001: v Bolton Wanderers (Per Frandsen)
01/11/2003: v Newcastle United (Alan Shearer)
14/03/2004: v Wolverhampton Wanderers (Viorel Ganea)
17/09/2005: v Tottenham Hotspur (Jermain Defoe)
22/11/2009: v Portsmouth (Kevin-Prince Boateng)
05/12/2009: v Arsenal (Cesc Fabregas)
12/12/2009: v Wigan Athletic (Hugo Rodallega)
28/08/2010: v Chelsea (Frank Lampard)
As you'll see from the list below, Brad Friedel could match that record if he saves a penalty this season, while two other current players - Jussi Jääskeläinen and Shay Given - are two shy of the Dane's total.
Most penalty saves since 1998/99:
ELEVEN: Thomas Sørensen
TEN: Brad Friedel, David James
NINE: Jussi Jääskeläinen, Shay Given
EIGHT: Edwin Van der Sar
SEVEN: Mark Schwarzer, Robert Green
SIX: Ali Al-Habsi, Manuel Almunia
ALL FOR ONE
Dear Martin. Ryan Giggs holds the record for the most Premier League appearances for one club with 600 for Manchester United. I was wondering if you could tell me who holds the appearance record for every other team in the Premier League era. I'd be particularly interested to know if any club has a player with more than 486 appearances, which is the number that Manchester United's second highest appearance maker - Paul Scholes - has notched up. Thanks for your excellent column every week. Amarit (Manchester United fan).
MARTIN SAYS: That's a very well researched question and, thanks to Opta, I've provided the data you're looking for below.
To answer your question, I can tell you that only five players have made 400 or more Premier League appearances for a single club - and all of them are Manchester United and Liverpool players:
Ryan Giggs, Man Utd (600)
Paul Scholes, Man Utd (486)
Jamie Carragher, Liverpool (485)
Steven Gerrard, Liverpool (409)
Gary Neville, Man Utd (400)
So no other club has a player with more Premier League appearances than Paul Scholes - although Jamie Carragher is only just behind him.
Here is the highest-appearance maker(s) for each club in the Premier League era:
Arsenal: Ray Parlour (333)
Aston Villa: Gareth Barry (365)
Barnsley: Neil Redfearn, (37)
Birmingham: Damien Johnson (150)
Blackburn: Brad Friedel (261)
Blackpool: Ian Evatt (38)
Bolton: Jussi Jääskeläinen (379)
Bradford: Stuart McCall (71)
Burnley: Brian Jensen, Tyrone Mears, Wade Elliott (38)
Charlton: Luke Young, Chris Powell (187)
Chelsea: Frank Lampard (378)
Coventry: Paul Telfer, Steve Ogrizovic (191)
Crystal Palace: Dean Gordon (88)
Derby: Darryl Powell (170)
Everton: David Unsworth (302)
Fulham: Clint Dempsey (184)
Hull: Andy Dawson, Geovanni (60)
Ipswich: David Linighan (112)
Leeds: Gary Kelly (325)
Leicester: Muzzy Izzet (222)
Liverpool: Jamie Carragher (485)
Man City: Richard Dunne (253)
Man Utd: Ryan Giggs (600)
Middlesbrough: Mark Schwarzer (332)
Newcastle: Shay Given (354)
Norwich: Mark Bowen (119)
Nottingham Forest: Steve Chettle (174)
Oldham: Mike Milligan (81)
Portsmouth: Matthew Taylor (144)
QPR: Andy Impey (142)
Reading: James Harper, Marcus Hahnemann (76)
Sheffield United: Carl Bradshaw (72)
Sheffield Wednesday: Des Walker (264)
Southampton: Jason Dodd (329)
Stoke City: Rory Delap (134)
Sunderland: Michael Gray (171)
Swansea: Ashley Williams, Michel Vorm (41)
Swindon: Shaun Taylor (42)
Tottenham: Darren Anderton (299)
Watford: Tommy Smith (54)
West Brom: Jonathan Greening (106)
West Ham: Steve Potts (203)
Wigan: Emmerson Boyce (162)
Wimbledon: Robbie Earle (244)
Wolves: Matthew Jarvis (108)