Football Commentator & Columnist
A pointless question
Hat-tricks with penalty misses and teams with no points... Martin Tyler has all the latest stats!
Last Updated: 05/09/12 5:48pm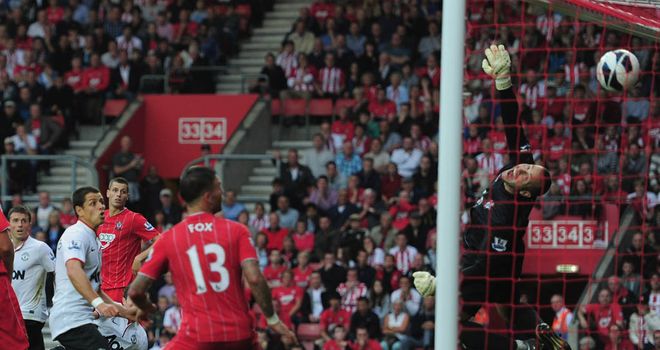 Martin Tyler's stats and facts column is here!
Every week he will be here on skysports.com to answer your questions and to offer you statistical gems from what he's seen as he tours the world commentating for Sky Sports.
Sky Sports' voice of football and his back-up team of experts want your queries on all things statistical and historical from the beautiful game.
So if you have spotted something from a game or have been stumped by a pub quiz question, simply email
skysportsclub@bskyb.com
and he will do his best to help.
Tyler's teaser
But as usual we'll kick off with a question for YOU. Click play to see this week's Tyler's Teaser. NOTE: One of the eight players Martin refers to DID leave the Premier League before the deadline...
Martin's starting stat
I was at St Mary's on Sunday to see Robin van Persie score his 98th, 99th and 100th Premier League goals in the 197th game of his career. He now has four in three for Manchester United, but was annoyed by his penalty failure. Interestingly, he also had a penalty saved in Manchester United's third game of last season, although he was playing for Arsenal in that famous 8-2 at Old Trafford.
Meanwhile, Paul Scholes made his 699th Man Utd appearance - and a very influential one as a substitute - but Giggs had to wait for his 600th Premier League game. It also struck me as odd that the top two clubs of last year have now played six games between them and not kept one clean sheet.
TOP FOR TWO
Hi Martin. Welcome back for the new season. I'm a huge Manchester United fan and watched Van Persie score his first hat trick for United against the Saints. His treble took him to the top of the scoring charts with Michu. My question is has the leading goal scorer of the previous season switched clubs and repeated that feat in the next season? Regards, Adrian
MARTIN SAYS: According to our records, Robin van Persie could become the third player in the history of the English top flight to top the scoring charts with different teams in back-to-back seasons.
The first to achieve the feat was Gary Lineker, who scored 24 times for Leicester in the 1984/85 season to finish as joint top scorer. He then moved to Everton and scored 30 for them in the 1985/86 to once again top the scoring charts.
The only other player to have done this is Alan Shearer, who scored 31 goals with Blackburn in 1995/96 and then 25 with Newcastle in 1996/97 after his big-money move in the summer of 1996.
It is also worth mentioning Jimmy Floyd Hasselbaink, who was joint top scorer with Leeds in 1998/99 and was then top scorer again in HIS next Premier League season with Chelsea in 2000/01. However, he spent a season at Atletico Madrid in between, so doesn't count.
THREE, BUT NO PENALTY
Hi Martin. After Robin van Persie's match-winning performance at Southampton I'd like to ask: has a player ever missed a penalty and scored a hat-trick in the Premier League? Simon (Manchester United fan)
MARTIN SAYS: This is one for our friends at Opta and they only have data on this topic from the start of the 1998/99 season. Sunday was the fifth occasion in that period that a player has both failed to score from a penalty AND scored a hat-trick.
You may be surprised to hear that the last man to achieve this feat was none other than Robin van Persie himself! Back in January 2011 he hit a penalty over the bar while playing at home for Arsenal against Wigan, but still managed to net his first ever Premier League hat-trick. I was there on that occasion and his miss was for the hat-trick - but he went on to make amends.
Van Persie is the only player to do this in the Premier League in the last 10 years. Before him, you have to go back to Boxing Day 2001 when Robbie Fowler scored his first hat-trick for Leeds in an away game at Bolton. He missed out on a golden chance to seal that hat-trick when he missed from the spot, but made amends by netting a third in the 89th minute.
Exactly one year earlier on Boxing Day 2000, Kevin Phillips also failed with a penalty and scored a hat-trick. In a 4-1 win for Sunderland at Bradford, he scored three and then saw Gary Walsh save a late spot-kick.
Finally, in November 1999 Arsenal's Marc Overmars scored three in a 5-1 win over Middlesbrough - although one of them was a rebound from a penalty which had initially been saved by Mark Schwarzer.
NOTHING TO SHOUT ABOUT
Hi Martin, I've got a question for you this week after seeing my beloved Southampton nearly beat United. What's the most number of games a team has gone at the start of a Premier League season with 0 points and did they survive? Mark (Saints fan)
MARTIN SAYS: According to Opta, the most Premier League games played without picking up a point was the seven played by the Saints' south coast rivals Portsmouth in 2009/10. They lost to Fulham, Birmingham, Arsenal, Man City, Bolton, Aston Villa and Everton before breaking their duck with a 1-0 win away at Wolves. I'm sure you won't need me to remind you that they were relegated in last place at the end of that season.
If Southampton lose at Arsenal in their next game they would become only the eighth side in Premier League history to finish their fourth game with no points. As you can see from the table below, four of the previous seven finished the campaign rock bottom but the other three all survived - including Southampton themselves, who finished 17th in 1998/99 despite losing their first five games. In fact, they only picked up one point in their first eight - a 1-1 draw with Spurs - but managed to beat the drop, so there is plenty of cause for optimism for Nigel Adkins.
Longest point-less runs at the start of a Premier League season:
| | | | |
| --- | --- | --- | --- |
| TEAM | SEASON | Start without points | FINAL PLACE |
| Portsmouth | 2009/10 | 7 games | 20 |
| Southampton | 1998/99 | 5 games | 17 |
| Sunderland | 2005/06 | 5 games | 20 |
| Swindon Town | 1993/94 | 4 games | 22 |
| West Ham | 2010/11 | 4 games | 20 |
| Middlesbrough | 2001/02 | 4 games | 12 |
| Aston Villa | 1997/98 | 4 games | 7 |
I can tell you that Southampton on four previous occasions have lost their first three and stayed up every time. However, no promoted team has ever lost its first three games and stayed up before.
GUNNER KEEP YOU OUT
Hi Martin Arsenal have now gone three games without conceding a goal so far this season, having conceded 10 in their first three games last season. Has any team ever seen a greater contrast year on year? Graeme Hood (Arsenal fan)
Hi Martin, As a Gunner, I would like to know when was the last time, Arsenal had three games without conceding? Kind Regards, Aspi Bilia, New Zealand
MARTIN SAYS: I thought I would answer these two questions on Arsenal's trio of clean sheets together.
Firstly, Graeme, we have gone through the records in the Premier League era and we can confirm that no team has had such a high contrast when it comes to the number of goals conceded in the opening three games of successive Premier League seasons. Arsenal have the joint-biggest differential, matching the record of Leicester City, who went the other way! They conceded none in the first three games of the 2000/01 season - and then let in 10 in the opening three games of 2001/02.
Arsenal 2011/12: Conceded 0 v Newcastle, 2 v Liverpool, 8 v Man Utd. TOTAL: 10
Arsenal 2012/13: Conceded 0 v Sunderland, 0 v Stoke, 0 v Liverpool. TOTAL: 0
Leicester 2000/01: Conceded 0 v Aston Villa, 0 v West Ham, 0 v Bradford,TOTAL: 0
Leicester 2001/02: Conceded 5 v Bolton, 4 v Arsenal, 1 v Ipswich TOTAL: 10

As for Aspi's question, the last time Arsenal went three Premier League games without conceding was 18 months ago in March 2011 against Wolves (W 2-0), Stoke (W 1-0) and Sunderland (D 0-0).
Arsenal still have some way to go to match their record for the longest run of clean sheets in the Premier League. Back in their title-winning season of 1997/98 they went eight games without conceding a league goal between January 31 and March 31.
That run of games was Southampton (W 3-0), Chelsea (W 2-0), Crystal Palace (W 1-0), West Ham (D 0-0), Wimbledon (W 1-0), Man Utd (W 1-0), Sheffield Wednesday (W 1-0), Bolton (W 1-0), The run ended when Warren Barton scored a consolation for Newcastle in a 3-1 success for the Gunners at Highbury.
SUPER SUBS
Hey Martin, I read an article about Jermain Defoe and his goalscoring record last season after playing second fiddle to Emmanuel Adebayor, and it got me thinking: who would be the all-time Premier League top-scorer if goals only counted if it was scored from a player coming on as a sub? Heed from Denmark (Supporting Blackburn Rovers)
MARTIN SAYS: Thanks to our friends at Opta, I can confirm that Jermain Defoe would indeed be top of the all-time Premier League scoring charts if goals from the bench were all that counted. He scored four times as a substitute in the Premier League last season to take his total to 20, which saw him overtake Kanu and Ole Gunnar Solskjaer (both 17) as the league's all-time top sub scorer. I'll never forget commentating on Solskjaer scoring four as a sub in one game for Manchester United against Nottingham Forest!
Defoe scored nine goals from the bench for West Ham and eight during his first spell at Tottenham, but last season's goals were his first substitute goals since the 2007/08 season.
Most goals as a substitute in Premier League history:
1. Jermain Defoe (20)
2= Kanu, Ole Gunnar Solskjaer (17)
4= Tore Andre Flo, Robbie Keane, Andrew Cole (13)
7. Michael Owen (12)
8. Salomon Kalou (11)
9. Teddy Sheringham, Julian Joachim, Dwight Yorke, Jimmy Floyd Hasselbaink, Louis Saha, Didier Drogba (10)
IN THE LONG RUN
Hi Martin, I was reading an article about Brad Friedel and Hugo Lloris and it said Friedel has made 307 consecutive Premier League starts. Is this an all-time record? And what's the record for an outfield player? Steven (Wigan fan)
MARTIN SAYS: This is by far the most. Brad Friedel's current run of 307 consecutive games is more than 100 better than any other player in Premier League history. He missed the final two games of the 2003/04 season for Blackburn (one of which was against Tottenham) and has not missed a Premier League game since. He was fortunate to keep that run going in March 2009 when he was sent off for Aston Villa in a 5-0 defeat at Liverpool. He was scheduled to be banned for the following game against Man Utd, but the dismissal was overturned and he was allowed to play.
The next longest run belongs to Everton's Tim Howard who is currently on 186 (and counting). The most by an outfield player is Frank Lampard who played 164 in a row up until December 2005. The only other outfield player in the top 10 is former Ipswich man Matt Holland.
Longest runs of consecutive appearances in Premier League history:
| | | |
| --- | --- | --- |
| Player | Consecutive Apps | Date of last game in run |
| Brad Friedel | 307 | 01/09/2012 |
| Tim Howard | 186 | 01/09/2012 |
| José Reina | 183 | 01/04/2012 |
| David James | 166 | 20/04/2008 |
| Frank Lampard | 164 | 26/12/2005 |
| David James | 159 | 23/02/1998 |
| Robert Green | 143 | 11/12/2010 |
| Shay Given | 140 | 31/10/2004 |
| Jussi Jääskeläinen | 121 | 02/03/2008 |
| Matt Holland | 115 | 14/08/2004 |
Fill in your answers to Martin's teaser using the feedback form below - and keep those questions coming in!