Football Commentator & Columnist
Blues spot on
Martin Tyler shares stats on Chelsea's spot-kick spell, Rooney's sub skills and City's Anfield jinx...
Last Updated: 04/09/12 12:37pm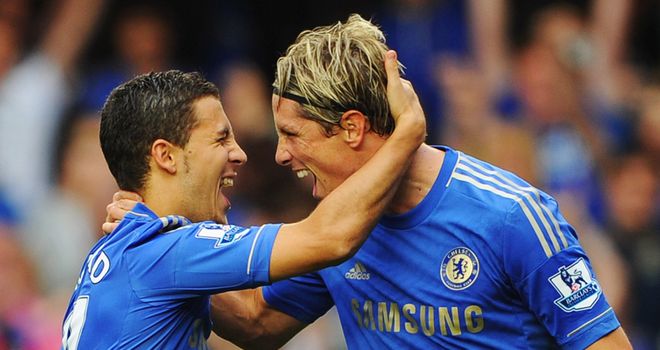 Martin Tyler's stats and facts column is here!
Every week he will be here on skysports.com to answer your questions and to offer you statistical gems from what he's seen as he tours the world commentating for Sky Sports.
Sky Sports' voice of football and his back-up team of experts want your queries on all things statistical and historical from the beautiful game.
So if you have spotted something from a game or have been stumped by a pub quiz question, simply email skysportsclub@bskyb.com and he will do his best to help.
Tyler's teaser
But as usual we'll kick off with a question for YOU. Click play to see this week's Tyler's Teaser.
Tyler's starting stat - Car starts for City
I was at Anfield on Sunday for the 2-2 draw between Liverpool and Manchester City and saw Martin Skrtel open the scoring with his sixth Premier League goal for the Reds.
Skrtel actually scored his first goal for Liverpool in a 2-2 draw with Manchester City in November 2009.
In another nice piece of symmetry, Manchester City saw their seven game winning streak in the league come to an end with the score draw at Anfield on Sunday. Last season City went to Liverpool and drew 1-1, after winning seven in a row. Manchester City have never won eight in a row in the Premier League. The last time they won eight league games in a row in the top division was between April and September 1912, during a nine-game winning run. That run started two days before the Titanic pulled out of Southampton on its fateful voyage.
The 2-2 draw on Sunday extended Liverpool's very good home record over Manchester City. Liverpool have lost only one of their last 22 home games in the league to City, going back over 30 years to 1981. In fact they've only lost two of their last 40 matches at home to Manchester City.
City's only Premier League win at Anfield was a 2-1 victory in May 2003, where two goals from Nicolas Anelka earned them three points.
After losing at West Brom, the draw with Manchester City ensured Liverpool avoided losing their first two games of the season. They've not lost their first two games of a campaign since 1924.
Tevez on top?
Hi Martin. I heard someone mention that Carlos Tevez is Man City's top scorer in the Premier League? Is this really true? Simon (Bolton Wanderers Fan)
MARTIN SAYS: It is indeed, Simon. Tevez scored his 100th goal in England at Liverpool on Sunday and his 49th in the Premier League for Manchester City. I remember commentating on the game where he scored his first in England - he curled in a fine free-kick to cap an impressive performance against Tottenham. Unfortunately for him his West Ham side were on the wrong end of a 4-3 defeat. Since then he has scored four Premier League hat-tricks, including one last season against Norwich. He has in fact got a clear lead in the Manchester City Premier League goal scorers list, with Nicolas Anelka and Niall Quinn - who was commentating with me at Anfield on Sunday - below him. Here's the top six in that table, with Sergio Aguero surging into contention after a fine 2011/12 season:
Player
Goals
Player
Carlos Tevez
49
Nicolas Anelka
37
Niall Quinn
29
Uwe Rosler
29
Shaun Wright-Phillips
27
Sergio Aguero
23
ROO SIDELINED
Hi Martin. Sir Alex Ferguson surprised a lot of people by starting Wayne Rooney on the bench against Fulham on Saturday. But what's his record like as an impact sub in the Premier League? Steven (United fan)
MARTIN SAYS: Wayne Rooney has come on as a substitute 49 times in the Premier League, playing 1189 minutes after coming on as a sub. In that time he's scored seven goals and had one assist. As you can see, every time he's scored or assisted since coming on his side have won the match:
Team
Opponent
Venue
Date
On
Goals
Assists
Result
Everton
Arsenal
Goodison Park
19/10/2002
80mins
1
0
2-1 win
Everton
Leeds United
Elland Road
03/11/2002
75mins
1
0
1-0 win
Everton
Southampton
Goodison Park
22/02/2003
65mins
0
1
2-1 win
Everton
Portsmouth
Fratton Park
13/12/2003
24mins
1
0
2-1 win
Everton
Leicester City
Goodison Park
20/12/2003
60mins
1
0
3-2 win
Everton
Birmingham City
Goodison Park
28/12/2003
46mins
1
0
1-0 win
Manchester United
Bolton Wanderers
Old Trafford
27/09/2008
71mins
1
0
2-0 win
Manchester United
Fulham
Old Trafford
18/02/2009
61mins
1
0
3-0 win
Perhaps Rooney's most memorable substitute appearance was when he came on and scored that stunning winner against Arsenal as a 16-year-old in 2002. That really announced his arrival. The goal made him the youngest goal scorer in Premier League history at the time, and ended Arsenal's 30-game unbeaten run in the league.
Of course having an impact off the bench is a difficult thing to do, although there are certain players who have made careers out of their ability to come on and score that crucial late winner.
TOFFEES LOOKING TASTY
Dear Martin. As an Everton supporter it's great to see us starting the season so well for a change! How does two out of two compare with our normal starts? And what's the best ever start to the Premier League by any team? Thanks Shaun (Everton fan)
MARTIN SAYS: Hi Shaun. I bet you're enjoying your sides start to the season! Everton have been dreadful starters over the past few years and this is only the third time in 21 Premier League seasons they've managed to win their first two matches. However, David Moyes has really got his side playing well this year. I saw them beat Manchester United and they were excellent. Everton have had mixed results when they've started as well as this before. In 1993/94 they finished 17th and in 2007/08 they finished fifth. The best start to a Premier League season was made by Chelsea, who won nine in a row at the start of the 2005/06 season before drawing with Everton.
GUNNERS FIRING BLANKS
Hi Martin, love your column. After seeing Arsenal score another duck in the game against Stoke I would like to ask you whether any team in the history of the Premier League has gone on to win the title without scoring in the first two matches? Sandeep Singh (Arsenal fan)
MARTIN SAYS:Hi Sandeep. Arsenal will create history if they win the Premier League after kicking-off with two goalless draws; it's never been done before. However, Manchester United have twice won the Premier League after starting the season with two draws. In 1998/99 they began with a 2-2 draw at home to Leicester City and followed that with a 0-0 draw at West Ham. Then in 2007/08 they began with a 0-0 draw at home to Reading and a 1-1 draw at Portsmouth. They actually began the 1992/93 season with two defeats (2-1 at Sheffield United and 3-0 at home to Everton) before bouncing back to win the first Premier League title.
This is the first time Arsenal have started a season with two draws since 1978/79, when they finished seventh. However, they have strung a few goalless draws together recently. Arsenal share the record of the most consecutive 0-0 draws in the Premier League with neighbours Tottenham. Spurs drew 0-0 four times in a row in January and February 2001, and Arsenal have matched that twice. First, they put four goalless draws together in October 1993 and, most recently, they drew 0-0 with West Ham, Spurs, Sunderland and Fulham in January and February 2009. That was also the last time Arsenal had two back-to-back goalless draws.
Arsenal - third premier league team to open season with back-to-back goalless draws - Chelsea did it in 1995 , Derby did it in 1998 and Sunderland could join that list if they draw their second game of the season 0-0 when they face Swansea on 1 September.
PENALTY POINTS
Hi Martin! After watching a third successive Chelsea game that featured a penalty kick for the Blues, I was wondering how many successive matches a club has played in which they were award a penalty? Johan Albrechtsen (Chelsea fan)
MARTIN SAYS: Hi Johan. As you say, Chelsea have won all three of their Premier League games so far this season - and won and scored a penalty in each. Eden Hazard won one against Wigan and Frank Lampard scored, he won another against Reading and Lampard scored again, and then Fernando Torres won one against Newcastle and Hazard scored.
Since 1998/99, when Opta started keeping these stats, Arsenal have the record for the most consecutive penalties - they were awarded four in a row in a run split between the end of the 2006/07 season and the start of the 2007/08 season. Fulham, Chelsea and Portsmouth were on the receiving end at the close of the 2006/07 season before Fulham again fell foul on the opening day of the 2007/08 season.
Arsenal also hold the record for the most number of penalties in a season (again, since 1998/99). They got 13 spot-kicks in 2006/07. That's a record they share with Crystal Palace, who were awarded 13 in the 2004/05 season. Andy Johnson scored eleven of those and saw spot-kicks saved at home to Charlton and away to Portsmouth. Of course those successful penalties contributed to his 21-goal haul which earned him an England call-up.
Most penalties won in one Premier League season
| | | |
| --- | --- | --- |
| Team | Season | Penalties won |
| Arsenal | 2006/07 | 13 |
| Crystal Palace | 2004/05 | 13 |
| Chelsea | 2009/10 | 12 |
| Manchester United | 2011/12 | 11 |
| Liverpool | 2003/04 | 10 |
| Newcastle United | 2003/04 | 10 |
Arsenal's record run of penalties in the Premier League (since 1998/99)
| | | |
| --- | --- | --- |
| Team | Opponent | Date |
| Arsenal | Fulham | 29/04/2007 |
| Arsenal | Chelsea | 6/5/2007 |
| Arsenal | Portsmouth | 13/5/2007 |
| Arsenal | Fulham | 12/8/2007 |
BEGINNER'S LUCK?
Hi Martin. Since Roberto Di Matteo was appointed permanent Chelsea manager he's won all three Premier League games this season - is he on course for a record? What's the longest run of unbeaten games a new manager has gone on? (Ben, Chelsea fan)
MARTIN SAYS:Two of the Premier League's new permanent managers still have 100% records - Michael Laudrup's Swansea beat QPR and West Ham and Roberto Di Matteo's Chelsea beat Wigan, Reading and Newcastle - while, Steve Clarke is still undefeated as West Brom boss after a win over Liverpool and draw with Spurs. However, they all have some way to go until they threaten the record books, which are topped by Frank Clark who didn't taste defeat for 11 games at Nottingham Forest until 29 October 1994 when they lost 2-0 at home to Blackburn.
| | | | |
| --- | --- | --- | --- |
| Team | Manager | Games | Date of last unbeaten game |
| Nottingham Forest | Frank Clark | 11 | 22/10/1994 |
| Middlesbrough | Terry Venables & Bryan Robson | 10 | 10/02/2001 |
| Aston Villa | Martin O'Neill | 9 | 21/10/2006 |
JoseMourinho won his first four games at Chelsea and the Portuguese holds the most impressive of all new manager unbeaten records - his sensational 60 game unbeaten run at Stamford Bridge. Mourinho was never beaten at home in the Premier League as Chelsea boss, a run which was continued for 16 games by his successor Avram Grant. Luiz Felipe Scolari eventually ceded that record before Carlo Ancelotti went 13 games unbeaten at home when he was in charge at Chelsea.
Scolari sits second in the away games table after going unbeaten in his first 10 matches away from Stamford Bridge, but John Gregory holds the record, not tasting defeat on the road with Aston Villa for his first 12 games.
Longest unbeaten runs by new managers at home in Premier League
| | | | |
| --- | --- | --- | --- |
| Team | Manager | Games | Date of last unbeaten game |
| Chelsea | Jose Mourinho | 60 | 15/9/2007 |
| Chelsea | Avram Grant | 16 | 11/5/2008 |
| Chelsea | Carlo Ancelotti | 13 | 7/2/2010 |
Longest unbeaten runs by new managers away in Premier League
| | | | |
| --- | --- | --- | --- |
| Team | Manager | Games | Date of last unbeaten game |
| Aston Villa | John Gregory | 12 | 28/11/1998 |
| Chelsea | Felipe Scolari | 10 | 28/12/2008 |
| Blackburn Rovers | Kenny Dalglish | 8 | 22/11/1992 |
BEGINNER'S LUCK?
Have you noticed that there are no football teams in the Premier League beginning with the letter B? I am wondering when was the last time that there were no teams in the Premier League without a B at the start of its name? Jas Singh (Manchester Utd fan)
(Ben, Chelsea fan)
MARTIN SAYS: Hi Jas. I had noticed this and was meaning to look it up. Checking through the archives now I can tell you this is the first time it's ever happened in the Premier League! Blackburn were present from 1992-93 - 98-99 but when they got relegated Bradford took over for a couple of seasons before Rovers returned, along with Bolton in 2001/02. There were four teams beginning with B in 2009/10 when Birmingham, Blackburn, Bolton and Burnley were in the top flight. But after relegation of Blackburn and Bolton last season we've got no Bs this time round.
Prior to this season, the last time there were no teams beginning with B in the top flight was 1991/1992.
Fill in your answers to Martin's teaser using the feedback form below - and keep those questions coming in!