Football Commentator & Columnist
Sub standards
Sub scorers, golden oldies and title omens for Man Utd... Martin Tyler's stats column is back!
Last Updated: 29/08/12 3:04pm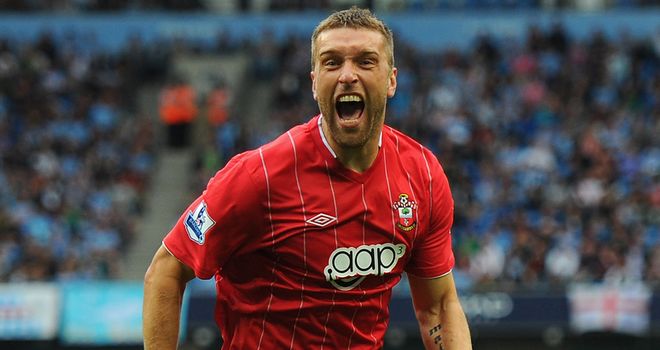 Martin Tyler's stats and facts column is here!
Every week he will be here on skysports.com to answer your questions and to offer you statistical gems from what he's seen as he tours the world commentating for Sky Sports.
Sky Sports' voice of football and his back-up team of experts want your queries on all things statistical and historical from the beautiful game.
So if you have spotted something from a game or have been stumped by a pub quiz question, simply email skysportsclub@bskyb.com and he will do his best to help.
Tyler's teaser
But as usual we'll kick off with a question for YOU. Click play to see this week's Tyler's Teaser.
Tyler's starting stat - Car starts for City
I was at The Etihad Stadium to see Manchester City's third 3-2 win in a row following their Community Shield success over Chelsea and their title-clinching victory against QPR. It was their seventh consecutive Premier League victory, which equals the club record.
Carlos Tevez netted his 99th goal in English football and his 48th premier League goal for Manchester City. He is now looking to become the first City player to reach his half-century in the competition.
However, the moment I will remember is Rickie Lambert scoring his first Premier League goal four minutes after coming on as a substitute. He has been scoring goals in the other leagues for a long time and has worked his way up to this level and proved that he can do it. It was an example to all those toiling away outside the Premier League and, coming well after his 30th birthday, shows you're never too old.
SUB SUB SUB
Hello Martin. The Man City v Saints game, on Sunday, was the eighth Premier League game in which three substitutes have scored. Can you name the other seven games? Including the goalscoring substitutes? Many thanks, Chris (Blackburn Rovers Fan)
MARTIN SAYS: You're right. This is indeed the eighth time in Premier League history when three substitutes (Steve Davis, Rickie Lambert and Edin Dzeko) have scored in the same game. Good knowledge. I can confirm the other seven games were as follows:
11/05/2008: Middlesbrough 8-1 Man City
Manchester City were involved the last time three substitutes scored in the same Premier League game more than four years ago. The game was a remarkable 8-1 final-day win for Middlesbrough, whose goalscorers included Jeremie Aliadiere and Adam Johnson from the bench. City substitute Elano got an 87th-minute consolation.
07/10/2007: Newcastle 3-2 Everton
On this occasion Andy Johnson came on at half-time to equalise for Everton, but Newcastle introduced both Emre and Michael Owen in the 74th minute and both scored late goals as the home side won 3-2.
07/05/2006: Portsmouth 1-3 Liverpool
Of the four goals scored in this game, only one was scored by a starter - and that was Robbie Fowler. Liverpool subs Peter Crouch and Djibril Cisse both scored in the last 10 minutes, as did Pompey's Ognjen Koroman.
24/09/2005: Birmingham 2-2 Liverpool
Luis Garcia and Djibril Cisse both scored from the bench for Liverpool, as did Walter Pandiani for Birmingham. In fact, the only goal scored by a starter was an own goal by Stephen Warnock!
07/02/2004: Tottenham 4-3 Portsmouth
Lomano LuaLua and Ivica Mornar both scored from the bench for Portsmouth in this game, but it was all in vain as Gus Poyet came off the bench for Spurs in the 82nd minute and scored an 89th-minute winner.
23/03/2002: Derby 3-4 Everton
In this game we saw three substitutes muster four goals. All of Derby's goals were scored by second-half replacements with Branko Strupar bagging a brace and Lee Morris also getting on the scoresheet. However, Everton came out on top with substitute Niclas Alexandersson among their scorers.
09/05/2000: Arsenal 3-3 Sheffield Wednesday
The last time these two sides met we witnessed a 3-3 thriller, including three goals from substitutes. Gilles De Bilde and Gerald Sibon both came on in the 56th minute and by the 60th minute they had both scored and Wednesday led 2-1! They then went 3-1 up before substitute Sylvinho sparked Arsenal's fightback with a goal after coming off the bench himself.
You'll notice that no Premier League team has ever put on three substitutes and seen them all score. Maybe, as I mentioned in commentary on Sunday, Billy Sharp could have made it three out of three for Southampton if he'd been presented with a chance? We'll keep an eye on things to see if that is achieved this season.
Also, whenever a question like this comes up my mind always goes back to a glut of goals from a single substitute; Ole Gunnar Solskjaer, who scored FOUR Premier League goals for Manchester United from the bench in an 8-1 win over Nottingham Forest in 1999. I'll never forget commentating on that.
IN WITH THE OLD
I noticed Rickie Lambert was 30 years old when he scored his first ever Premier League goal. Surely there can't be many players who've scored their first PL goal in their thirties? Can you tell me who is the oldest player (at the time of scoring) to score his first Premier League goal? Martin (London)
MARTIN SAYS: The oldest player to net a Premier League goal for the first time was in fact Graham Alexander, who opened his top-flight account just a few days shy of his 38th birthday. He achieved the feat playing for Burnley against Sunderland in September 2009 when he was 37yrs, 345 days old.
He broke a record that had stood for just under eight years and you might be surprised to hear that the previous record-holder was none other than Peter Schmeichel. The Danish goalkeeper was aged 37yrs 337 days when he scored his first ever Premier League goal while playing for Aston Villa against Everton in 2001.
Thanks to Opta, here are the oldest players to score their first Premier League goal (excluding players who had previously scored in the old Division One:
| | | | | |
| --- | --- | --- | --- | --- |
| Date | Team | Player | DOB | Age |
| 19/09/2009 | Burnley | Graham Alexander | 10/10/1971 | 37y 345d |
| 20/10/2001 | Aston Villa | Peter Schmeichel | 18/11/1963 | 37y 337d |
| 20/10/2001 | Everton | Richard Gough | 05/04/1962 | 37y 138d |
| 24/04/2000 | Bradford City | John Dreyer | 11/06/1963 | 36y 318d |
| 11/12/2004 | Bolton Wanderers | Fernando Hierro | 23/03/1968 | 36y 263d |
Compared to some of these players, Lambert is a young pup and according to Opta he would be 169th on the list!
UP, UP AND AWAY
Dear Martin. I'm sure you were amazed by Swansea's performance against QPR and I was wondering if that was the biggest away win by any top-flight team on an opening weekend? I tend to find the first games are quite cagey affairs. Alexander (Liverpool fan)
MARTIN SAYS: According to Opta, Swansea became only the eighth team since the Second World War to score five goals in an away game in the opening round of top-flight fixtures.
In that time, only three other sides have won their opening fixture by a five-goal margin on an away ground - and all of those teams did so during the Premier League era; Liverpool beat Crystal Palace 6-1 in 1994, Leicester won 5-0 at Bolton in 2001 and Arsenal won 6-1 at Everton three seasons ago.
Here are the biggest wins for an away team in the opening round of top-flight fixtures since the Second World War:
21/08/1954: Everton won 5-2 at Sheffield United
23/08/1958: Blackburn Rovers won 5-1 at Newcastle United
22/08/1959: Tottenham Hotspur won 5-1 at Newcastle United
27/08/1988: Arsenal won 5-1 at Wimbledon
20/08/1994: Liverpool won 6-1 at Crystal Palace
18/08/2001: Bolton Wanderers won 5-0 at Leicester City
15/08/2009: Arsenal won 6-1 at Everton
18/08/2012: Swansea City won 5-0 at QPR
FIVE ALIVE
Dear Martin. Is this the first time that two different teams have scored five goals on the opening weekend in the top flight? Kris (Crystal Palace fan)
MARTIN SAYS: Both Fulham and Swansea scored five goals on the opening weekend and we haven't seen two top-flight teams have scored five goals in the opening fixtures since August 1958.
However, there have been two occasions since the Second World War when three teams have kick-started their top-flight campaign with a five-goal salvo.
Back at the start of the 1958/59 season, Blackburn, Manchester United and Wolves hit five against Newcastle, Chelsea and Nottingham Forest respectively.
And two years before that, Leeds and Wolves opened their campaigns by scoring five against Everton and Man City, while Luton put six past Sunderland on the very same day.
Here, thanks to Opta, are the instances when more than one team has hit five goals on the opening day of the top-flight season:
| | |
| --- | --- |
| Date | Result |
| 18/08/1951 | Bolton Wanderers 5-2 Aston Villa |
| | Newcastle United 6-0 Stoke City |
| 21/08/1954 | Sheffield United 2-5 Everton |
| | Preston North End 5-0 Manchester City |
| 18/08/1956 | Leeds United 5-1 Everton |
| | Luton Town 6-2 Sunderland |
| | Wolves 5-1 Manchester City |
| 23/08/1958 | Newcastle United 1-5 Blackburn Rovers |
| | Manchester United 5-2 Chelsea |
| | Wolves 5-1 Nottingham Forest |
| 18/08/2012 | Fulham 5-0 Norwich City |
| | QPR 0-5 Swansea City |
OPENING SALVOS
After 27 goals in the first three days has there been a time where more Premier League goals have been scored on the opening weekend? Nathan
MARTIN SAYS: Despite the best efforts of Swansea and Fulham, this was only the 10th highest scoring opening weekend in the 21 years of the Premier League. It should be remembered that eight teams - Arsenal, Sunderland, Norwich, QPR, Liverpool, Aston Villa, Wigan and Manchester United - failed to score. You're unlikely to break any records when 40% of the teams don't contribute to the total!
The record was set at the start of the 2003/04 campaign when 36 goals were scored in just 10 games. The results that weekend were as follows:
Birmingham 1 - 0 Tottenham
Portsmouth 2 - 1 Aston Villa
Arsenal 2 - 1 Everton
Fulham 3 - 2 Middlesbrough
Leicester 2 - 2 Southampton
Blackburn 5 - 1 Wolves
Man Utd 4 - 0 Bolton
Charlton 0 - 3 Man City
Leeds 2 - 2 Newcastle
Liverpool 1 - 2 Chelsea
We also saw more than 30 goals on the opening weekend of the 2006/07 season (33 goals in 10 games), the 2008/09 season (32 goals in 10 games) and the 1994/95 season (34 goals in 11 games).
The lowest scoring opening weekend was back in 1998/99 when we saw just 18 goals in the 10 Premier League games, four of which finished goalless:
Wimbledon 3 - 1 Tottenham
Sheffield Wednesday 0 - 1 West Ham
Blackburn 0 - 0 Derby
Newcastle 0 - 0 Charlton
Coventry 2 - 1 Chelsea
Middlesbrough 0 - 0 Leeds
Everton 0 - 0 Aston Villa
Man Utd 2 - 2 Leicester
Southampton 1 - 2 Liverpool
Arsenal 2 - 1 Nottingham Forest
HARDLY A CHAMPION START...
Hi Martin, welcome back for the new season, I really enjoy your weekly stats column and I never missed it for once since I started reading it. I was watching Man United got beat by Everton on Monday in their first match of the season which left me wondering how often does a team lose their opening game of the season yet get crowned Premier League Champions at the end of the season since the start of the Premier League era? Dakta2005
MARTIN SAYS: The omens aren't great for Manchester United. The last three champions all won their opening fixture of the season and no side has lost their opening game and gone on to win the title in the last 16 years.
However, if anybody can do it then Manchester United can. Only twice in the history of the Premier League has a team lost their first game and won the title - and on both occasions Manchester United were the team in question. They lost to Aston Villa on the opening day of the 1995/96 season and to Sheffield United on the very first day of the Premier League but ended up with the trophy at the end of those campaigns.
As you will see from the list below, 12 of the 20 Premier League champions kicked off their quest with a win and since the turn of the century, 10 of the 12 league winners have opened with a victory.
Results of eventual champions on the opening day of the season:
| | | |
| --- | --- | --- |
| Season | Eventual champions | Opening result |
| 2011/12 | Man City | Won 4-0 v Swansea |
| 2010/11 | Man Utd | Won 3-0 v Newcastle |
| 2009/10 | Chelsea | Won 2-1 v Hull |
| 2008/09 | Man Utd | Drew 1-1 v Newcastle |
| 2007/08 | Man Utd | Drew 0-0 v Reading |
| 2006/07 | Man Utd | Won 5-1 v Fulham |
| 2005/06 | Chelsea | Won 1-0 v Wigan |
| 2004/05 | Chelsea | Won 1-0 v Man Utd |
| 2003/04 | Arsenal | Won 2-1 v Everton |
| 2002/03 | Man Utd | Won 1-0 v West Brom |
| 2001/02 | Arsenal | Won 4-0 v Middlesbrough |
| 2000/01 | Man Utd | Won 2-0 v Newcastle |
| 1999/00 | Man Utd | Drew 1-1 v Everton |
| 1998/99 | Man Utd | Drew 2-2 v Leicester |
| 1997/98 | Arsenal | Drew 1-1 v Leeds |
| 1996/97 | Man Utd | Won 3-0 v Wimbledon |
| 1995/96 | Man Utd | Lost 3-1 v Aston Villa |
| 1994/95 | Blackburn | Drew 1-1 v Southampton |
| 1993/94 | Man Utd | Won 2-0 v Norwich |
| 1992/93 | Man Utd | Lost 2-1 v Sheffield United |
Fill in your answers to Martin's teaser using the feedback form below - and keep those questions coming in!