Football Commentator & Columnist
Keeping clean
Which keepers have never conceded? Which team has the most own goals? Martin Tyler's here...
Last Updated: 05/01/12 2:51pm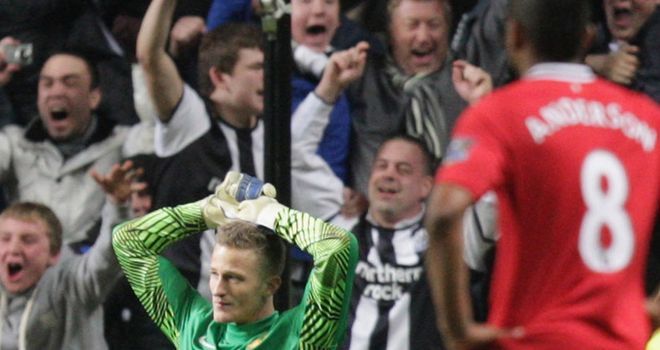 Martin Tyler's stats and facts column is here!
Every week he will be here to offer you statistical gems to make your day, impress your mates and, on occasion, to settle the odd bet.
Sky Sports' voice of football and his back-up team of experts are here to answer your questions and queries on all things statistical and historical from the beautiful game.
If you have spotted something from a game or have been stumped by a pub quiz question, simply email
skysportsclub@bskyb.com
and he will do his best to help.
Tyler's Starting Stat
I'm delighted to be back on skysports.com for 2012 after a busy but fulfilling holiday period. I hope everyone enjoyed watching the games as much as the commentators enjoyed talking about them.
The final match of a busy holiday period for me was the surprise 3-0 win by Newcastle United over Manchester United. Sir Alex Ferguson's side had only conceded three away goals all season, so it was a surprise to see them concede three in 90 minutes. The result also signalled the end of the only unbeaten away record in the country.
Newcastle had not won in their previous 18 league meetings since a 4-3 success in September 2001, while the result emulated the 3-0 victory of February 2000. The only other Premier League win for Newcastle over Manchester United, home or away, was the famous 5-0 in October 1996. Phillipe Albert scored a memorable fifth in that game and he was on the gantry for Belgian TV on Wednesday night.
Demba Ba scored his 15th goal in his last 15 Premier League appearances, and his second against Man United, having scored a penalty at Old Trafford in November. The match was played on Danny Simpson's birthday and he marked his 50th consecutive Premier League game with his second great save off the line in two matches against Man United.
Danny Welbeck came on as a substitute and continued his terrible record at the stadium formerly known as St James' Park. This was his third visit, having previously lost 3-0 with Preston and 5-1 with Sunderland.
NEVER BEEN BEATEN
Hi Martin, I read that Man United's Anders Lindegaard is the only goalkeeper in Premier League history to play more than once and not concede a goal. Is that true? James Kelly (Oldham fan)
MARTIN SAYS: Well, James, it was true until he conceded against Newcastle on Wednesday evening. Before then, Anders Lindegaard hadn't let in a goal in his opening five Premier League outings against Norwich, Sunderland, Aston Villa, Fulham and Wigan.
Now there are no goalkeepers in Premier League history who have played more than once without conceding - but there are several who have played in one game without letting in a goal. But as our table below shows, only two goalkeepers have played a complete Premier League 90 minutes and have no goals conceded next to their name.
Those two men are Lee Harper for Arsenal during a 2-0 win over Southampton on March 15, 1997 and Steve Mautone for West Ham during a 2-0 defeat of Nottingham Forest on September 21, 1996.
Several other recognised goalkeepers have played in the Premier League and have never conceded a goal, but these players only played part of a game as a substitute. Ex-Manchester United custodian Nick Culkin makes the list - despite only playing for the last 80 seconds of 2-1 win over Arsenal on August 22, 1999.
Please note, we have not included outfield players who have gone in goal as emergency goalkeepers in this list:
| | | | |
| --- | --- | --- | --- |
| | | | |
| Player | Club | Games Played | Minutes Played |
| Lee Harper | Arsenal | 1 | 90 |
| Steve Mautone | West Ham | 1 | 90 |
| Tony Caig | Charlton | 1 | 45 |
| Kevin Dearden | Tottenham | 1 | 45 |
| Ricardo | Man United | 1 | 45 |
| Mark Halstead | Blackpool | 1 | 24 |
| Peter Kurucz | West Ham | 1 | 17 |
| Gunnar Nielsen | Man City | 1 | 14 |
| Patrice Luzi | Liverpool | 1 | 13 |
| Neil Cutler | Aston Villa | 1 | 7 |
| Nick Culkin | Man United | 1 | 1 |
Lindegaard's promising start to his Man United career got us thinking about other 'keepers who have begun their Premier League tenure with a series of clean sheets.
Former Arsenal custodian Alex Manninger still holds the record, having not been breached in his first six Premier League games after joining the Gunners in June 1997. The Austrian kept Southampton, Chelsea, Crystal Palace, West Ham, Wimbledon and Man United at bay, before conceding four against Liverpool.
Lindegaard has the second best start with five straight clean sheets, while Liverpool 'keeper Jose Reina did not concede in his first four games in the Premier League after joining the Reds from Villarreal in July 2005. The 29-year-old shut out Middlesbrough, Sunderland, Tottenham and Man United before he was beaten twice in a draw with Birmingham.
NOTHING TO SHUT ABOUT
Hi Martin, I am a Norwich fan and I have noticed that we have not kept a clean sheet yet this season. Is this the longest that any team has gone without keeping a clean sheet? Gareth Oxbury (Norwich fan)
MARTIN SAYS: Norwich's run of 20 games without a clean sheet at the start of the season is indeed the longest that any team has gone at the start of a campaign - but remarkably they are not the only team to do it this year, as Blackburn have also gone 20 games without a shutout.
Only once before in the history of the Premier League has a side gone 20 games without a clean sheet. Bolton went through the first 20 matches of the 2009/10 campaign without keeping a clean sheet, before preventing north-west rivals Burnley from scoring at the 21st attempt.
Therefore, if Norwich fail to stop West Brom from netting in their next Premier League game (Jan 14) and / or Blackburn do not register a clean sheet at home to Fulham on the same day, the record will be broken.
For Blackburn's last Premier League clean sheet, you have to go back to last April when they beat Bolton 1-0 at Ewood Park. For Norwich's last shutout, you have to go all the way back to May 2005 when they beat Birmingham 1-0.
TOP STOPPERS
Hi Martin, I am a big fan of yours. I am looking to find out how many clean sheets Petr Cech is away from being the goalkeeper with most clean sheets in Premier League history. I know David James is currently leading with 166 clean sheets but I can't find any info on how far Petr Cech is from surpassing this tally? Could you help? Keep up the great work! Thanks Poorya Mortazavi (Chelsea fan)
MARTIN SAYS: Thanks for your question, Poorya. According to Opta, David James actually kept 170 clean sheets during his time as a Premier League goalkeeper, which means Petr Cech (122) still needs 49 more shutouts to break his record.
As the list below shows, Chelsea stopper Cech is currently eighth on the list of goalkeepers with the most Premier League clean sheets but at the tender age of 29, he still has time to rise to the top.
The Czech international is behind James, David Seaman (140), Nigel Martyn (137), Mark Schwarzer (136), Edwin van der Sar (132), Peter Schmeichel (128) and Brad Friedel (124) in the standings.
Of the current top 20 all-time clean sheet makers, Schwarzer, Friedel, Cech, Jose Reina, Shay Given, Thomas Sorensen, Jussi Jaaskelainen, Tim Howard, Paul Robinson and Carlo Cudicini are still playing as of the 2011/12 season.
Please note, Opta only credit a clean sheet when a goalkeeper has played the full 90 minutes of a match.
Goalkeepers with the most clean sheets in Premier League history:
1. David James (170)
2. David Seaman (140)
3. Nigel Martyn (137)
4. Mark Schwarzer (136)
5. Edwin van der Sar (132)
6. Peter Schmeichel (128)
7. Brad Friedel (124)
9. Petr Cech (122)
10. Jose Reina (115)
11. Shay Given (108)
12. Thomas Sorensen (106)
13. Jussi Jaaskelainen (89)
14. Tim Howard (85)
15. Tim Flowers, Paul Robinson (83)
16. Ian Walker (78)
17. Mark Bosnich (77)
18. Carlo Cudicini (65)
19. Neil Sullivan (64)
20. Neville Southall (62)
HOW MANY AT THE WRONG END?
Hi Martin, I write the morning after the 20,000 Premier League goals milestone was reached and my question to you is this; how many of those goals were own goals and which team has contributed the most? Thanks and keep up the good work Sir - your commentating is still second to none. Daniel Martin (Tottenham fan)
MARTIN SAYS: It was pleasing that the 20,000th Premier League goal - scored by Aston Villa's Marc Albrighton against Arsenal just before Christmas - was not an own goal. However, according to Opta's records, 629 of the league's first 20,000 goals were scored at the wrong end - which accounts for just over 3% of the total
In that time, all 45 of the teams to have played in the Premier League have scored at least one own goal, while three sides have scored more than 30 - including the two teams involved in the 20,000th goal. Aston Villa have netted 30 times at the wrong end, while Arsenal have done so 31 times. However, the team with the most own goals in Premier League history is Everton, who have 34.
Own goals scored in Premier League history:
Everton (34)
Arsenal (31)
Aston Villa (30)
Fulham (29)
Middlesbrough (28)
Liverpool (27)
Manchester City (26)
West Ham (25)
Southampton, Chelsea (23)
Bolton (22)
Manchester United (21)
Blackburn Rovers, Sunderland, Tottenham (20)
Newcastle United (19)
Leicester (17)
Wimbledon (16)
West Brom, Portsmouth (15)
Leeds (14)
Derby, Charlton Athletic (12)
Queens Park Rangers (11)
Wigan, Coventry, Ipswich Town (10)
Birmingham, Hull City (9)
Wolves (8)
Norwich City, Watford (7)
Stoke, Crystal Palace, Sheffield Wednesday (6)
Bradford, Reading, Blackpool (5)
Nottingham Forest, Sheffield United (4)
Oldham Athletic (3)
Burnley (2)
Swansea City, Barnsley, Swindon Town (1)
TOTAL OWN GOALS: 629
Since the 20,000th goal was scored we have seen three further own goals scored in the Premier League - two by Liverpool (Daniel Agger against Newcastle and Charlie Adam against Blackburn) and one by Manchester United (Phil Jones against Newcastle).
And do remember that the definition of an own goal - as it has been for the whole of the Premier League era - depends on the dubious goals panel. Not all commentators would agree with all their findings!
TOTAL TURNAROUNDS
Dear Martin. Arsenal were winning against Fulham with five minutes left to go and still ended up losing the game. I can't imagine that's happened very often at Premier League level before. Can you tell me how many other teams have been ahead on 85 minutes and still managed to lose? Thomas Stevens (Arsenal fan)
MARTIN SAYS: It is a rare occurrence for a team to turn a win into a defeat after the 85th minute and the boys at Opta have told us that this has only happened 18 times in Premier League history. As an Arsenal fan, you may remember the last side to do it before Monday night was also Arsenal. The Gunners were beating Wigan 2-1 in the 89th minute of their clash at the DW Stadium on April 18 2010, but goals from Titus Bramble and Charles N'Zgobia saw the Latics launch a highly unlikely turnaround. It goes to show that it's never over until it's over in this league!
We have detailed all the occasions when this has happened below. Notable instances include Newcastle letting a 1-0 lead turn into a 3-1 defeat at Southampton in March 1995 and two weeks later Leicester saw a 3-2 lead over Wimbledon become a 4-3 defeat. You may also remember Manchester United letting a 2-1 lead over Coventry slip in December 1997 when Dion Dublin and Darren Huckerby scored in the last five minutes.
Here are the 18 occasions in Premier League history when a team leading on 85 minutes have lost the game:
| | | | | |
| --- | --- | --- | --- | --- |
| Date | Team | Opponent | Final score | Venue |
| 10/04/93 | Sheffield Wednesday | Manchester United | 1-2 | A |
| 03/10/93 | Everton | Tottenham | 2-3 | A |
| 16/10/93 | Oldham | Liverpool | 1-2 | A |
| 22/03/95 | Newcastle | Southampton | 1-3 | A |
| 01/04/95 | Leicester City | Wimbledon | 3-4 | H |
| 08/04/96 | Newcastle | Blackburn | 1-2 | A |
| 28/12/97 | Manchester United | Coventry City | 2-3 | A |
| 17/09/01 | Leicester City | Middlesbrough | 1-2 | H |
| 01/12/02 | Everton | Newcastle | 1-2 | A |
| 21/04/03 | Charlton | Liverpool | 1-2 | A |
| 04/12/04 | West Brom | Portsmouth | 2-3 | A |
| 23/08/08 | Middlesbrough | Liverpool | 1-2 | A |
| 17/01/09 | Stoke City | Chelsea | 1-2 | A |
| 07/02/09 | Portsmouth | Liverpool | 2-3 | H |
| 20/03/10 | Hull City | Portsmouth | 2-3 | A |
| 17/04/10 | Stoke City | Bolton Wanderers | 1-2 | H |
| 18/04/10 | Arsenal | Wigan Athletic | 2-3 | A |
| 02/01/12 | Arsenal | Fulham | 1-2 | A |
HEROES TO ZEROES
Hi Martin, I was wondering with Dimitar Berbatov finally getting his first Premier League goal against Fulham before the hat-trick against Wigan and what is going on with Carlos Tevez, has it ever taken longer for the previous season's top scorer to get his first the next season? Great read as always, Cheers, Pete Davies (Liverpool fan)
MARTIN SAYS: If Tevez, who was joint top scorer with 20 goals last season, fails to score in the Premier League this year he would not be the first Golden Boot winner to fail to register in the next campaign. Jimmy Floyd Hasselbaink was joint top scorer in the 1998/1999 season, but left Leeds at the end of the season for Atletico Madrid and although he enjoyed a stellar year in Spain with 24 goals, it was not until 19 August 2000 that he would score in a Premier League net again, this time in his first game wearing the blue of Chelsea.
As you say, last season's other top scorer Berbatov finally broke his duck this year on December 21 in Manchester United's 5-0 win at Fulham; his sixth Premier League appearance of the campaign. However, this is not the latest that a Premier League top scorer has registered in the following season - either in terms of games played or in terms of date.
That record belongs to Alan Shearer, who was top scorer for Newcastle in 1996/97, but due to an ankle ligament injury over the summer he did not play until January in the 1997/98 season. He eventually scored his first of that season in his eighth appearance on March 18 against Crystal Palace. That's the latest any Premier League top scorer has scored the next season.
It took 1997/98's top scorer Chris Sutton six appearances before his first goal of the following season, but apart from him, Tevez, Berbatov, Hasselbaink and Shearer every other top scorer has scored within his first three games of the next season.
Perhaps the most impressive story is that of Didier Drogba, who followed up his Golden Boot-winning tally of 20 in the 2009/2010 campaign with a hat-trick on the opening day of last season.
Season
Top scorer
First PL goal of next season
1992/93
Teddy Sheringham
3rd match
1993/94
Andrew Cole
1st match
1994/95
Alan Shearer
1st match
1995/96
Alan Shearer
2nd match
1996/97
Alan Shearer
8th match
1997/98
Chris Sutton
Michael Owen
Dion Dublin
6th match
1st match
1st match
1998/99
Dwight Yorke
Michael Owen
Jimmy Floyd Hasselbaink
1st match
3rd match
-
1999/00
Kevin Phillips
2nd match
2000/01
Jimmy Floyd Hasselbaink
2nd match
2001/02
Thierry Henry
1st match
2002/03
Ruud van Nistelrooy
1st match
2003/04
Thierry Henry
2nd match
2004/05
Thierry Henry
1st match
2005/06
Thierry Henry
3rd match
2006/07
Didier Drogba
2nd match
2007/08
Cristiano Ronaldo
2nd match
2009/10
Nicolas Anelka
2nd match
2010/11
Didier Drogba
1st match
Tyler's teaser
Fill in your answers to Martin's teaser using the feedback form below - and keep those questions coming in!