Football Commentator & Columnist
Unhappy endings
Goalscorers suffering relegation, and defenders finding the net... Martin Tyler signs off for the season!
Last Updated: 30/05/11 10:29am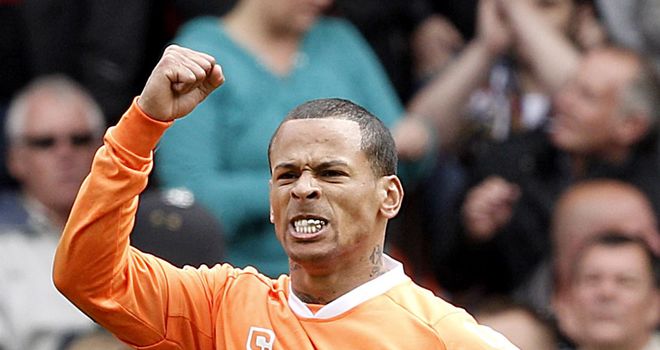 Martin Tyler's stats and facts column is here!
Every week he will be here to offer you statistical gems to make your day, impress your mates and, on occasion, to settle the odd bet.
Sky Sports' voice of football and his back-up team of experts are here to answer your questions and queries on all things statistical and historical from the beautiful game.
If you have spotted something from a game or have been stumped by a pub quiz question, simply email skysportsclub@bskyb.com and he will do his best to help.
This is Martin's final column of the season, but if you think of any questions over the summer months send them in, and he will endeavour to answer them when the new season kicks off in August...
Tyler's Starting Stat
I was at Old Trafford for the final day of the Premier League season to witness two very different endings. Blackpool of course, returned to the Championship, but left a fitting legacy of being the highest scorers in a 38-game season to get relegated. Their 55 goals sets them apart from anyone and they are indeed the only side to have broken the half-century and not survived. Of those, Charlie Adam netted his 12th league goal of the campaign and 13th in all competitions, which included eight penalties, two free-kicks and memorably, one corner! And he was the first visiting player to score a first-half Premier League goal at Old Trafford since Joe Cole, in Chelsea's win, in April 2010.
One start that Blackpool supporters won't enjoy reading is that Sunday was the fifth time in their last seven away games they have lost a leading position, picking up just two points in the process. The draws at Spurs and Blackburn were small consolation though, when you consider that's 13 points they have surrendered from winning positions.
The happier flipside to Sunday was of course Manchester United's title celebrations. They also set a new record for English champions, having picked up an impressive 68.8 per cent of their points at home, surpassing the previous high set by Sheffield Wednesday way back in 1929! Ian Evatt's own goal was only the third in their favour this season, joining Brede Hangeland and Anton Ferdinand (courtesy of the dubious goals panel) in putting through his own net against United - compared to 10 last term. Oh and in case you have been living under a rock for the last three weeks, their 19th title is of course a new English record!
BACKS TO FRONT
Hi Mr Tyler, amazing column! My question for you is, in the Chelsea v Newcastle match the other weekend, out of the four goals scored, three were scored by defenders, so which team has most goals scored by defenders this season? I believe Chelsea would be quite near the top, with the likes of Branislav Ivanovic, John Terry and David Luiz. Thanks. Priya Ramesh
MARTIN SAYS: Now the season is done and dusted it is a fitting time to give defenders a bit of credit they rarely get, Priya. And you should take some yourself, because in the Premier League it was Chelsea's defenders who were the most prolific, netting 11 goals between them. Branislav Ivanovic did indeed lead the way with four goals, John Terry had three, while Alex and David Luiz chipped in with two apiece. Next in the table come Everton and Stoke with 10 apiece from their defenders.
Stoke, no doubt aided by Rory Delap and those long throws, had five different scorers, none more so than Robert Huth who, with six goals, was their joint second top scorer, along with Jonathan Walters - only Kenywne Jones scored more. And if you throw in their fabulous cup exploits this season, they total 17 goals in all from the back. Huth was also the Premier League's joint top scorer this season with six, a total matched by Fulham's Brede Hangeland, with both centre-backs managing a brace in league games; Huth's against Sunderland and Hangeland's in the recent win over Birmingham which helped push the Blues towards relegation.
At the other end of proceedings, once again we find West Ham, whose defenders were obviously a little too busy to bomb downfield and managed just two goals from Manuel da Costa and James Tomkins. West Brom and Sunderland could only boast three apiece at the end of difficult campaign.
We should also give a special mention to Arsenal, so often criticised for not scoring any headed goals, the defender's best bet, because they are sat comfortable in mid-table with six - including three headers, from Johan Djourou, Sebastien Squillaci and Laurent Koscielny. Here, as always, is a list in full courtesy, for the last time this season, to the boffins at Opta.
Chelsea 11
Everton 10
Stoke City 10
Blackburn Rovers 9
Fulham 9
Birmingham City 8
Manchester City 8
Manchester United 7
Arsenal 6
Aston Villa 6
Liverpool 6
Blackpool 5
Bolton Wanderers 5
Newcastle United 5
Tottenham Hotspur 5
Wolverhampton Wanderers 5
Wigan Athletic 4
Sunderland 3
West Bromwich Albion 3
West Ham United 2.
A SILVER LINING
Hi Mr Tyler, great column. Birmingham got relegated today, being defending champions of Carling Cup. My question is how many teams have got relegated while being defending champions of a major trophy in English football? Anonymous, via email
MARTIN SAYS: Well, that's another good question - unless you happen to be a Bluenose, of course. To go back through all the trophy winners in English football would take more time than the two-month gap between seasons allow, but I can tell you the last time it happened. You have to go back through the Premier League era to 1985 when Norwich City - who ironically have been promoted this season - won the League Cup, or the Milk Cup as it was known at the time, yet still went down to the old Second Division.
Ken Brown's side beat Sunderland 1-0 in the final at Wembley, thanks to an own goal from Gordon Chisolm, yet finished in 20th place in the old 22-club top flight. They did pick up 49 points which seems high by today's standards, but remember it was a 42-game season, as opposed to 38, with three points for a win.
On top of that, the beaten finalists were also relegated that season, Len Ashurst's Sunderland side finishing second bottom, with 40 points. It has never happened in the Premier League era, but the closest we came was in in the 1996-97 season when Bryan Robson's Middlesbrough reached both the FA and League Cup finals, lost them and were relegated!
But I think the best example of 'defending champions' suffering has to be Manchester City, who won the old First Division for the first time back in 1937, only to relegated the very next season!
NET LOSS
Hi Martin, I really enjoy your weekly column. After seeing DJ Campbell move up to sixth in this season's top scorers' list but with his team Blackpool in the bottom three, it got me wondering: which players have been among the top goal scorers in the Premier League but seen their side suffer relegation? Thanks, Dale Charge
MARTIN SAYS: Good question Dale, there have been a few instances of a side getting relegated yet having a player in the top 10 of the Premier League scorers' chart. As you mentioned, DJ Campbell achieved it this season, netting 13 times in his 31 Premier League appearances, despite his team, Blackpool, going down on the final day of the campaign.
That feat was replicated by Darren Bent - a man who always seems to be in the upper echelons of the top scorers' chart - in the 2006-07 season when he played for Charlton. The Addicks went down after a seven-year stint in the top flight, but Bent still managed to notch 13 goals.
Peter Crouch (Southampton), Fabrizio Ravanelli (Middlesbrough), Chris Armstrong (Crystal Palace) and Paul Wilkinson (Middlesbrough) have also fired their way into the top scorers' standings, despite playing in a side suffering the ignominy of relegation, as the table below shows.
Those eagle-eyed amongst you may point out Nottingham Forest's Teddy Sheringham, who finished as the top Premier League scorer during the 1992-93 campaign with 22 goals as Forest were relegated. However, Sheringham only scored once for the Tricky Trees - his further 21 strikes came after a switch to Tottenham, so we didn't think it right to include him as a Forest player!
I also thought I'd throw former Leicester midfielder Muzzy Izzet into the mix. The ex-Turkey international was not amongst the top scorers when the Foxes went down at the end of the 2003-04 campaign, but he did chip in with an excellent 14 assists.
Season
Player
Team
Goals
2010-11
DJ Campbell
Blackpool
13
2006-07
Darren Bent
Charlton
13
2004-05
Peter Crouch
Southampton
12
1996-97
Fabrizio Ravanelli
Middlesbrough
16
1992-93
Chris Armstrong
Crystal Palace
15
1992-93
Paul Wilkinson
Middlesbrough
15
MIND THE GAP?
Hi Martin. Great column. I was wondering if the points total in the respective league campaigns for the finalists of the Champions League has any bearing on the outcome? I.e. Inter Milan had 12 more points in Seria A than Bayern Munich did in Bundesliga 09/10. Thanks, Mark Grindle
MARTIN SAYS: That's an interesting question as we look forward to Wembley this weekend Mark - although of course, different leagues across Europe have varied in the number of games played at various stages. But I have looked back over the last 18 years, since the Champions League has been in its current format and it seems the omens might well favour Manchester United, because on 10 occasions, the side heading into the final with the fewer league points has gone on to lift the famous trophy.
On seven occasions the side with more points has done it and only once, in 2001 when Bayern Munich beat Valencia have the two finalists had the same amount of points. This season Barcelona amassed 96 points on their way to winning La Liga, 16 more points than United managed in winning their record 19th title. That difference of 16 will be the second biggest between Champions League finalists, but again if it's omens you're looking for, the only time the gap was bigger it was the side with least points that went on to win - and an English side at that!
In 2005, Liverpool finished fifth in the Premier League and totalled a whopping 21 league points less than their opponents in Istanbul, AC Milan - and you don't need me to tell you what happened there. But to balance it all out, the previous two times United have been crowned Champions League winners, they went into the final with more points than their opponents. They had two more than Chelsea in 2007 and one more than Bayern Munich in 1999, but had played two games more.
2010 Winners INTER had 12 points more than runners-up Bayern Munich
2009 Winners BARCELONA had 3 points less than runners-up Manchester Utd
2008 Winners MANCHESTER UTD had 2 points more than runners-up Chelsea
2007 Winners MILAN had 7 points less than runners-up Liverpool (but played two fewer games)
2006 Winners BARCELONA had 15 points more than runners-up Arsenal
2005 Winners LIVERPOOL had 21 points less than runners-up Milan (despite playing two more games)
2004 Winners PORTO had 7 points more than runners-up Monaco (despite playing two fewer games)
2003 Winners MILAN had 11 points less than runners-up Juventus
2002 Winners REAL MADRID had 3 points less than runners-up Bayer Leverkusen (despite playing two more games)
2001 Winners BAYERN MUNICH had the same points total as runners-up Valencia (but played two fewer games)
2000 Winners REAL MADRID had 2 points less than runners-up Valencia
1999 Winners MANCHESTER UTD had 1 more point than runners-up Bayern Munich (but played two more games)
1998 Winners REAL MADRID had 11 points less than runners-up Juventus (despite playing two more games)
1997 Winners BORUSSIA DORTMUND had 2 points less than runners-up Juventus
1996 Winners JUVENTUS had 8 points less than runners-up Ajax
1995 Winners AJAX had 1 more point than runners-up Milan
1994 Winners MILAN had 6 points less than runners-up Barcelona (but played two fewer games)
1993 Winners MARSEILLE had 5 points more than runners-up Milan but were subsequently disqualified from Ligue 1 due to a betting scandal.
IN A LEAGUE OF THEIR OWN
Martin, A question that came up the other day and thought you would be the right man to answer it. How many current Premier League players have Champions League winners medals? Also, are there any other players in the rest of the English Football league that have a medal as well? Thanks, Michael Davey
MARTIN SAYS:That's a very good question Michael. We have scoured through the record books and have come up with 31 players who were at Premier League clubs for the season just gone. Of that 30, one, Sulley Muntari was on loan, but five stand out as having won the Champions League twice. And three of them, can make it a hat-trick if Manchester United beat Barcelona on Saturday.
Hardly surprisingly for a man who keeps breaking records, Ryan Giggs can complete the hat-trick having been part of United's previous two triumphs, as can Wes Brown and Edwin van der Sar, the latter having lifted the trophy with Ajax way back in 1995. Sadly injury will keep Owen Hargreaves out of the equation, but like Van Der Sar he has won the competition with United and a foreign side, Bayern Munich, in 2001.
And Michel Salgado, who has become a cult favourite at Blackburn also has two winners' medals, in 2000 and 2002 with Real Madrid. As their arch rivals Barcelona are in town, we should mention two of their former players plying their trade on these shore who won it with the Catalans two years ago, Yaya Toure and Eidrr Gudjohnsen, who ended the season on-loan at Fulham.
Here is the list in full...
Edwin van der Sar - (Man Utd) Ajax 1995, Man Utd 2008
Ryan Giggs - (Man Utd) Man Utd 1999, 2008
Wes Brown - (Man Utd) Man Utd 1999, 2008
Michel Salgado (Blackburn) - Real Madrid 2000, 2002
Owen Hargreaves (Man Utd) - Bayern Munich 2001, Man Utd 2008
Phil Neville (Everton) - Man Utd 1999
Jonathan Greening (Fulham) - Man Utd 1999
Nicolas Anelka (Chelsea) - Real Madrid 2000
Roque Santa Cruz (Man City) - Bayern Munich 2001
Paulo Ferreira (Chelsea) - Porto 2004
Jose Bosingwa (Chelsea) - Porto 2004
Benni McCarthy (West Ham) - Porto 2004
Jamie Carragher - Liverpool 2005
Steven Gerrard - Liverpool 2005
Scott Carson (WBA) - Liverpool 2005
Rio Ferdinand, Nemanja Vidic, Patrice Evra, Paul Scholes, Michael Carrick, Wayne Rooney, Carlos Tevez, Tomasz Kuszczak, John O'Shea, Anderson, Nani, Darren Fletcher (all Man Utd) Man Utd 2008
Yaya Toure (Man City) - Barcelona 2009
Eidur Gudjohnsen (Fulham on loan from Stoke) - Barcelona 2009
Sulley Muntari (Sunderland on loan from Inter) - Inter 2010
Mario Balotelli (Man City) - Inter 2010
The second part of your question is a little harder to answer, but we have come up with one permanent player, one loanee and a manager who were all in the Football League last year having won the Champions League previously. The first one is Portsmouth's Nwankwo Kanu, who won the competition with Ajax in 1995 and is still with Portsmouth. One of his team-mates in that Ajax win over AC Milan was Edgar Davids, who had a brief spell on loan at Crystal Palace beween August and November this season. And we should also give a special mention to Paul Lambert who won the competition with Paul Lambert with Borussia Dortmund in 1997 and of course guided Norwich City to promotion from the Championship.
Tyler's teaser
Fill in your answers to Martin's teaser using the feedback form below - and keep those questions coming in!
AND FINALLY...
Just a quick thank you to all of you out there for sending in your questions - and having a crack at my teasers - this season. We do enjoy answering your queries whenever we can, so keep sending them in all summer. I will be back during the Euro Under-21 Championships, with my diary from Denmark. See you then...