Yohan Cabaye's departure was a massive loss for Newcastle but also great business in terms of how much profit they made. However, it's going to be very difficult to replace a player like that.
To go to Paris Saint-Germain, who are probably the richest club in world football at the moment, shows what a talent Cabaye really is.
The people at the top of Newcastle may think that they'll try and replace him in the summer but the Newcastle fans will fear that their club won't spend the money - they didn't this season.
| | | |
| --- | --- | --- |
| With Cabaye | Newcastle in Premier League - all season | Without Cabaye |
| 19 | Games | 7 |
| 11 | Wins | 0 |
| 1 | Draws | 3 |
| 7 | Losses | 4 |
| 31 | Goals For | 1 |
| 23 | Goals Against | 15 |
| 57.90% | Win Percent | 0.00% |
Since Cabaye crossed the channel Newcastle have gone six hours without scoring a goal but Loic Remy returns from his three match ban for the Super Sunday game against Aston Villa and it's key the on loan striker hits the ground running.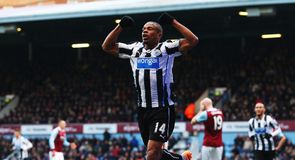 The club's dry spell also conicides with Remy's red card ban during which the Magpies have conceded ten goals in three losses to Sunderland, Chelsea and Spurs respectively.
The Frenchman has netted 11 times this season and has been a great addition to the Premier League not just at Newcastle, but with parent club QPR last season as well.
He was a revelation at the start of the season and is one of the main reasons they're still so high up in the league. Now the season has moved on it's imperative that they get him back firing and quickly.
Comfortable
Despite not being in the best form of late and suffering disappointing early exits in both domestic cups, in terms of league position Newcastle have been in the top half of the table for most of the season and are still sitting comfortably in ninth at the moment - nine points head of Swansea in tenth.
Considering they haven't brought many players in - just Remy and Luuk De Jong have arrived on loan - I think Alan Pardew and the staff will be pleased with what they've done.
The fans aren't happy with this though, especially after Cabaye's deaprture, and there now appears to be a bit of a bad atmosphere around the stadium and that affects the players.
There's no chance of Newcastle getting involved in the relegation scrap but there's no chance of them of them threatening near the top of the table and the Champions League places, either - something we were saying they could do towards the beginning of the season.
It looks like the season may have just petered out for them and that's disappointing for the supporters and for the manager as well.
Newcastle and their North East rivals Sunderland are emotional clubs with very passionate fans - something you could never really criticise but something at times does affect the club. Both clubs are very up and down and I think that comes with the passion from the supporters.
Going to St James' Park is one of those games you always look forward to as a player. You always felt you had a chance going up there because you knew Newcastle would come out firing with the crowd behind them and it always made for an exciting game with Liverpool.
Players will say they like to play there because of the passionate support, the size of the stadium and they're nearly always a good match, hopefully we'll get that on Sunday.