Eikrem keen to stay put
Potters linked to Molde midfielder
By Kent Hedlundh. Last Updated: April 29, 2012 4:27pm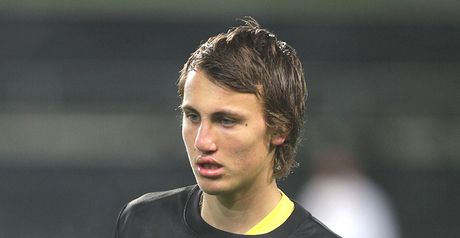 Magnus Wolff Eikrem: Linked to Stoke but would like to play in European competition with Molde
Stoke City are among clubs across Europe keeping tabs of Molde FK star Magnus Wolff Eikrem.
The Potters are one of the clubs who have deployed scouts to watch the former Manchester United midfielder.
However, the 21-year-old insists that he will not leave his home-town club this year.
"I don't think about it at all." Eikrem told Romdals Budstikke.
"I have played for the biggest club in the world, therefore I am used to the attention.
"Since I have been at Manchester United, I won't join whatever club. My goal is to lead Molde to become a better club and play either Champions League or Europa League this autumn."
The midfielder joined the Red Devils on his 16th birthday after being spotted at Ole Gunnar Solskjaer's soccer school in Norway and switched back to Molde in January 2011.