Sheffield United manager Nigel Clough is hoping his side's penalty shoot-out victory over West Ham in the Capital One Cup can draw a line under the Carlos Tevez transfer debate.
Sky Bet
Loading Market ...
The Blades triumphed 5-4 in the shoot-out after Diafra Sakho had put West Ham in front at Upton Park before an unfortunate Winston Reid own goal levelled the match.
West Ham fans had taunted their Sheffield United counterparts with chants about Tevez in the first meeting of the two sides since the Blades were relegated from the Premier League, largely thanks to the Argentine's goals for the Hammers.
A legal wrangle over Tevez's ownership eventually led to West Ham paying out almost £30million in compensation.
With plenty of ill-feeling between the two sides continuing seven years later, Clough believes his club can now move on from the whole affair.
"It was a long time ago," he said. "I think it was more about winning on the night for our supporters than anything in the past. I'm sure there will still be a bit of injustice felt by our supporters and that will not go away.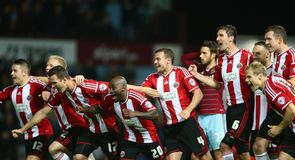 "You can't keep going on with things like that. You move on - it was seven years ago and we all move on - we are desperate to get out of League One."
Blades goalkeeper Mark Howard kept out Enner Valencia's penalty after an evening of frustrating the hosts, with Clough full of praise for the former Arsenal youngster.
"He has been in great form so far this season," added Clough. "We have made him number one and we are delighted - he is from down here and had family and friends here.
"It was reminiscent of last season. We have got some great blocks in, bodies in the way. It is good for the lads who joined us to experience that.
"It is the first time this season we have looked like a team. We are not close to where we want to be but this is positive."
West Ham reached the semi-finals of this competition last season but it was their wastefulness in front of goal which once again cost them, with manager Sam Allardyce also impressed with Howard's display.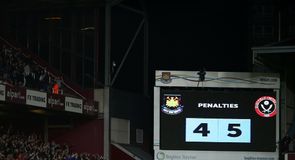 "We have lost on penalties at the end of the day," he said.
"The fans know we should've won the game. We haven't been outplayed by Sheffield United, they made life difficult for us by playing that defensive unit. That is well within their rights when they come here.
"We opened them up time and time again with patient, good quality football, but at the end of the day the end product deserted us - in the main due to their goalkeeper.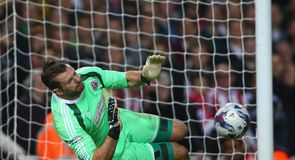 "We gave an own goal away and Sheffield United had one shot on target in the 90 minutes and one on target in extra time.
"At the end of the day, it is our fault. It was an inspired performance from their goalkeeper - whatever we threw at him he saved it or blocked it.
"From our point of view, it is a frustrating night after good performances from players who have just joined us, like Sakho and Enner."