Steve McClaren leaves FC Twente after disappointing second spell
Last Updated: February 26, 2013 3:28pm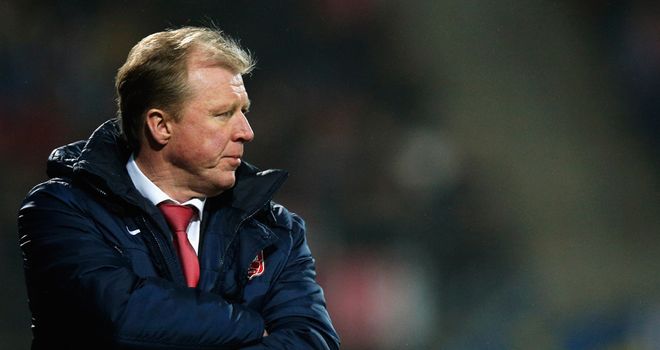 FC Twente manager Steve McClaren on the sidelines during the Eredivisie match against AZ Alkmaar
Football Betting

Football Betting

£10 Free Bet
FC Twente manager Steve McClaren has left his position at the helm of the Eredivisie club, insisting he did not feel supported in the role.
Saturday's defeat at Heerenveen proved to be the last act of the former England coach's disappointing second spell in Holland.
Twente chairman Joop Munsterman gave his backing to the boss in the wake of that defeat but McClaren has still headed for the door.
"You talk about the support and the backing the players need, we need it as trainers, we need it as managers, we need it as staff."
Steve McClaren
McClaren had led Twente to the Eredivisie title in 2010 but was unable to recreate that magic since returning to Holland in January 2012.
The club have not won a league game in 2013, meaning they have dropped six points behind table-topping PSV Eindhoven, and fans turned on McClaren.
He told Sky Sports: "You talk about the support and the backing the players need, we need it as trainers, we need it as managers, we need it as staff.
"I sought those assurances and I felt that they weren't forthcoming, in the fact of not just for now, but also for the future, trying to build Twente."
STEVE McCLAREN FACTFILE
1995: Becomes assistant to Jim Smith at Derby after quitting as Oxford youth team coach.
1999: Joins Manchester United as Sir Alex Ferguson's assistant manager.
2001: Becomes Middlesbrough manager.
2004: Wins Carling Cup after 2-1 defeat of Bolton.
2006: Named Sven Goran Eriksson's successor as England manager.
2007: Sacked by FA after England fail to qualify for Euro 2008.
2008: Returns to club management with FC Twente.
2010: Leads Twente to first Eredivisie title before leaving to join Wolfsburg.
2011: Parts company with Wolfsburg in February before being appointed manager of Nottingham Forest in June. Then resigns in October.
2012: Appointed FC Twente boss for second time.
2013: Leaves Twente by mutual consent after a run of six games without a win.
He added: "I've looked at both sides of it and after much thought and deliberation it's best to relieve the pressure from the team, the club and the board.
"For the last six games the pressure and intensity and criticism has built up and built up.
"The last four weeks we've had difficult results, a difficult period, the performances have not been good for various reasons."
Criticism
"We've had adversary action; we've had criticism, protests and demonstration from supporters and media about the results and performances, in particular about the last six games, which has been surprising taking in that the expectations of FC Twente have always been European qualification and finishing in the top four," he said.
"In the winter break we were joint-top and even four weeks ago, after the Feyenoord away game, we were second in the league."
Twente also slumped out of the UEFA Europa League under McClaren at the group stages after finishing bottom of Group L with only four points.
A departure from Twente is a latest setback for the 51-year-old, who had previously spent just four months at Nottingham Forest in an ill-fated spell in 2011.
Prior to his time at Forest, McClaren also endured a rocky seven-month reign as manager of Bundesliga club Wolfsburg.
The former Middlesbrough boss, who won the 2004 League Cup and reached the 2006 UEFA Cup final, was sacked as England manager in 2007 after the embarrassing failure to qualify for Euro 2008.
Twente chairman Joop Munsterman revealed the decision to leave the club rested with McClaren and he was disappointed to see the Englishman leave.
Munsterman said in a statement on the club's official website: "We believe that the disappointing performance of FC Twente under Steve McClaren could be reversed.
"Steve has however indicated that it is in the interest of everyone to leave the club immediately.
"We understand his decision and respect it. It is disappointing to say goodbye to the trainer under whose leadership FC Twente won the league title in 2010."
Munsterman also confirmed the team will be led by trainer Alfred Schreuder and assisted by the technical team of Boudewijn Pahlplatz and Youri Mulder.