Feyenoord midfielder Adil Auassar admits both himself and the club have endured a 'disastrous' season.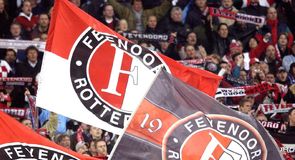 The Rotterdammers finished 10th in the Eredivisie this term after a turbulent campaign which at one stage saw them slip towards relegation danger.
And Dutch-Moroccan midfielder Auassar is aware his personal efforts have been no more impressive, with injuries limiting him to just three appearances for the club.
"It was indeed a disastrous season," the 24-year-old told Algemeen Dagblad. "That applies to both the club and for my own contribution."
Speculation has surfaced that Auassar could be offloaded by Feyenoord in the summer, but he insists he can still fight for his place at the club.
"I want to put it behind me and look towards next year now," he added. "I understand that I may leave. But I am not there yet.
"I'll fight for my chance. I still have faith in my abilities.
"I really feel that next season I can fight for my place, even if the new technical director has already indicated that I should leave."